FAMILY EVENTS - 1998
Here is a snapshot of the things going on around Bruce and Betsy's place in 1998. These included excursions, holidays, birthday parties and other fun events.
In 1998, Bruce did some radio system engineering work for the Kingdom of Jordan. While there, he had a chance to explore the country. Below is a photo of him on a camel at Petra.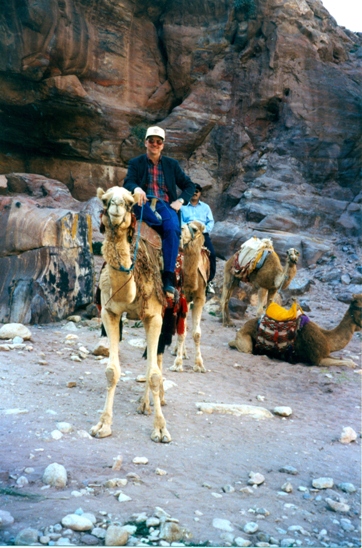 It was a great trip, and a separate page for it will be uploaded in the future.
The family gathers every Easter as part of their celebration of the Feast of the Resurrection. Below is the group photo for Easter of 1998 less Betsy who is behind the camera.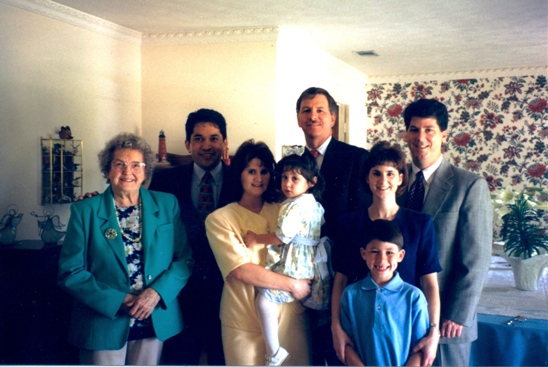 What would Easter be without an egg hunt. Below is Arianna and Bret with their "haul".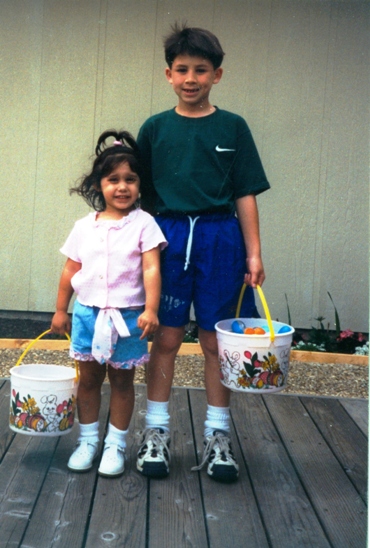 Way too cute! Arianna during the egg hunt.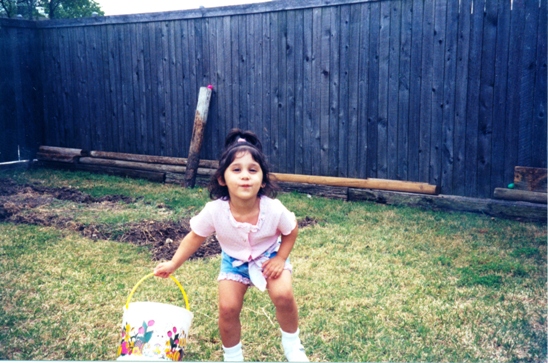 A trip down to Ennis in the spring to see the Bluebonnets is usually and annual occurrence. Below is Bruce and Betsy in a filed of Bluebonnets, Indian Paintbrush and Buttercups.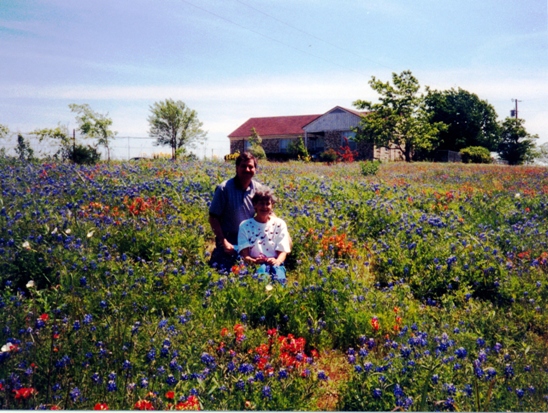 When they have out of town visitors at that time of year, they are usually treated to a trip. Below is Ellie, Vi, Margie, Bruce, Bill and Jackie.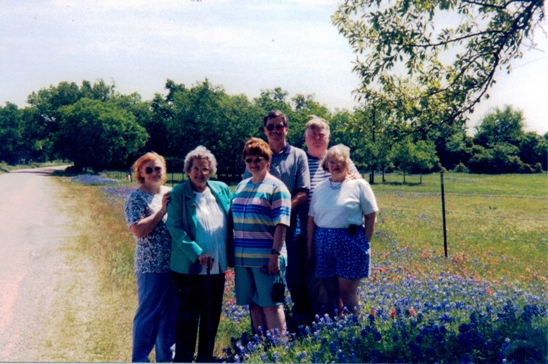 Below is another photo with Betsy and Bruce at a field of Bluebonnets.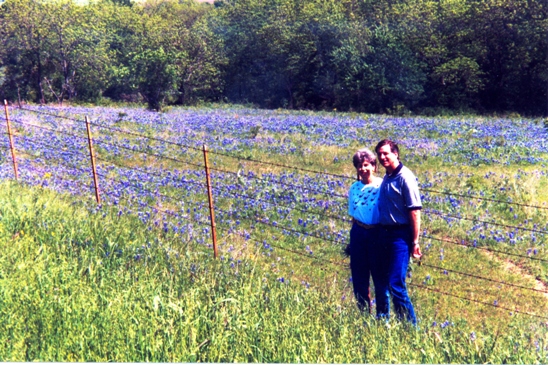 The springtime is also when Vi and Tim celebrate their birthdays. Below is Vi and Tim getting ready to extinguish the candles on the cake.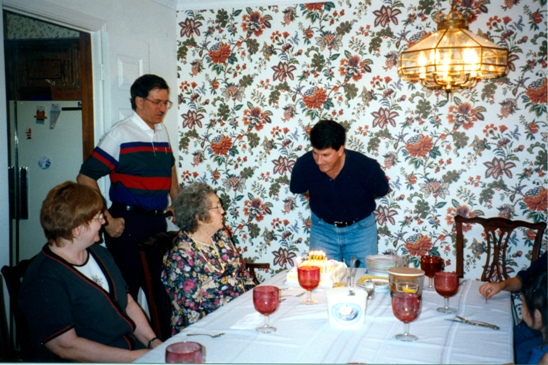 Vi during the gift exchange.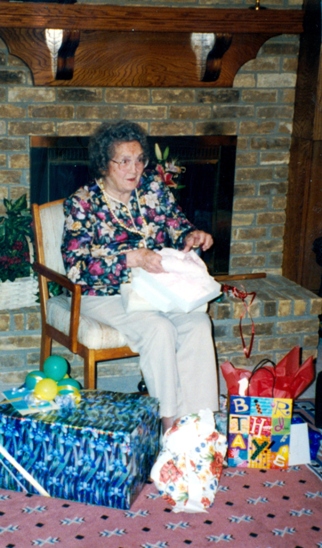 Tim, Arianna, Betsy Chris and Holly during the gift exchange.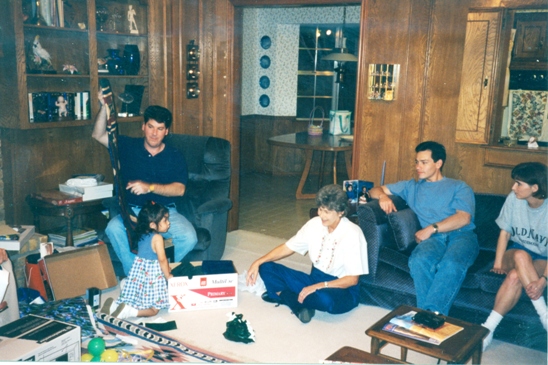 A trip to the Dallas Arboretum is also an annual event. Below is Arial, Bret, Chrissy, Ariana and Tim by one of the raised beds.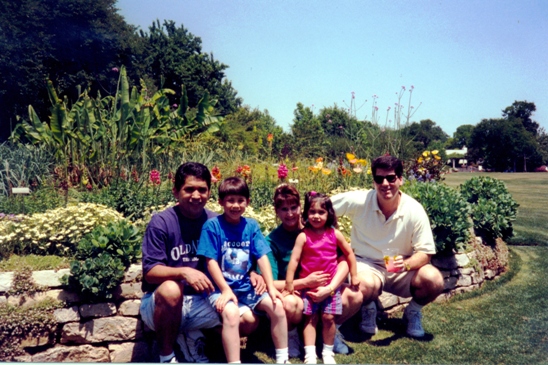 Below is Bret, Betsy, Tim, Ariana and Arial.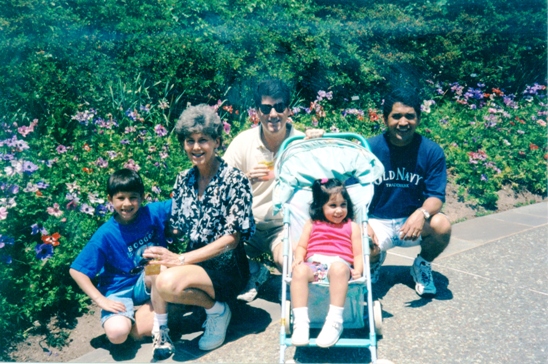 One of the outings that year was to see the 20th anniversary of the Broadway Musical, Annie.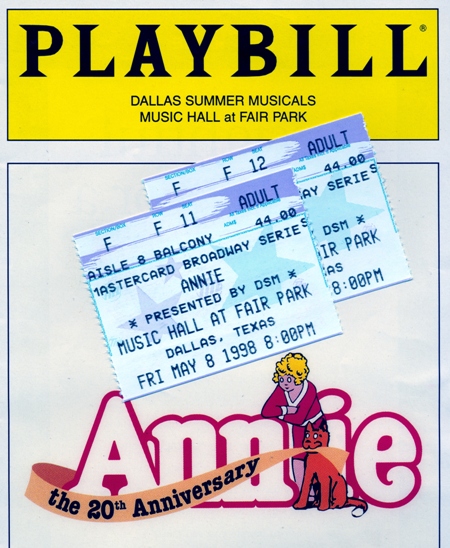 Each year the Dallas Summer Musicals (DSM) puts together a series of musicals at the Music Hall at Fair Park.
When June comes around, it is time for Father's Day and Bruce's birthday. Below is Bruce opening gifts for the combined event.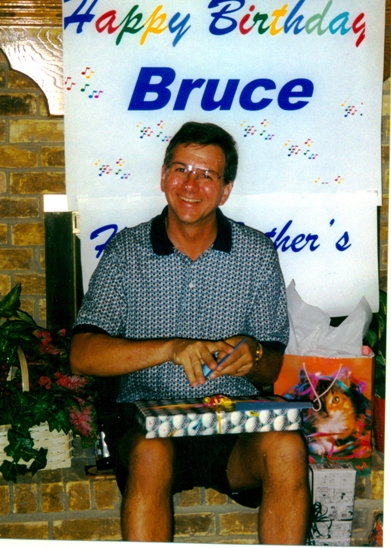 Below is a group photo with Michael, Bret, Bruce, Sara and Ariana.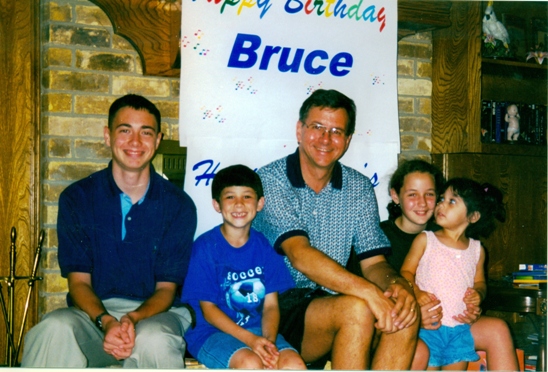 The following month, it's Betsy's turn. Below is a photo of her during the gift exchange.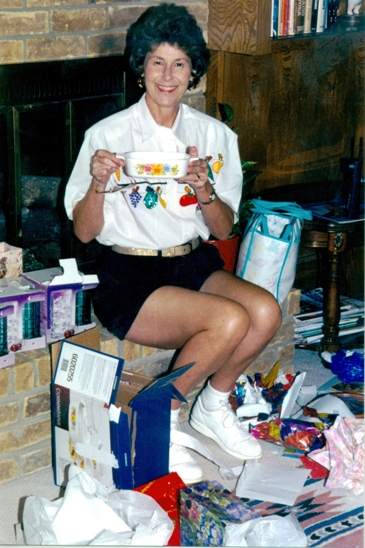 Earlier that year, Bruce had done some work in Costa Rica. Knowing how much Betsy liked butterflies, he brought her back a special gift.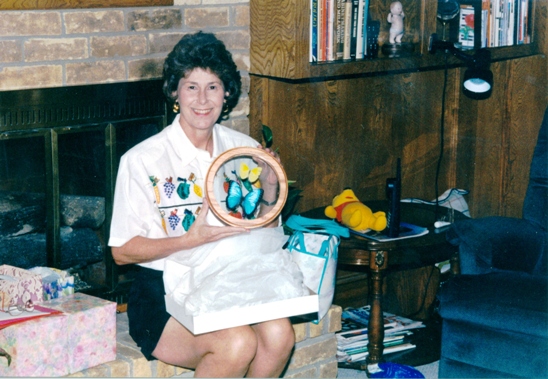 The summer is non-stop birthdays. It was the twins turn in August. This was the big 3-0 for them, so it was something of a milestone birthday. Below is Chrissie with Arianna, and Holly with Bret.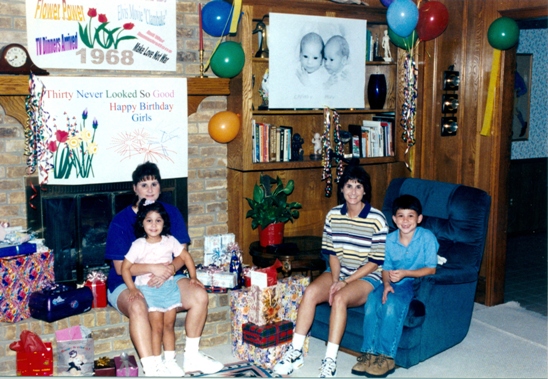 Below is a photo of the rest of the family looking on.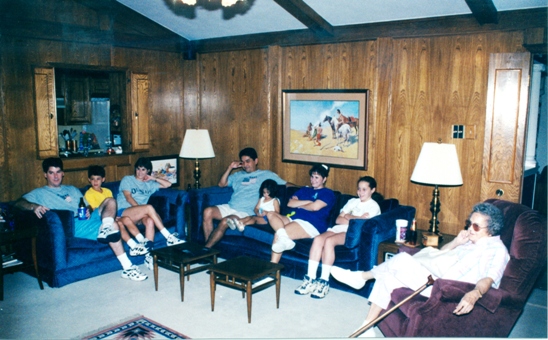 And finally, a photo below of the two of them extinguishing the candles on their cake.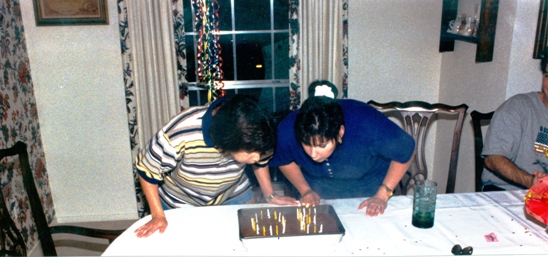 Another one of the outings that year was to see the Light Crust Doughboys. This American Western swing band is a Texas tradition that has been around since 1931 and is always a treat to see perform.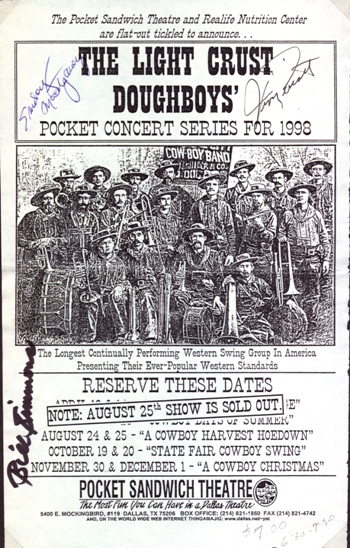 They are called The Light Crust Doughboys because they originally started out as a radio show sponsored Burrus Mill and Elevator Company of Saginaw, Texas.
It is now around to Halloween. Below is Bret trying to be scary.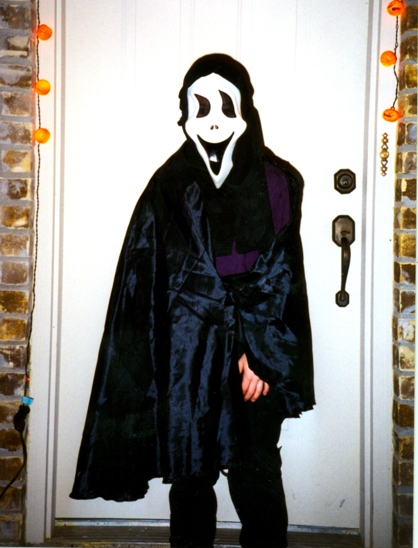 That year Ariana decided to be a cowgirl.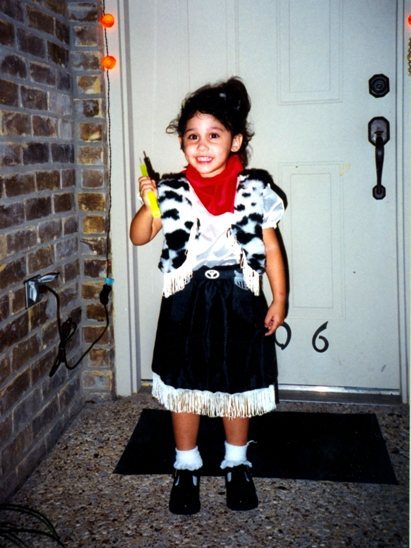 In November, it was time for Bret's birthday. Below is a photo of Bret with his "buds".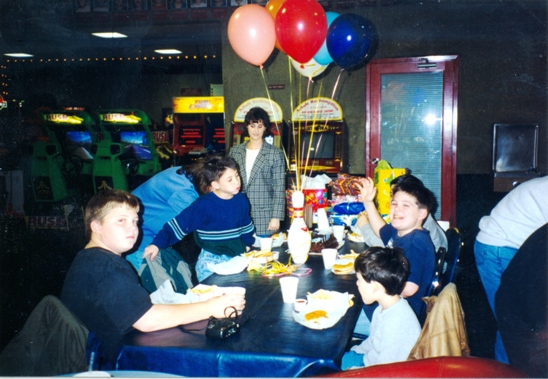 When December rolled around, it was time for Arianna's birthday. Below is some of her cousins bringing in a piņata for the party.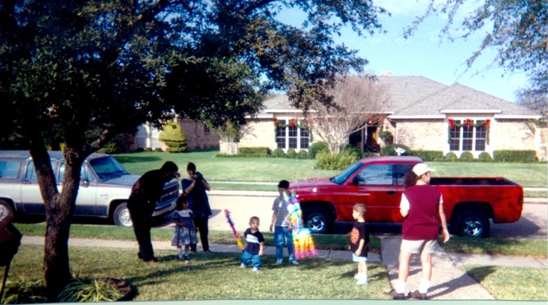 It seems this household has a birthday every month, but that's OK, since this bunch likes to party.
A few weeks after Arianna's birthday, it was time for Christmas. Below is a group photo of Chris, Vi, Holly, Arial, Bret, Michael, Holly, Arianna, Chrissy Bruce and Tim.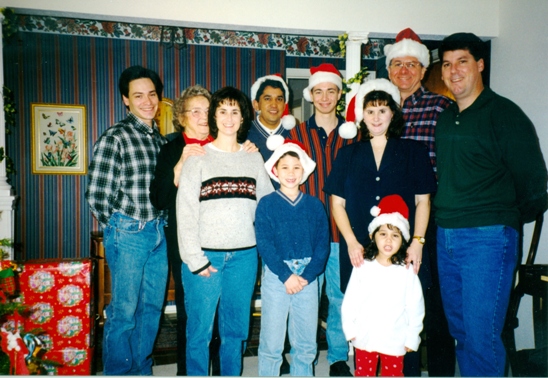 Below is Arianna opening her gifts. Looks like they have the makings of a star there.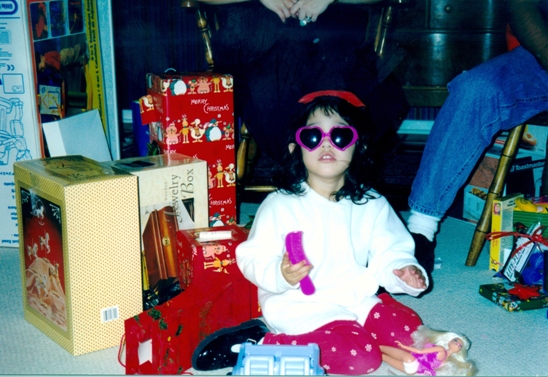 Below is Bruce with a Franklin Mint sculpture from their Star Trek collection. Betsy had subscribed him to the entire series and he eventually ended up with 18 sculptures of the most notable scenes from the movies.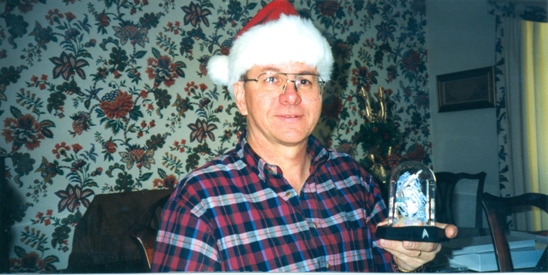 Below is a photo of Chrissy opening a figurine she received.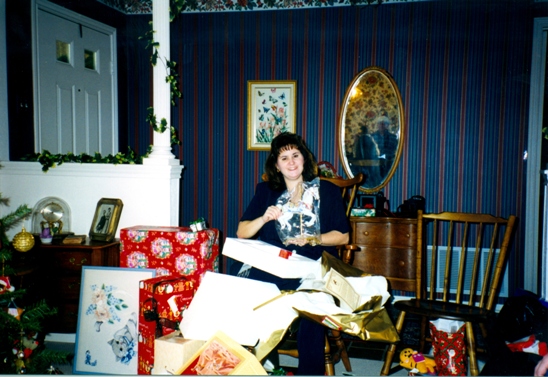 Next you see Tim with a chair Betsy had refinished for him.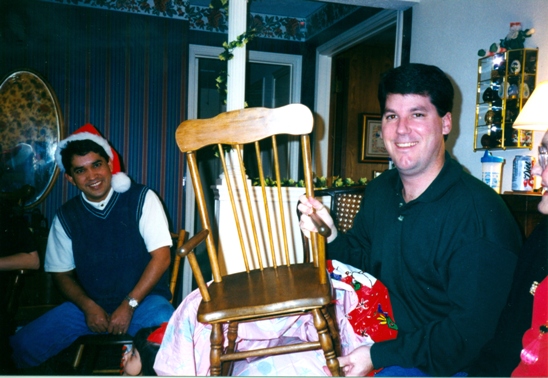 And finally, Chris giving Holly a gag gift.