FAMILY EVENTS - 1999
Here is a snapshot of the things going on around Bruce and Betsy's place in 1999. These included funerals, births, and weddings, as well as holidays, birthday parties, excursions and other fun events.
In 1999, Sarah Robinette, Betsy's mother in law died. Betsy attended the funeral in Guthrie, OK. Below is a group photo of the Robinette family. From left to right, they are: Kenny, Bill, Mary Jo, Aleen, Betty, Jamie, Linda, Robby and Dianne.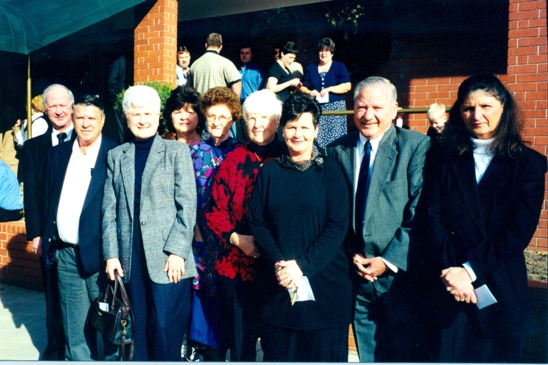 Below is another group photo of Matt, Melissa, Elliott, Mary-Lee, Alex, Sarah, Mary-Jo, Amy and Billy.
It seems weddings and funerals bring families together, and this one was no exception.
In March of 1999, Bruce's son, Michael turned 18. Below is Bruce, Betsy and Michael at the celebration.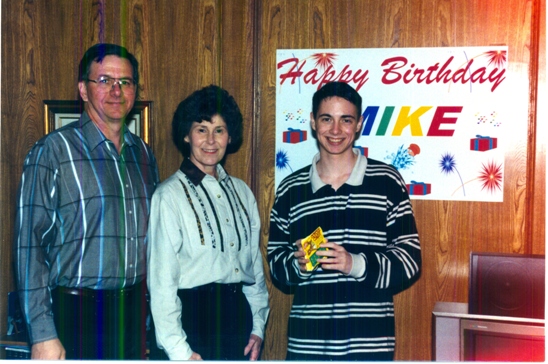 Below is a group photo of the family just before the gift opening. There is Bret, Michael, Chrissy, Holly, Ariel, Tim and Vi, with Betsy and Arianna down front.
One of the gifts was a belt hook for the closet. Below is Michael opening it.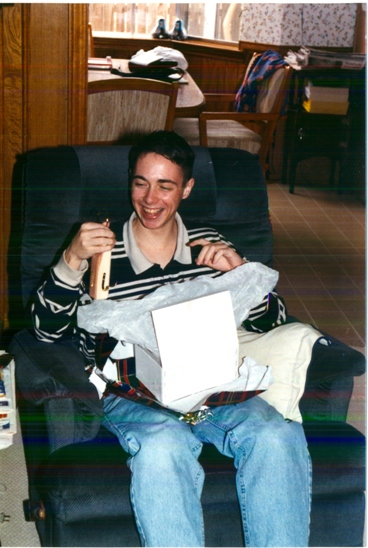 Around the Blais household, no birthday is complete with out a cake and ice-cream. Michael just finished blowing out the candles as Tim looks on.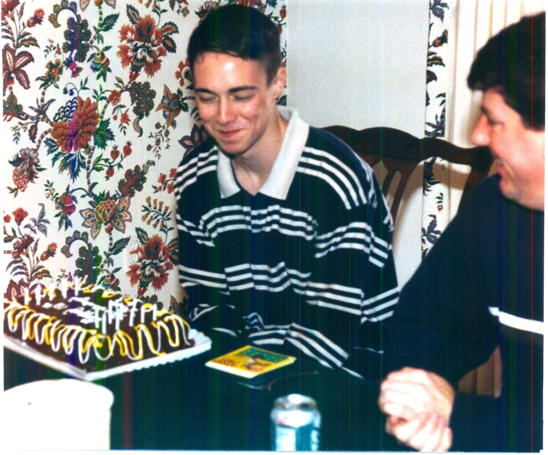 A spring trip to the Dallas Arboretum is usually and annual event at the Blais household. In 1999 Betsy took her mother, Violet Marshall, to see the spring splendor.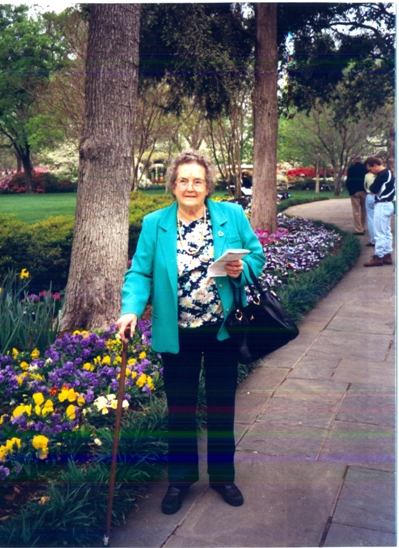 That year they had a peacock topiary. The body was a sculpted shrub, and the tail was made from a bed of flowers.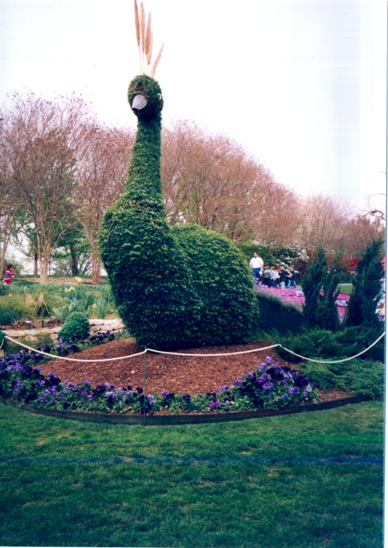 The arboretum is also a popular place for local artists. Below is one painting an arbor sceen.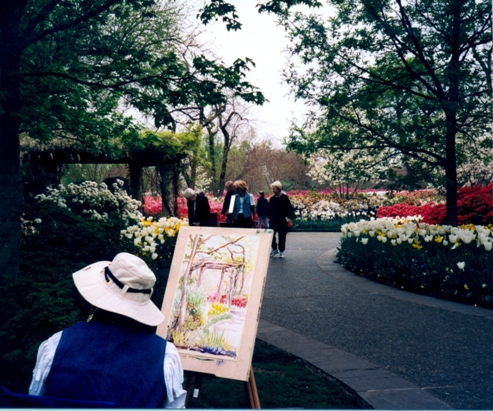 Kids and Easter, what can you say. Below is Betsy with grandchildren Bret and Arianna.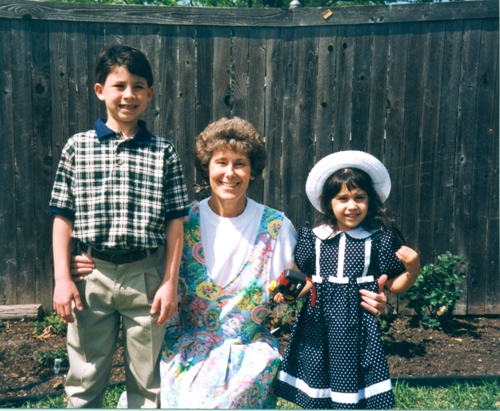 Then there was the Easter "guys photo". Below is Michael, Bret, Chris and Bruce.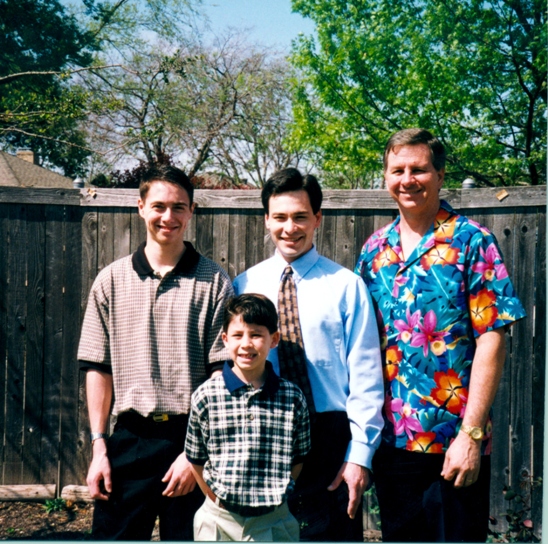 Below is Betsy and Bruce with Betsy's daughter Holly, husband Chris and grandson, Bret.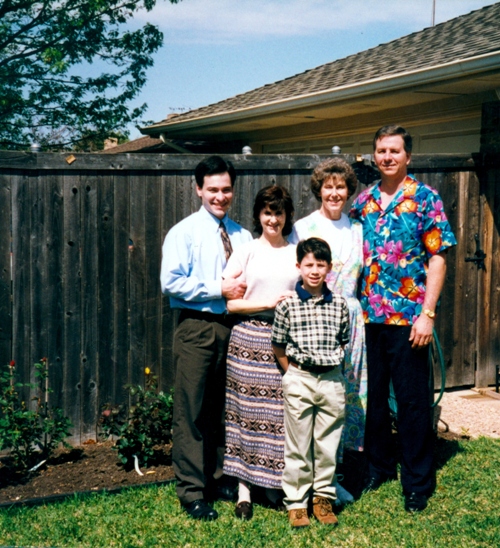 Tim and his grandmother, Vi, shared the same birthday. Here they are at the party that year.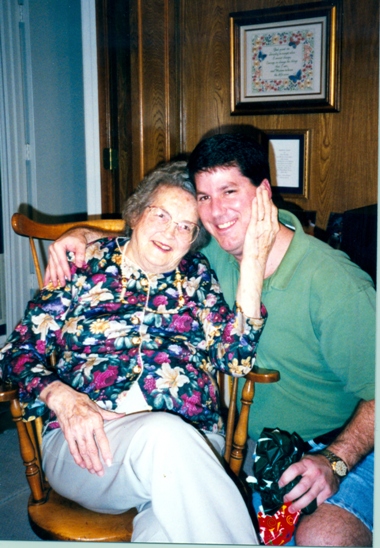 Betsy's father, Albert, has passed on several years earlier, so she made her mother a shadow box of his medals, awards and other memorabilia dating back to his days as an officer in the Merchant Marine during WWII.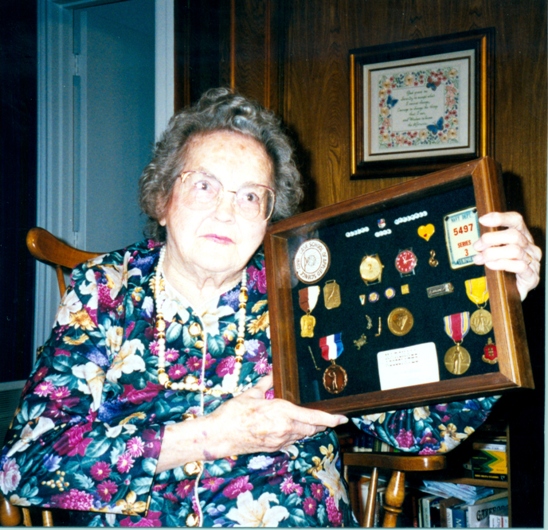 Below is the birthday pair getting ready to extinguish the candles.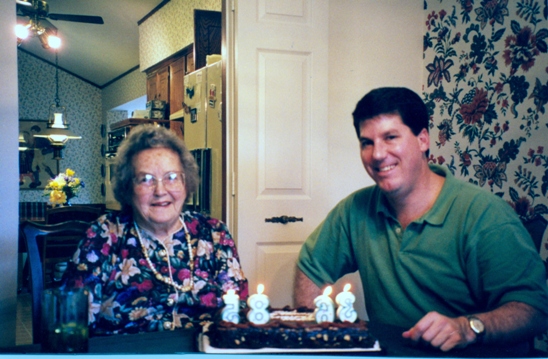 Michael was adopted, and when he turned 18 he asked the agency to contact his birth-mother and arrange a visit if she was willing. She was and it happened in Dallas. Below is Janie and Michael at Dallas-Ft. Worth International airport.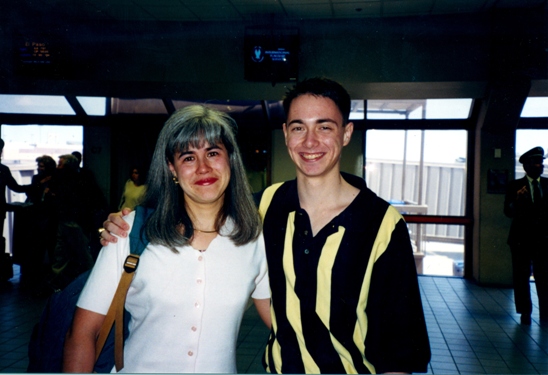 As part of the visit, Bruce and Betsy showed Janie the town. The photo below shows Janie, Michael and Bruce in front of the Ft. Worth Stock Exchange.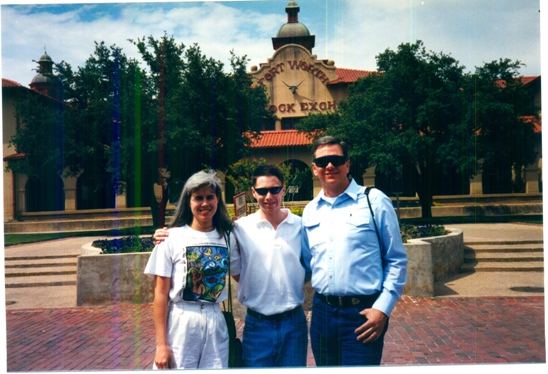 What's a visit to Ft. Worth without riding a longhorn.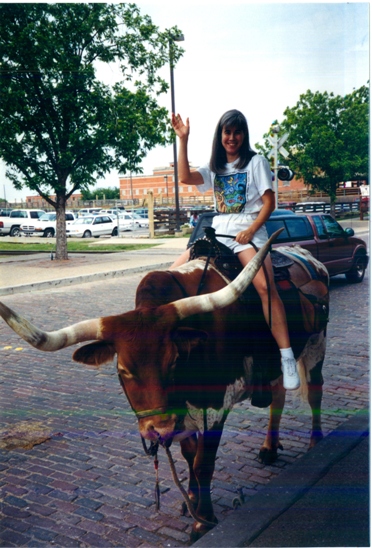 Janie and Michael trying on cowboy hats.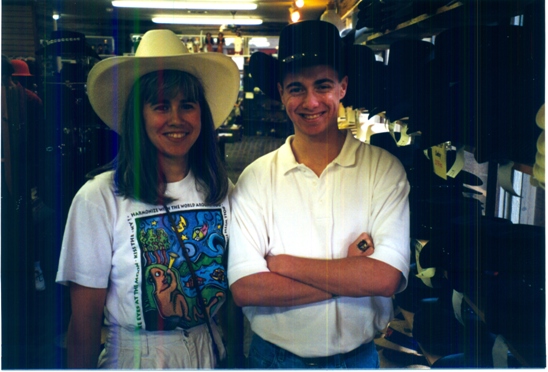 It was a good visit and Janie and Michael have stayed in touch since then.
This was also a year for weddings. Betsy's daughter, Holly, married Chris Frye that year.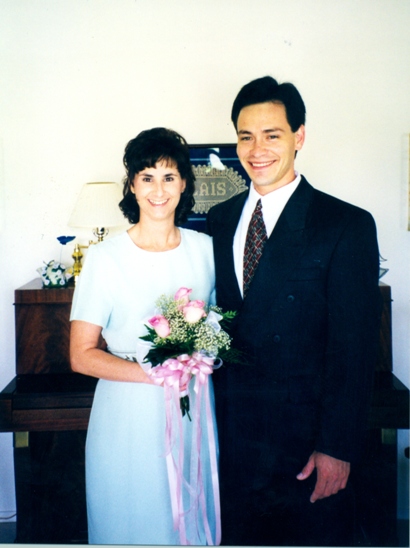 Below is a photo of the groom's family at Bruce and Betsy's where the wedding was held.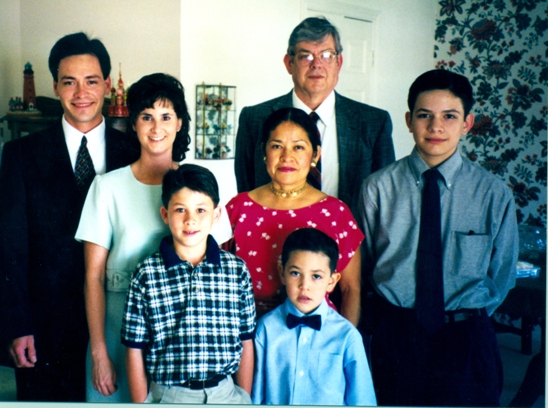 And the there was the bride's family. Chris, Holly, Bruce, Bret, Betsy and Michael.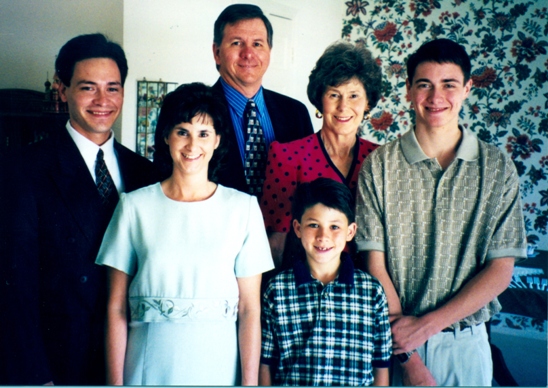 Below is Chris and Holly at the ceremonial cake cutting.
And the ceremonial toast to the bride and groom.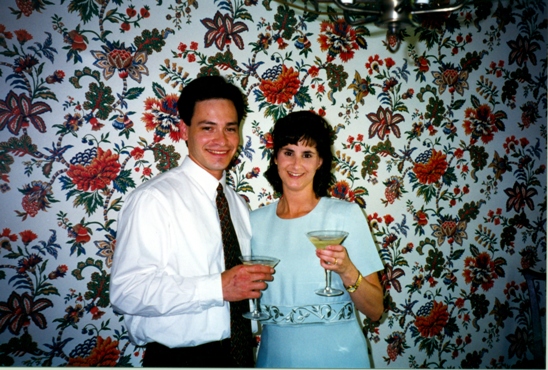 It was a fairly complete complete year with the arrival of Betsy's second granddaughter, Alissa. Below is Alissa and Chrissy.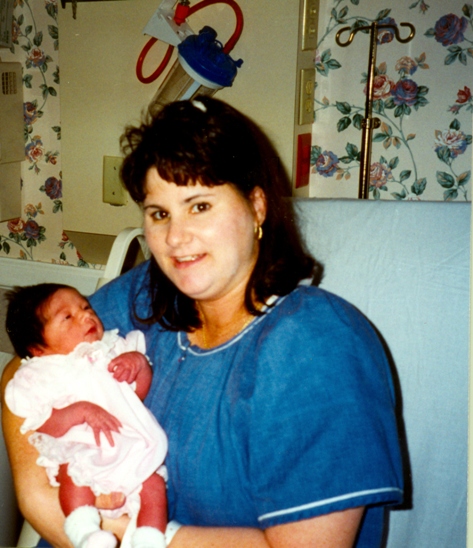 Grandma as pretty happy too. Below is Betsy with her latest grandchild.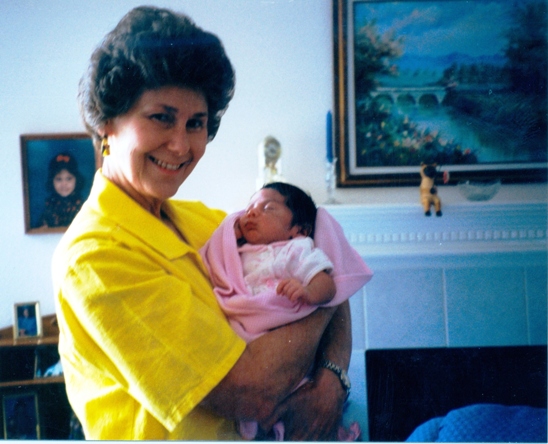 Below is big sister Ariana, Niki, Michael and Chrissie with Alissa.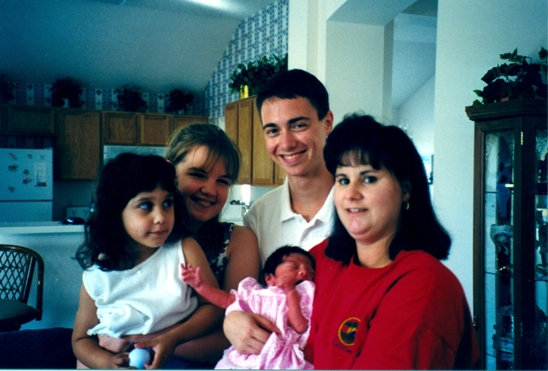 June came along and it was time for another birthday for Bruce. Here he is opening a new trimmer for the yard.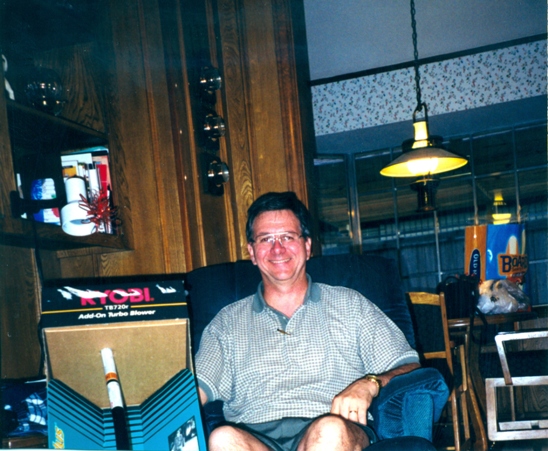 One of the excursions that summer was to the Natural Bridge Caverns in Central Texas.

Below is a photo of Betsy at the natural bridge.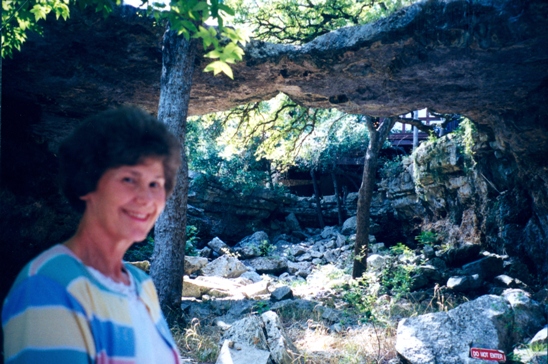 Next is a photo of Bruce, Michael and Niki inside the caverns.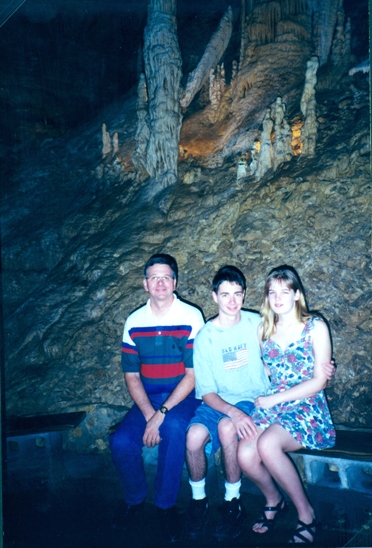 From the caverns, it was onto the Alamo. Below is Betsy and Bruce at the monument across the courtyard in front of the Alamo.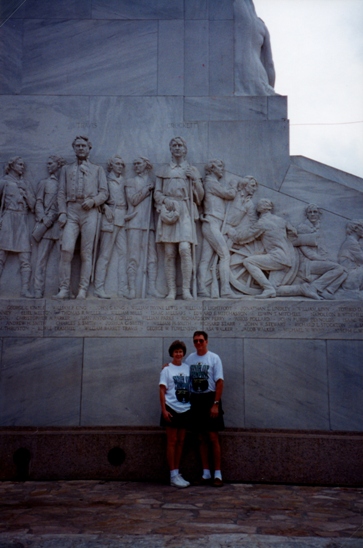 Both Chris and Bruce had birthdays in June. Below is a photo of Chris blowing out the candles the end of the month as Bret looks on.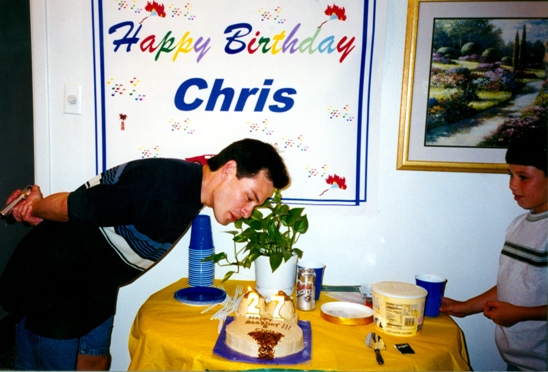 The 1984 Suburban was showing its age in 1999, so Bruce "upgraded" that year.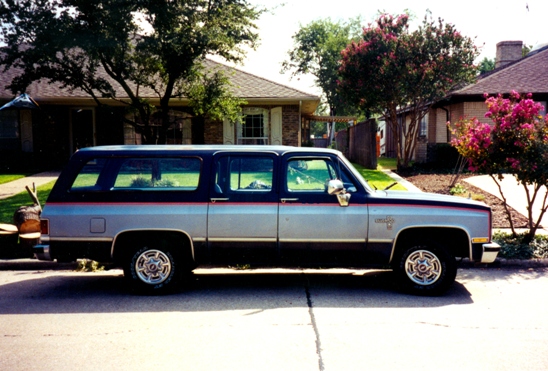 Below is a photo of the 1999 Suburban replacing the 1984 model.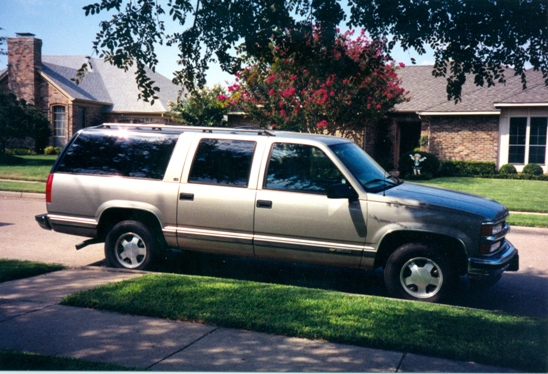 Bruce typically buys a new Suburban every 14-15 years. You can't wear them out mechanically since they are built on a truck platform, but the paint and interior starts wearing out.
That summer, Alissa had her first trip to the Zoo. Below is a beaming grandmother and Alissa.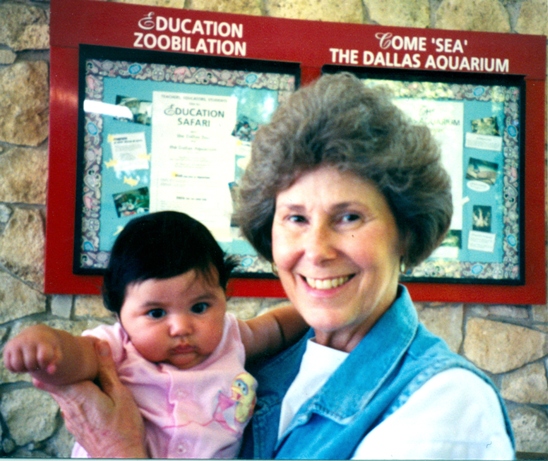 Big sister got in on the action too. Below is Arianna holding Alissa at the petting zoo.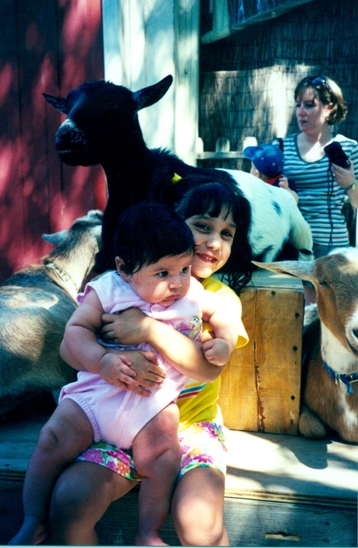 The year 1999 was also a year of visits from Betsy's relatives. Below is Ellie, Margie, Bruce, Jackie, Bill, Vi and Tim.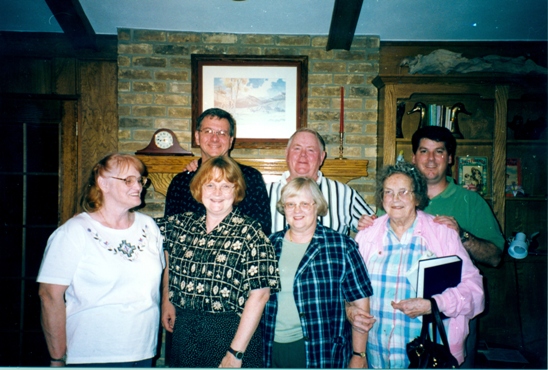 Cinda and Jim also visited that year. Below are Bruce, Betsy, Jim, Cinda and Tim.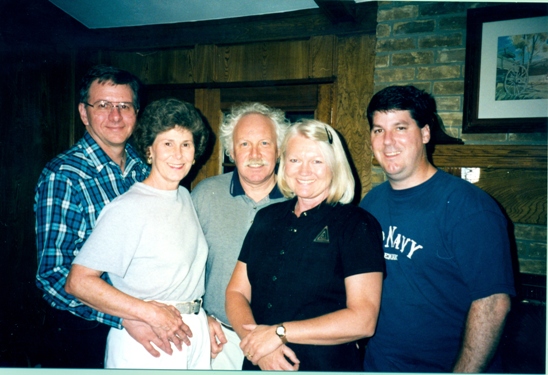 Talk about a busy summer! After the birthdays, outings, visits from relatives, it was time for Alissa's Baptism. Below is Chrissy, Fr. Dockery, Alissia and Arial at St. David's in Garland.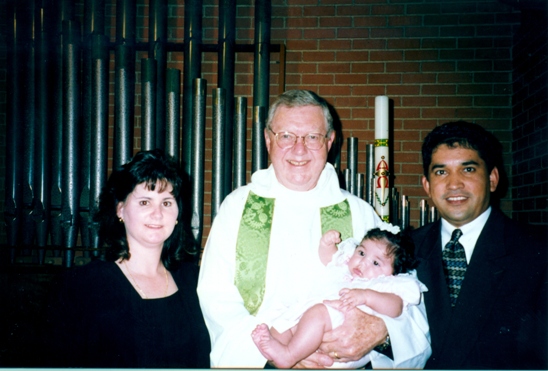 Below is a group photo of the family. In the back row is Bruce, Michael, Tim, Fr. Dockery and Chris. In the middle row is Betsy, Holly, Chrissy and Arial, and down front is Bret and Alissa.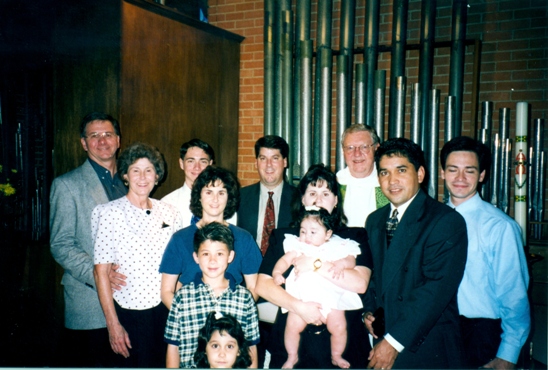 In 1999, Bruce did some work in the middle-east and picked up some Arab garb. That year, he dressed as an Arab while Arianna was a clown and Bret was just scary.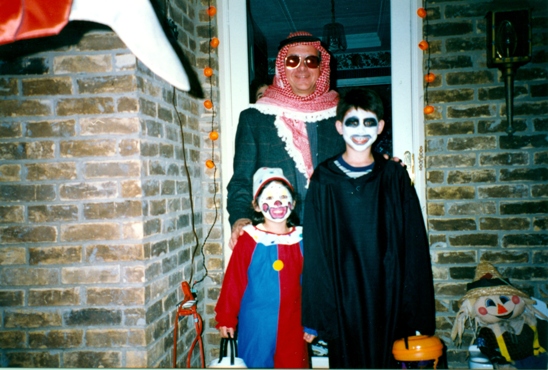 December came around, and it was time for their traditional anniversary dinner. Below is Betsy and Bruce dressed up for a fancy dinner at the Old Warsaw.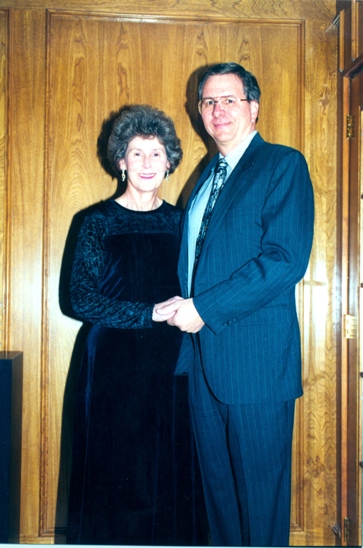 The Old Warsaw is 5-star continental restaurant that is a Dallas landmark, and is known for its intimacy and fine dining experience.
December is busy around the Blais household like many other months. Arianna turned 4. Below is a photo of her blowing out the candle on her cake.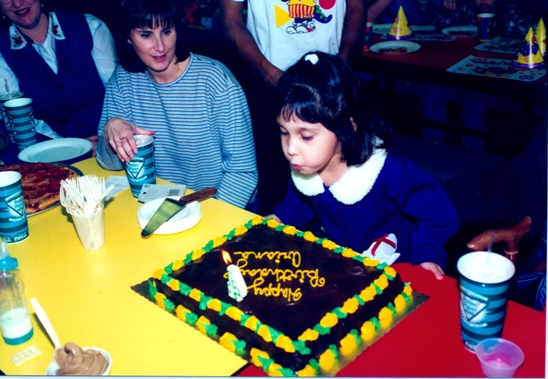 What would a birthday party be without presents. Below is Arianna opening gifts.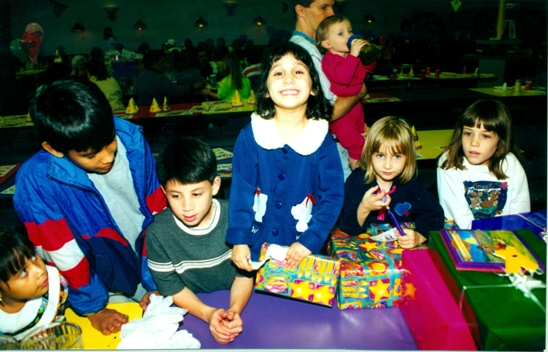 Bruce decorates the house in lights every Christmas season. Below is how it looked in 1999. It is not "over the top", but impressive to say the least.
Below is a family photo just prior to the 1999 gift exchange on Christmas day. Pictured are Bruce, Betsy Holly, Arianna and Tim.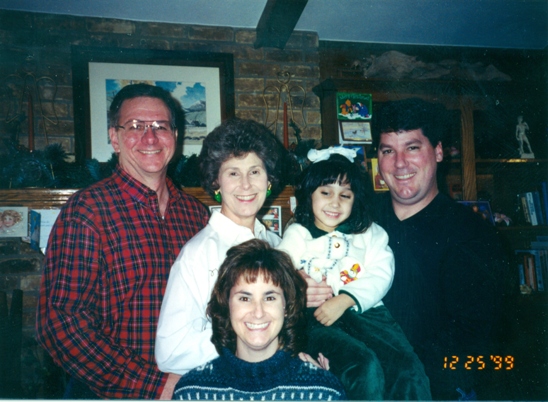 Below is the gift exchange as it got started.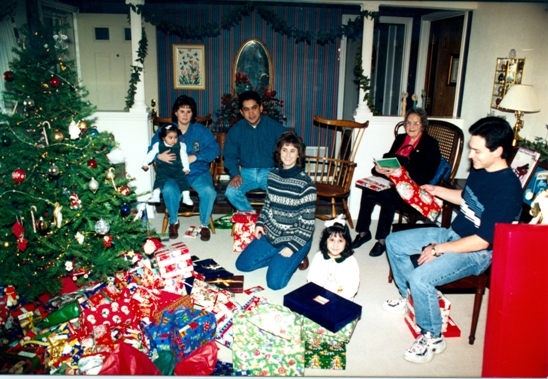 That year, Michael's girlfriend Niki, was visiting her mother in Australia. Michael was going "down under" to visit her during New Year's, and was planning to surprise her by dressing in a disguise.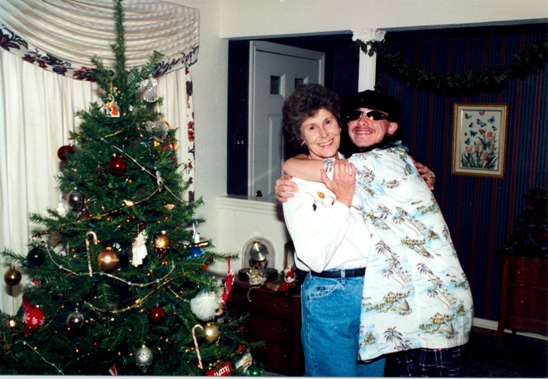 Bruce had done the same to Betsy when returned from the Middle East, so like father, like son.
The New Year's party that year was a humdinger, but of course it was the year 2000. Some of guys got pretty loose that night. Below is Tim, his sister Holly, Chris, Arial and Chrissy.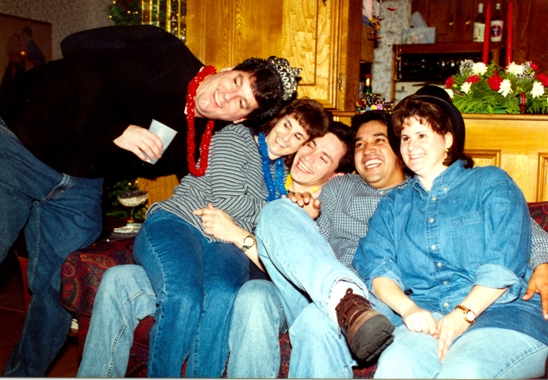 Did someone mention folks got loose? Below is Arial and Chris singing to Karaoke.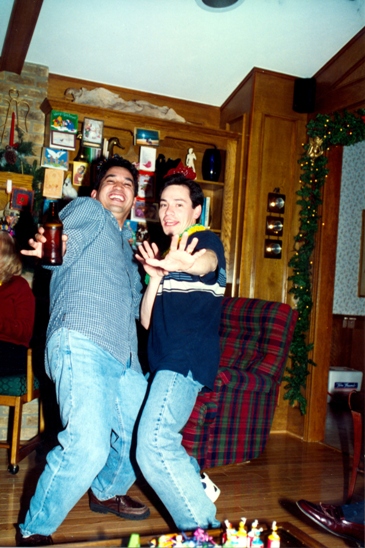 Also at the party was Betsy's long-time friend Nancy and husband Eddie.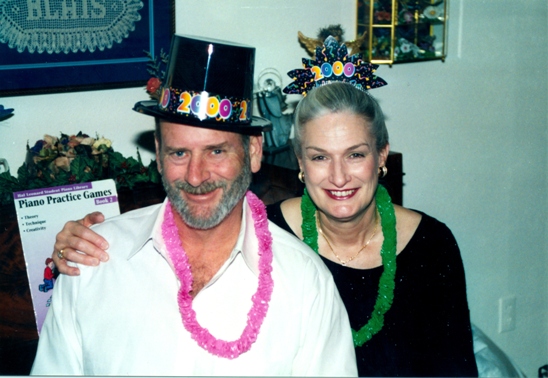 And below is a photo of the host and hostess, Bruce and Betsy.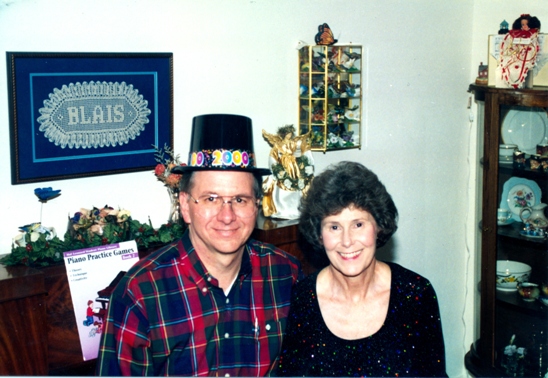 It was quite a party and we all survived Y2K.