Family Events - 2003
Here are a few of the notable events from 2003. They include: a visit to aunt Jane in Pebble Beach, Bret's Little League, Ariana's & Alissa's soccer and the Florida-Arkansas game in Fayetteville and Florida-LSU game in Baton Rouge.
During 2003, Bruce was doing some work in Sacramento and had Betsy out one weekend. While she was there, they took a trip down to Pebble Beach to visit Betsy's aunt Jane.
This is aunt Jane and Betsy at lunch.
Betsy was adopted, and in the process of finding her mother, also learned she had a half-brother. He was in the trucking business, and when she finally tracked him down, he was passing through Dallas.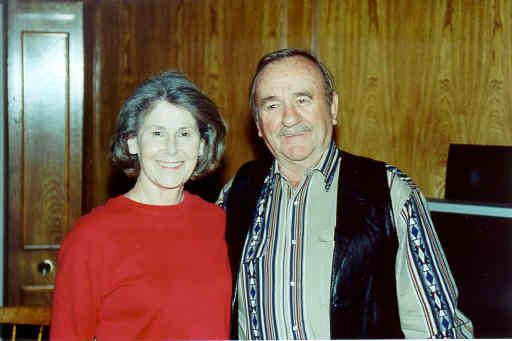 Betsy and Claude had a short but close relationship. He died a few years later of cancer.
In 2003, Bret got into Little League and played for the Giants.
Every baseball star has an entourage. Below is a shot of Bret's. From left to right is his uncle Tim, grandmother Betsy and his mother Holly.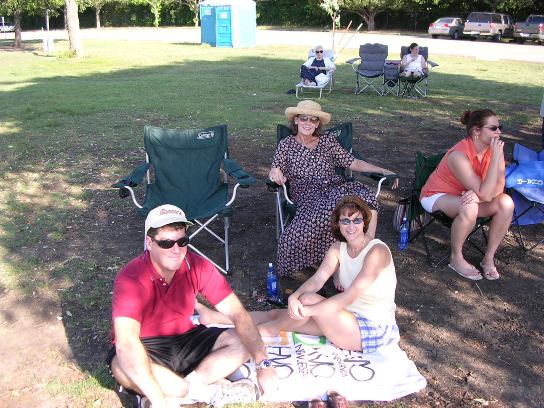 Bret getting ready to hit the long one.
While Bret was playing baseball, the granddaughters were playing soccer.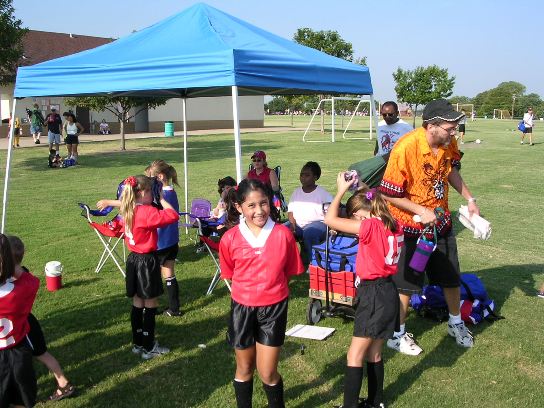 Ariana posing after winning her match.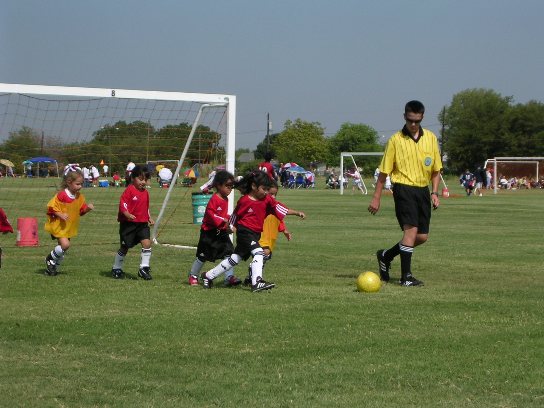 Alissa (in the shin-guards) going after the ball.
Betsy hit one of those "milestone" birthdays in 2003, so they decided to go all out for her birthday party The theme was a Hawaiian Luau.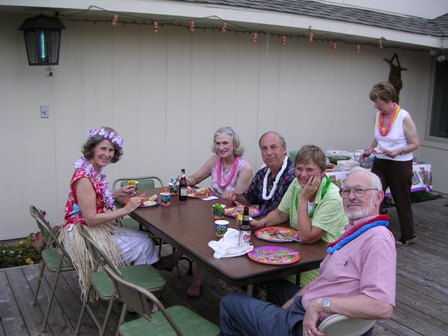 Betsy got Leis for her head and neck, the requisite grass skirt, and Bruce kept the Pina Coladas coming. Pictured above from left to right is Betsy, her best friend Nancy, Jim and Cindy, and Paul. Paul's wife, Molly, is at the table in the background.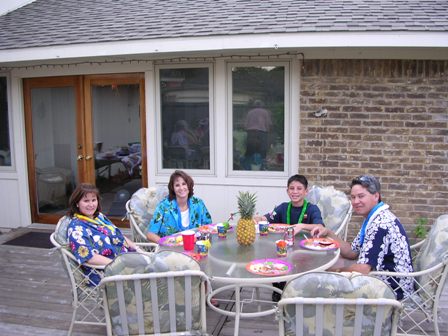 Betsy's daughters Chris and Holly, grandson Brett and friend what's his name were at the second table.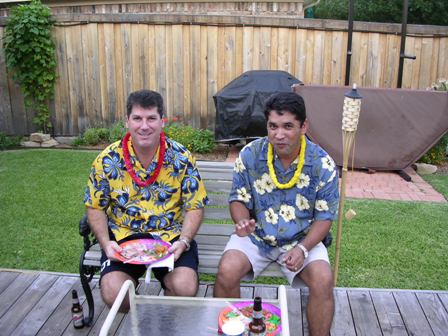 Betsy's son Tim and son-in-law Ariel held down the bench.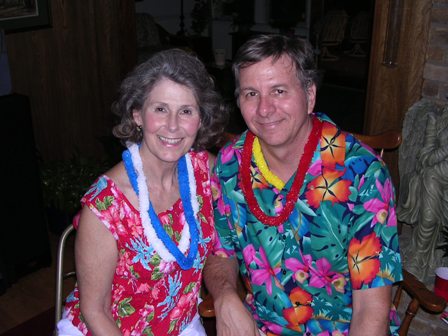 And finally, a shot of the birthday girl and her hubby.
In August, Betsy's twin girls had another birthday and we had another party. Here is Betsy and Holly with some of Holly's friends from work.
Below is Chrissie with some of her neighbors.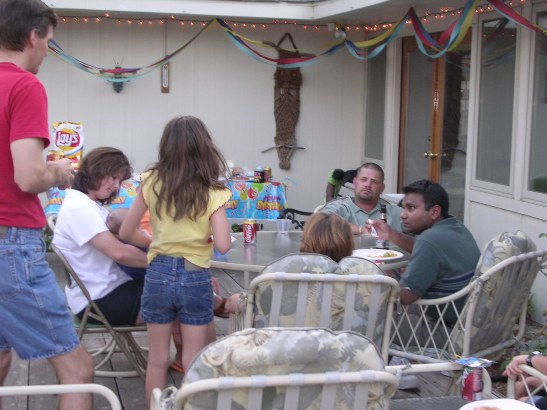 Every few years, Florida plays Arkansas in Fayetteville. In 2003, the local Gator Club got some extra tickets and they went with some of the local club members.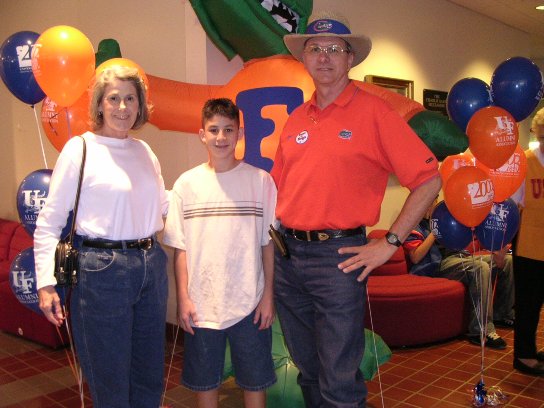 Betsy, Brett and Bruce at the Alumni Reception in Fayetteville.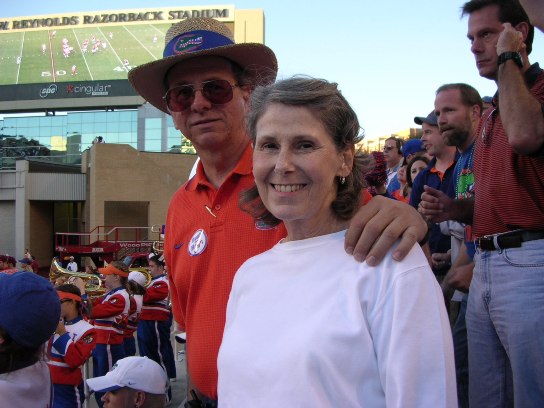 Betsy and Bruce at Reynolds Stadium with some of other alums in the background. The seats were on row 20 right behind the Gator Band. The good-looking fellow in the beard behind them is a close friend, Dave, who is from Bruce's home town of Daytona Beach and also lives in Richardson.
Back to the top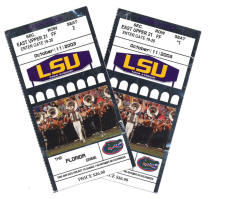 This was their year to score tickets to Florida games out towards Texas. A friend, Rick, couldn't use his tickets to the LSU game, so he graciously offered them to Bruce and Betsy, and they graciously accepted them. They drove on over to Baton Rouge and watched the Gators put the "Chomp" on LSU. The home team was favored, and even had Championship hopes, but the Gators managed an upset. Needless to say, the crowd at Tiger Stadium was somber and being deep inside Tiger territory, they made a hasty exit and boogied back to Dallas.
In 2003, Betsy's grandson Bret turned 16 and wanted to have his party at Hooter's.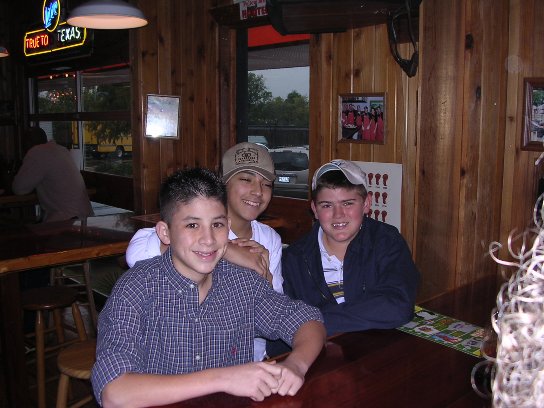 What better way to impress your "Buds" than to have your birthday party at Hooter's.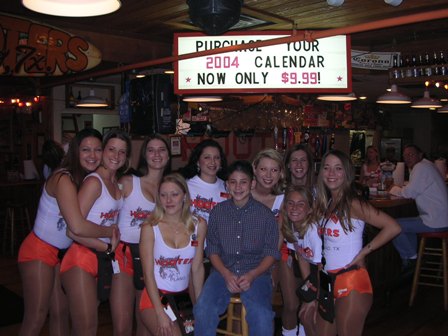 Then there is the birthday photo with the Hooter's girls.
Disneyland with the Granddaughters
Bruce was working in Los Angeles that November, so he had Betsy and the granddaughters out to Disneyland one weekend. It had to be Disneyland since their parents had "first dibs" on taking them to Disneyworld in Florida.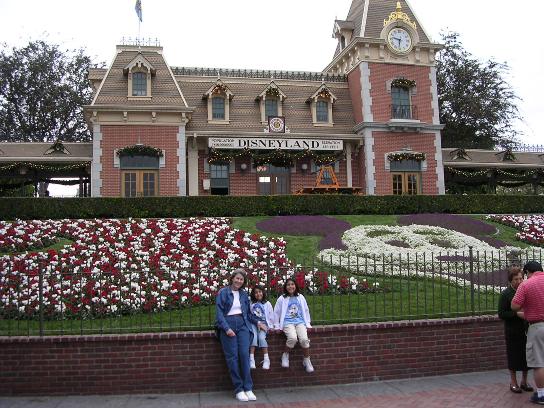 Betsy, Alyssa & Ariana at the main gate.
Alyssa & Ariana with Ms. Cruella de Ville.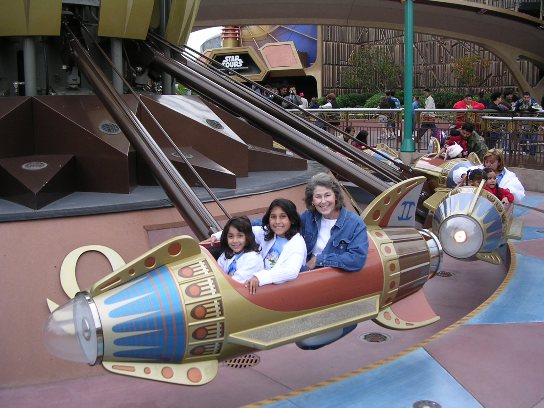 Betsy, Alissa & Ariana on one of the rides.
In December, Ariana hit the Big 8, The party was held at the local the skating rink. Below is Bret, his mother Holly with Ariana hiding behind Holly.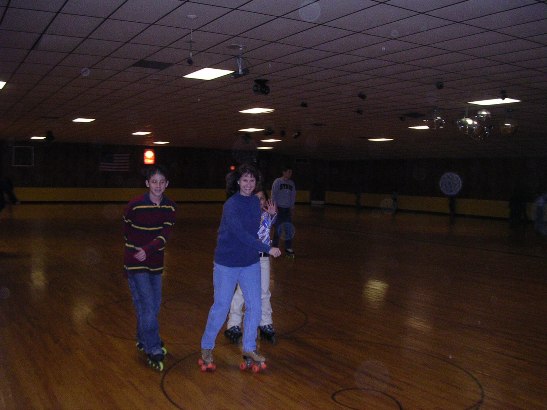 After skating, it was time for hot dogs and soda.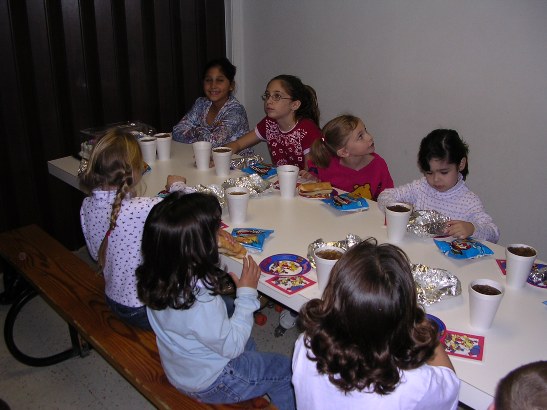 Next it was on to the gifts.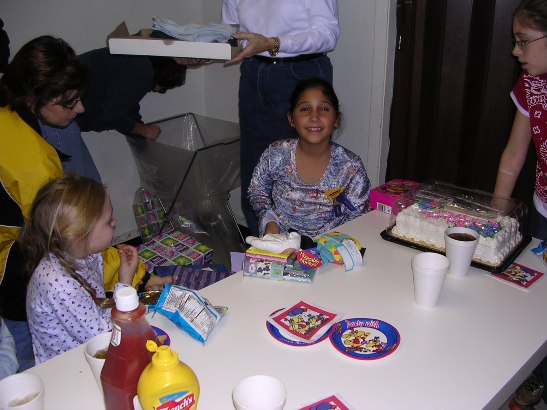 And then finally cake.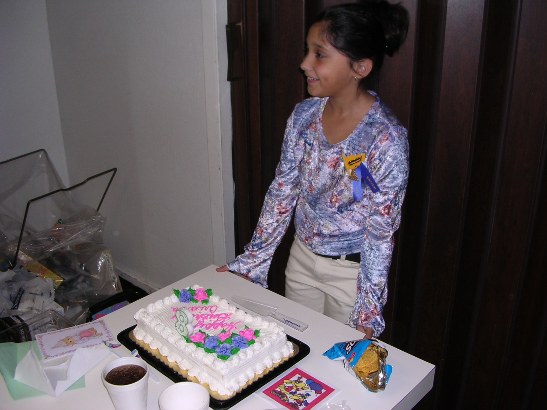 As usual, there are holiday parties to attend. Here is Betsy a few days before Christmas all dressed up to go out.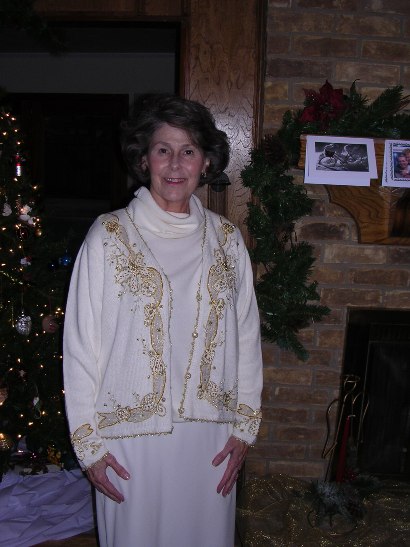 Below is a photo of Betsy and Bruce prior to leaving for Mass on Christmas eve.