Family Events - 2008
Here are a few of the notable events from 2008. They include holidays, birthdays and a trip to Lone Star Park for the Kentucky Derby.
The family Easter dinner. We had 12 people for dinner this year.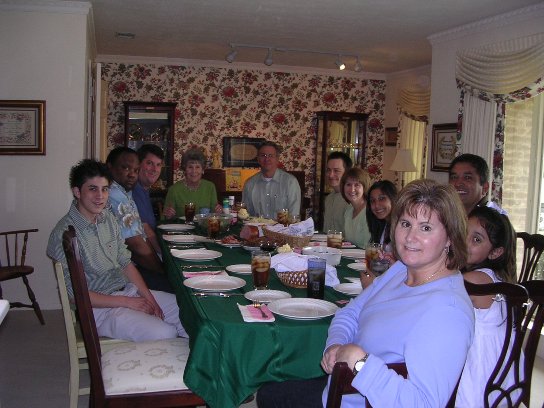 Later we had an egg hunt. Here is Alissa following the clues to the eggs. We hide money in plastic eggs and then write up a list of clues (riddle style) to follow to find them.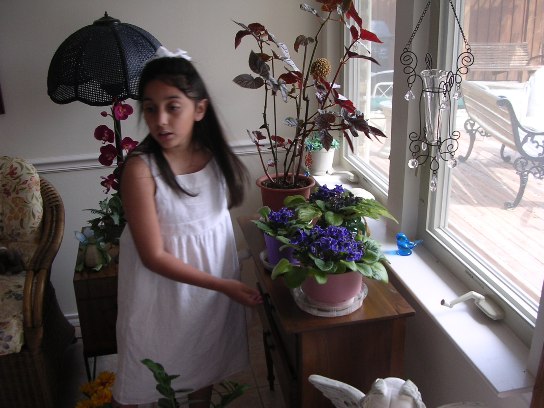 We had another theme party for Tim's birthday. This year, it was American Idol. Zach played the part of Randy and Tim the part of Simon. "Paula" was in "rehab" and not available. Each of the party guests then took turns singing in front of the judges. Zach (Randy) and Tim (Simon) had good time playing the parts of these two celebrities.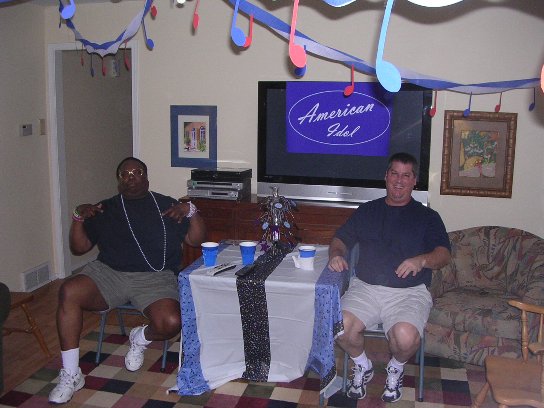 One of the "contestants" having a word with "Simon".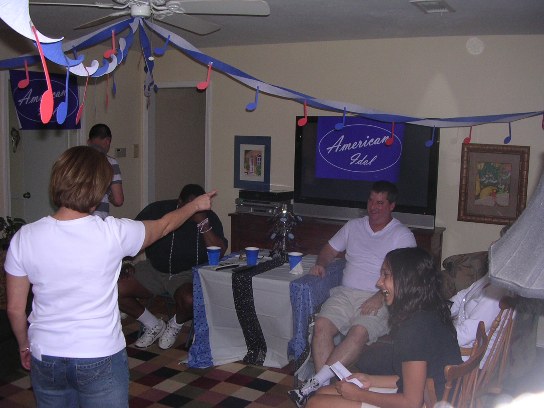 On May 3, 2008, we went to the track, Lone Star Park to be exact, to play the ponies and the Kentucky Derby. The weather was perfect and everyone was in the winning spirit. I had the best day ever at the track and Betsy was in the money too! I wore my Gator's golf hat and ran into 4 other groups of Gators while there. It was just great!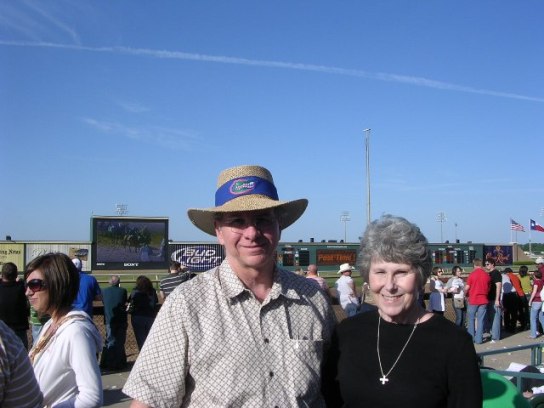 Ron and Deb were with us to make it a foursome. In addition to having a classic British sense of humor, Ron is good at playing the horses. His family was in the pub and betting parlor business over there and he really knows how to gamble. As a result, he came out a big winner. Deb did well too!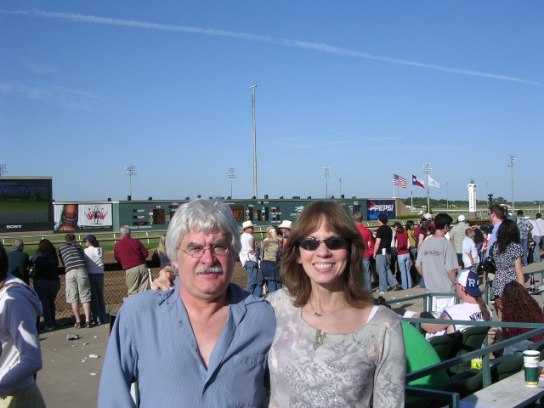 All in all, we had a great day. It was nice that everyone walked away winners!
Alissa turned 9 and a few friends and family through her a party. There were plenty of presents as you can see.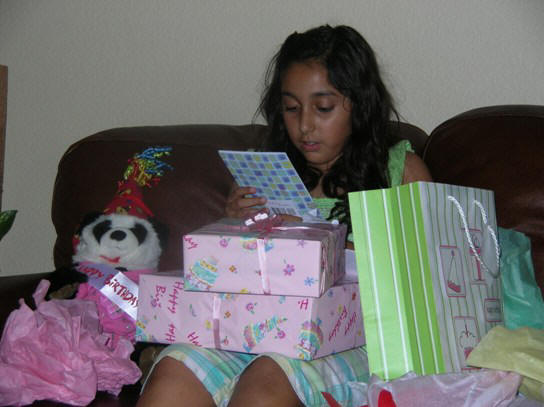 More gifts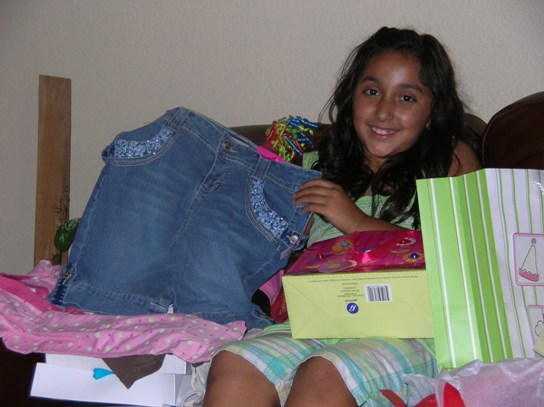 The cake was beautiful, pink with flowers on it as you can see.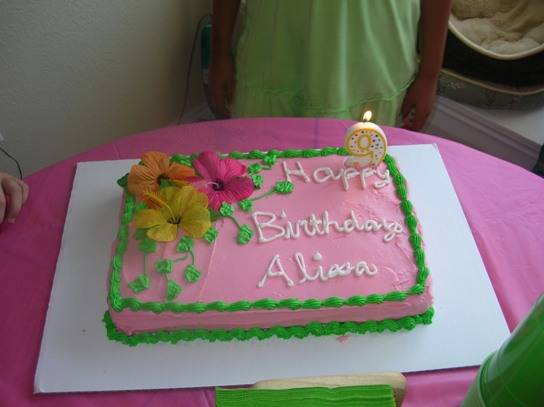 Next came Bruce's Birthday. Betsy surprised him with several folks he rides with in DORBA. Here he is with Joe and Debbie, with wife Betsy behind.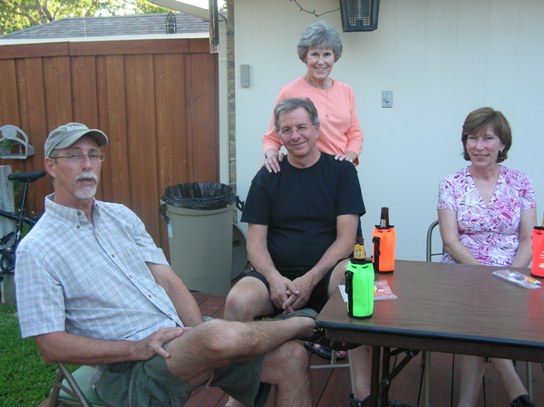 One of more guests: Zach, Chrissy, Holly, Tim, Eric, another Zach, David and Sharon.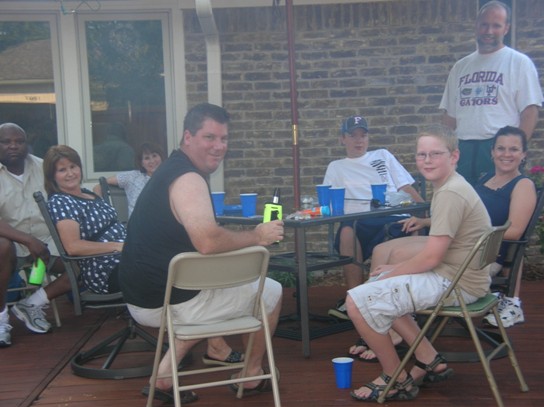 And of course, the cake, appropriately trimmed in school colors.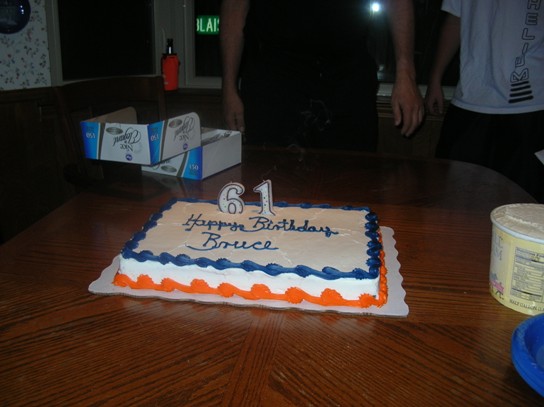 Betsy likes to go to the Old Warsaw in Dallas for dinner on her birthday, and here she is in a new dress for the night out. The Old Warsaw has a reputation for being one of the most romantic restaurants in Dallas, and she enjoys the special night out.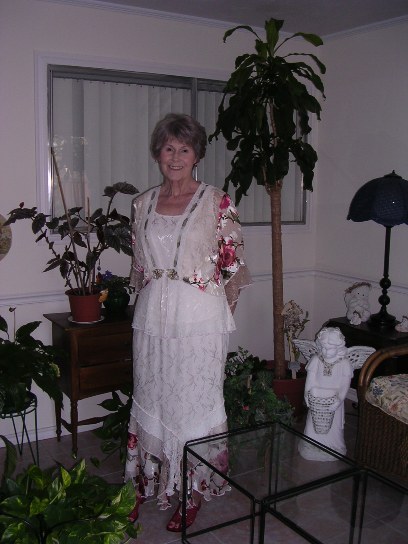 We had her party at Tim's that year, and her she is with her two daughters and Ilsie, a lady for which she was a part-time care-giver.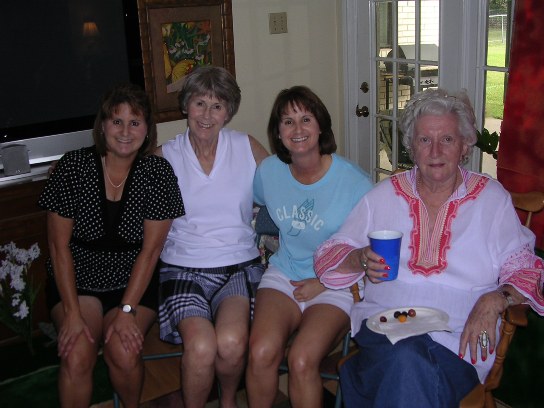 Here is Betsy opening gifts. The background was used for a party game we had where two people sat on the bench and you had to get the other off. Once eliminated, they were out and you went on to the next round.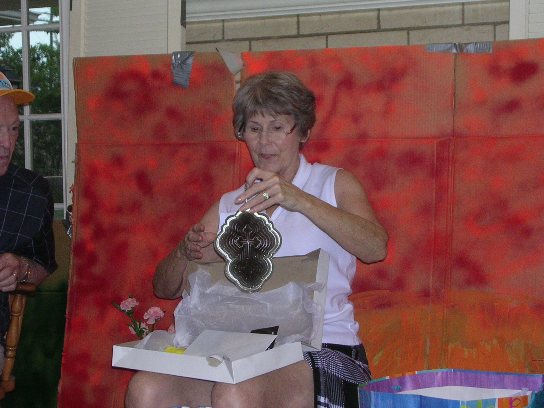 And the obligatory cake, candles and ice cream.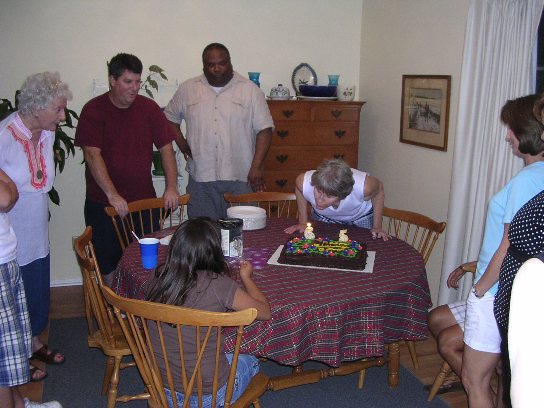 Mom had the twins 40th birthday on the deck. Decorations included the normal "party lights" and Japanese lanterns.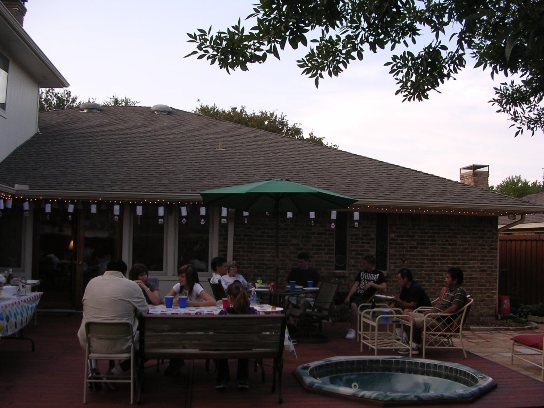 The party game consisted of tossing Cheetos on to each of the Twins heads. They donned shower caps which were then covered in shaving cream. The participants divided into teams and tossed Cheetos onto their opponent's head. The team that got the most Cheetos to stick won.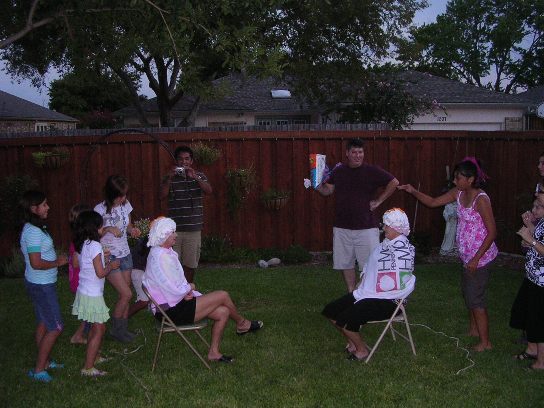 Next came the gift exchange.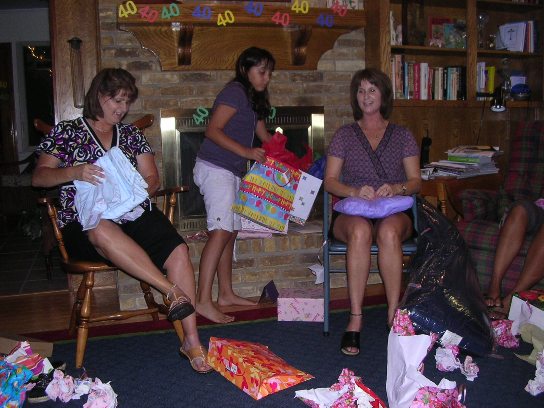 Cake and ice cream wrapped up the festivities.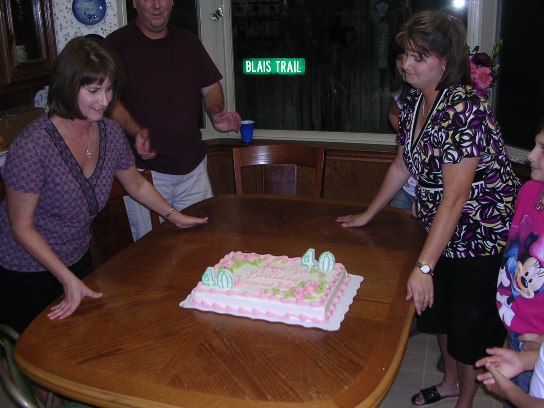 Grandma got a break this year when Tim hosted the festivities. Here he is in the kitchen slicing the turkey.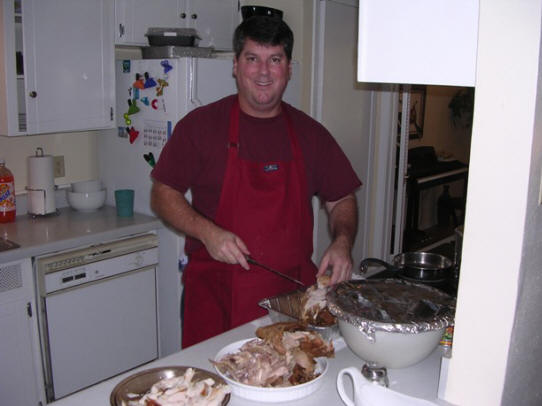 Ariana officially became a teenager this year, turning 13 in December. Here she is opening one of her gifts, a large purse that could double as an overnight bag.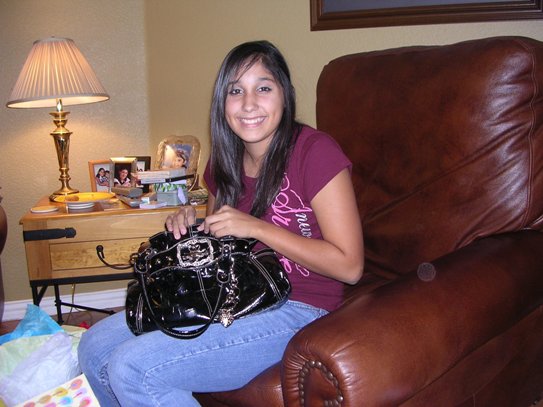 And of course the cake, candles and ice cream to wrap things up.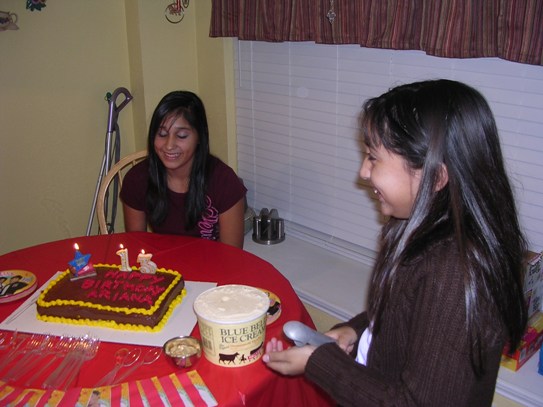 Each year the families do their gift exchanges at grandma and grandpa's.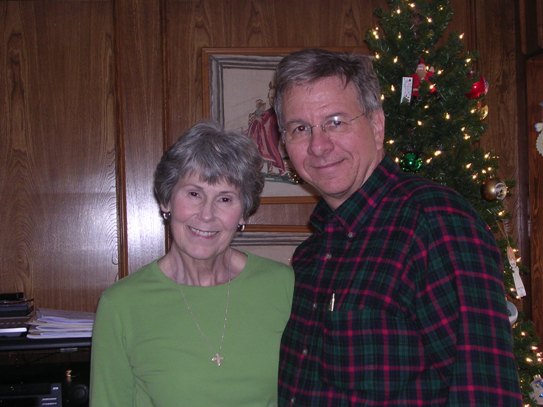 We start by distributing the presents to everyone and then take turns "round robin" style opening them.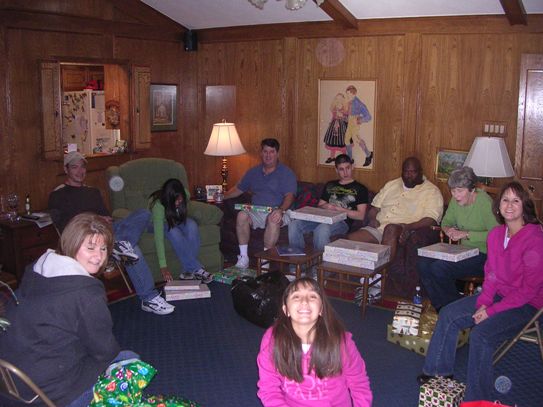 Here is Betsy with a holiday mug from Tiffany's. The familiar blue box is always a hit.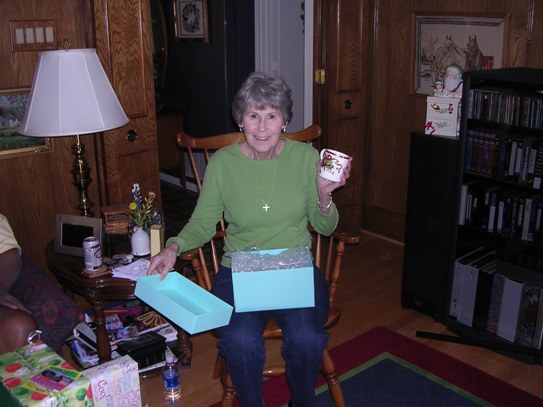 The festivities end with a traditional Christmas dinner.