FAMILY EVENTS - 2011
Here is a summary of the year in pictures. In addition to some of the special things we did in 2011, such as taking the granddaughters on a tour of Las Vegas and the Southwest, here are a few of the routine things that went on around here. These included holidays, birthday parties and other fun events.
In 2011, we did egg coloring at Chrissie's place. Below is the gang hard at work coloring eggs.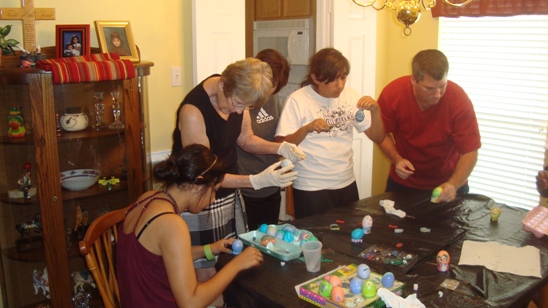 Here is a group photo with the results.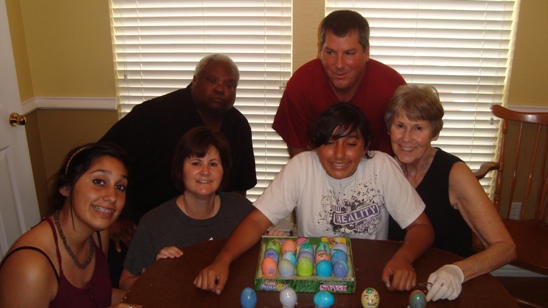 On Sunday Betsy and Bruce had a photo made with the granddaughters.
After everyone got comfortable, it was dinner with the family.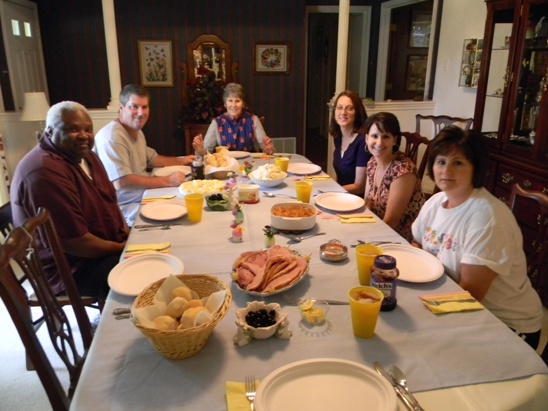 Tim had another one this year, just like every year. Here he is opening gifts.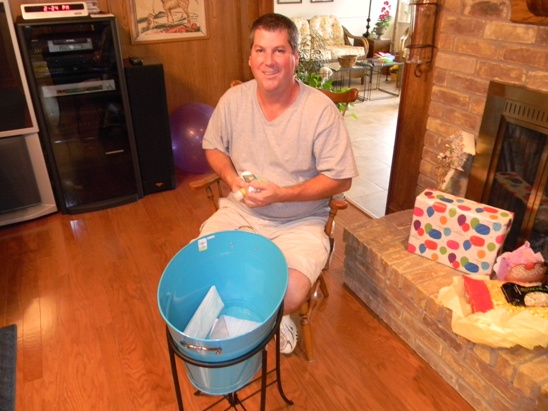 After the gift opening, it was time for cake.
The party game this year was picking up peanuts with a straw and putting them in a cup.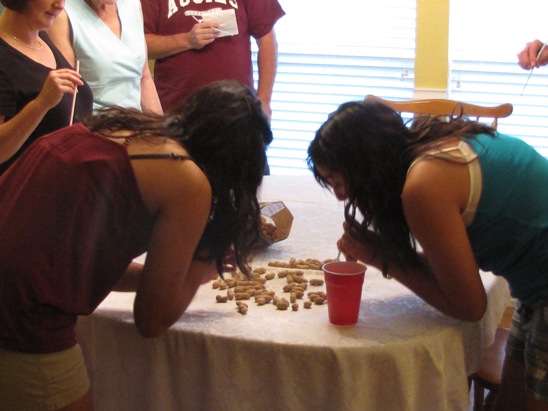 And then came cake and ice cream.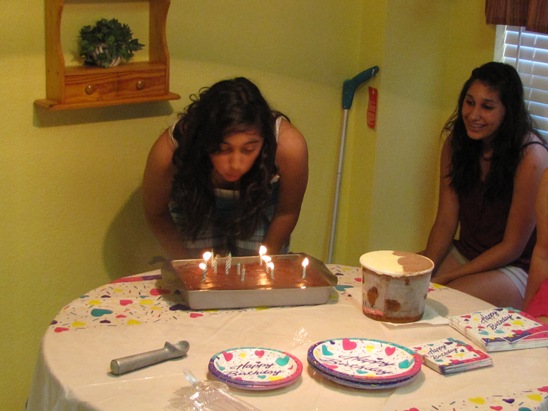 Bruce's birthday party in 2011 started out with BBQ ribs for lunch.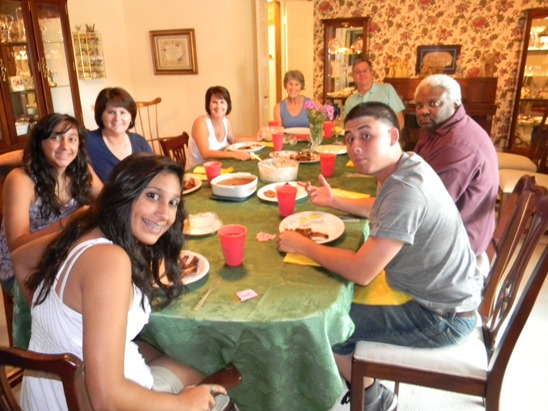 The gift opening followed lunch. Here is Bruce with a new pair of cycling shorts.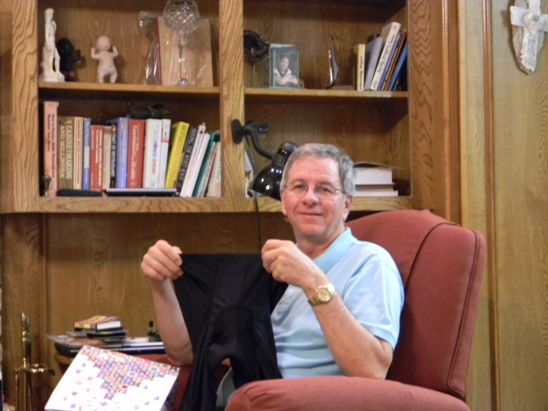 After opening gifts, it was time for dice game. Each person rolls dice in a plastic bowl, and when they get "doubles", they get to grab a prize. There are only a couple of prizes, so once the prizes are gone, they start taking from the other participants as they roll doubles. When the clock runs out, who ever has prizes gets to open them.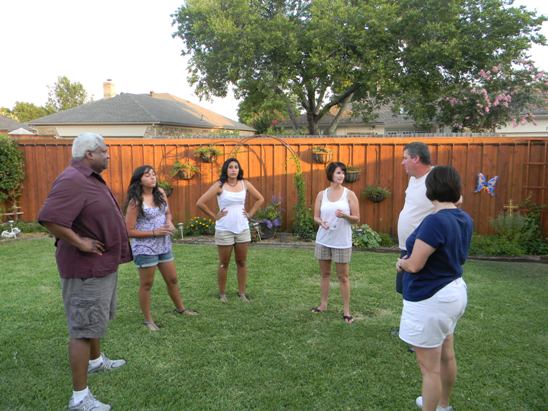 Finally, it is time to finish up with cake and ice cream.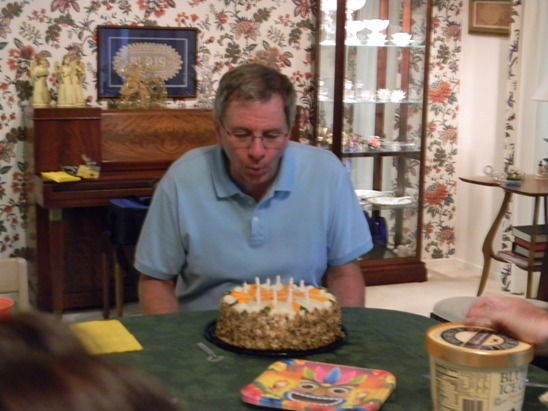 In 2011, we decided to do something a little different for Betsy's birthday, and went out to Buca di Beppo for dinner.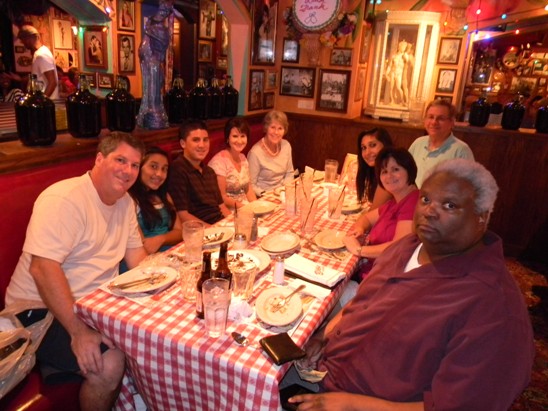 Gift opening time.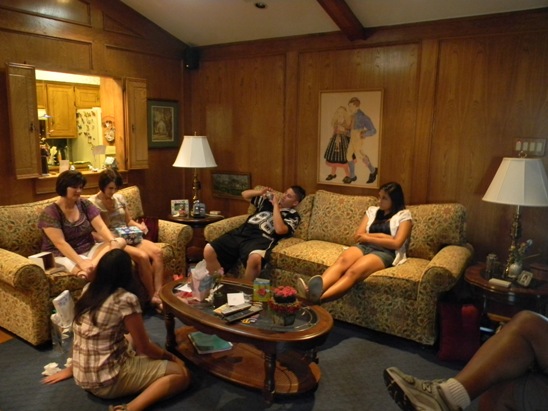 With the twins, we get a "twofer". Two celebrations with one cake. Here they are extinguishing the flaming candles.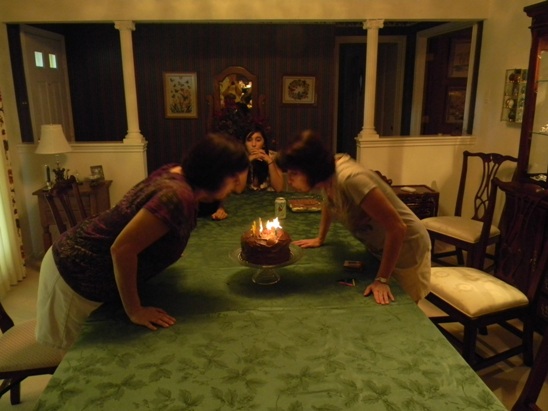 Betsy and Bruce attended the State Fair of Texas on October 10th. This was the 125th edition of the Fair. Even though it was a Monday, the Fair was packed since it was a Federal Holiday.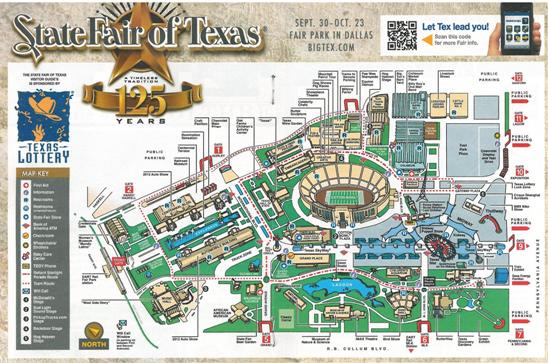 Since we arrived at about lunch time, the very first order of business was a Fletcher's Corny Dog. These have been a tradition for us since we started going to the fair, and was around long before were born.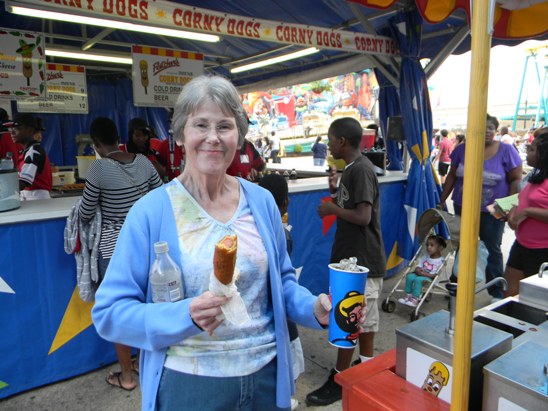 After the Corny Dog, it was time for a funnel cake on the food pavilion at the front of the Cotton Bowl.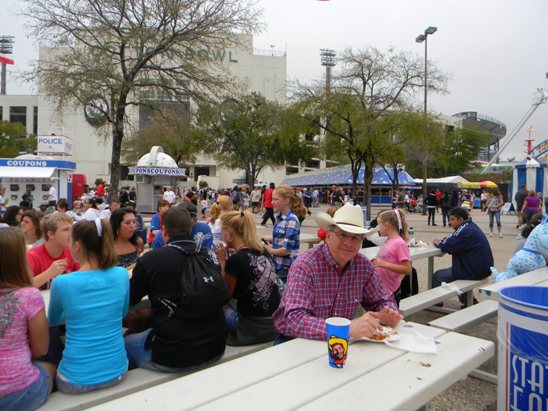 After eating, we wandered over to the auto pavilion and then past the Tower Building. Here is Bruce with Big Tex in the background.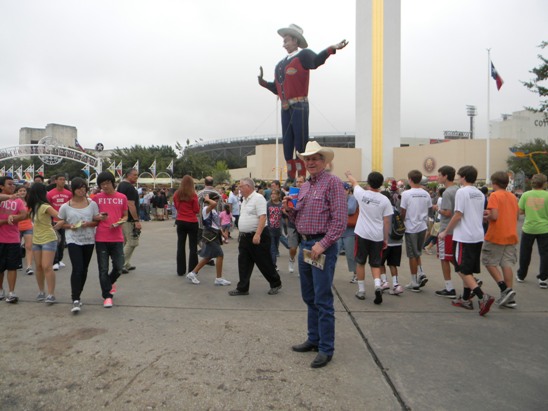 Next it was further down International Blvd. past the Hall of State.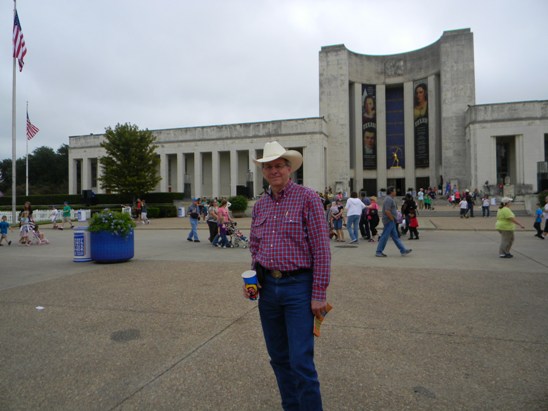 Next, we did the the Arts & Crafts building wandered down to the Food Pavilion. Each year, they do a statue carved out of butter, and below is a photo of the 2011 version.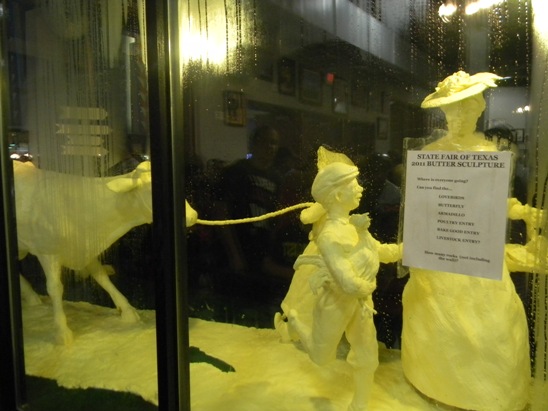 From the Food Pavilion, it was on to the Embarcadero to see all of the crafts and contest foods. Here is a photo of Betsy with some "LED shrubbery".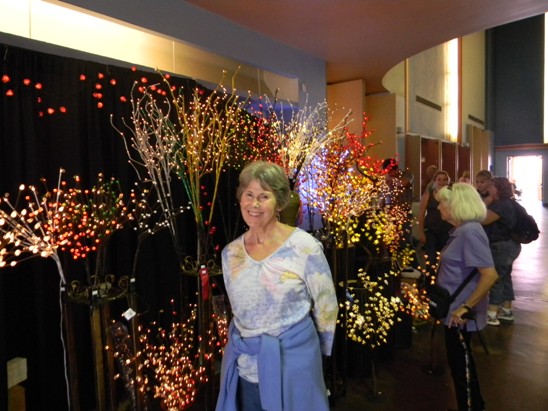 Finally, it was down to the taffy stand. Picked up a box of Sutters State Fair taffy (a tradition for us) and then moseyed down to the Chevy test drive area. At the Chevy test drive, we drove a Chevy Volt.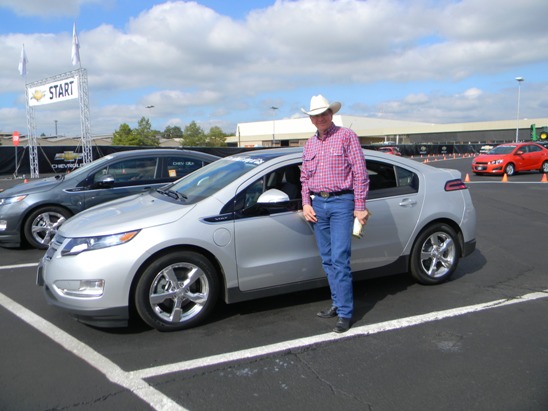 The test drive was a very unique experience. There was no engine noise, no transmission noise, no shifting, none of the traditional characteristics. It was smooth and quiet. Pedestrians might have trouble hearing this one. The instrument panels and displays were very futuristic. The handling and response was as smooth as silk. This is an impressive car.
Thanksgiving dinner was hosted by Chrissie in 2011, giving Betsy a break. Below is a "cook's conference".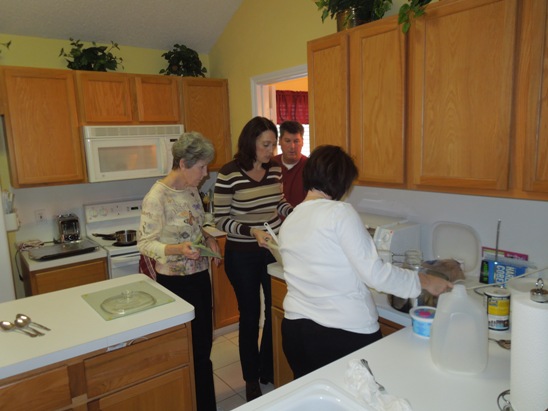 Below is the gathering around the table. Arianna is the photographer, so Bruce is in the photo this time.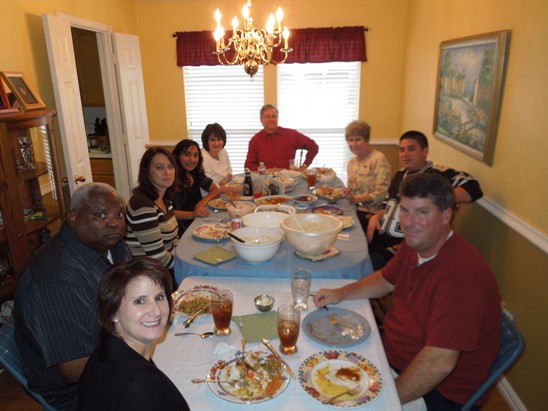 And finally, folks sitting around after their "stuffing". Ariana had knee surgery and is in the brace.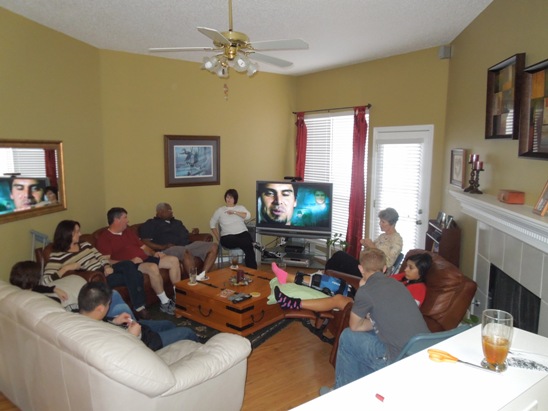 Christmas 2011 was like most. Mass on Christmas Eve and family at grandma and grandpa's (that would be us) on Christmas Day. Here is grandma on Christmas Eve. Grandpa is going to have to replace his broken tripod so he can get in the picture.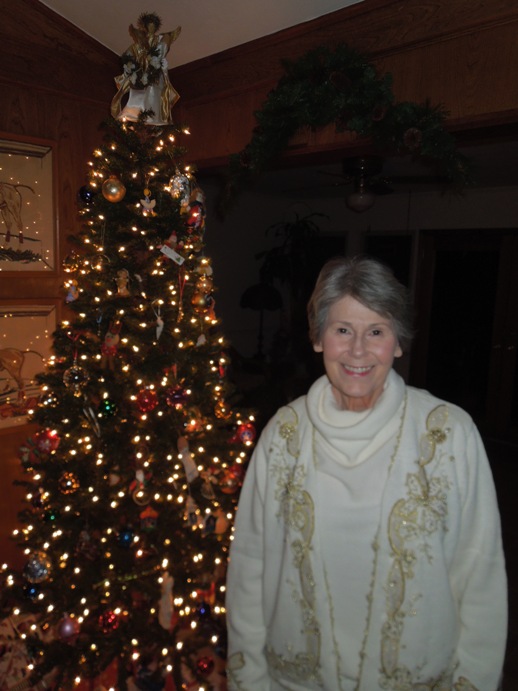 Below is the family room all decked out for the big day.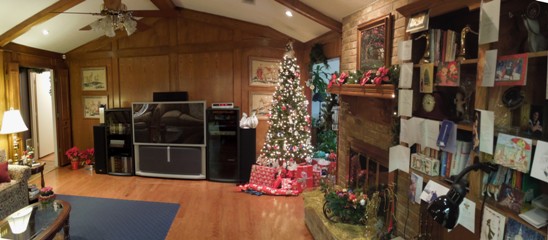 The dining room all set for the big meal.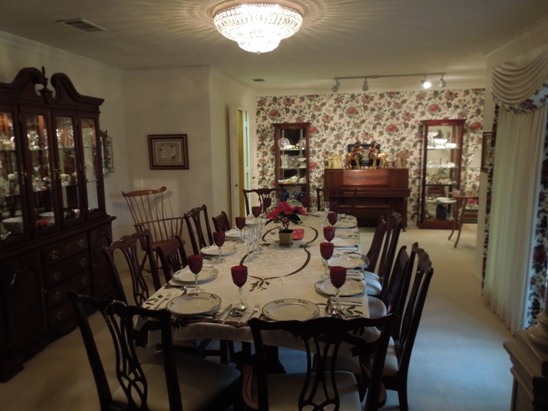 Outside, the house is all light up.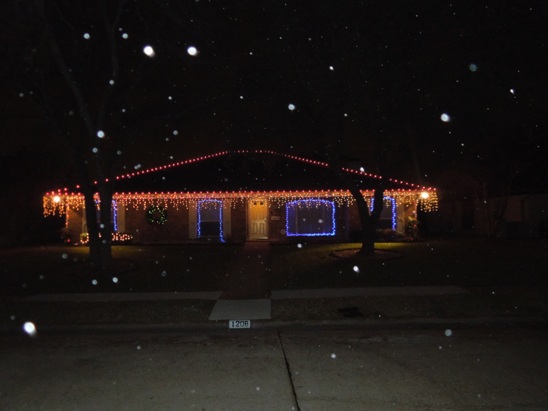 Inside everyone is having a good time. Left to right is Judy, Holly, Alyssa, Chrissi, Tim Gabriel, Arianna behind Gabby, and Zach.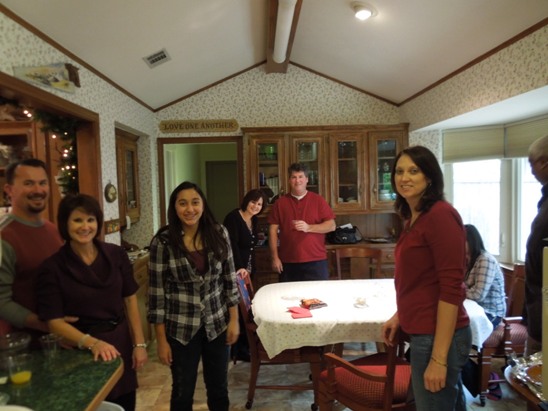 After everyone arrived and had some snacks, it was on to the gift exchange. Below is Alyssa, Arianna and Chrissi.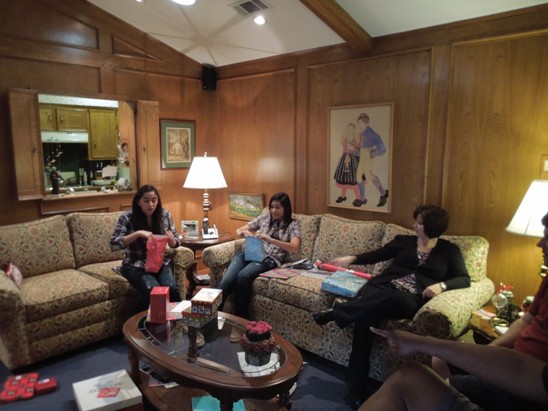 Next is grandma Betsy, Gabriel and Holly.
Arianna and Alyssa gathered with Aunt Holly for a group photo.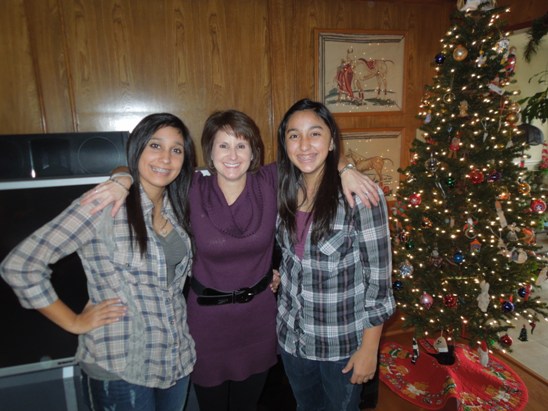 Bret with his mother Holly.
Holly with her boyfriend Jody.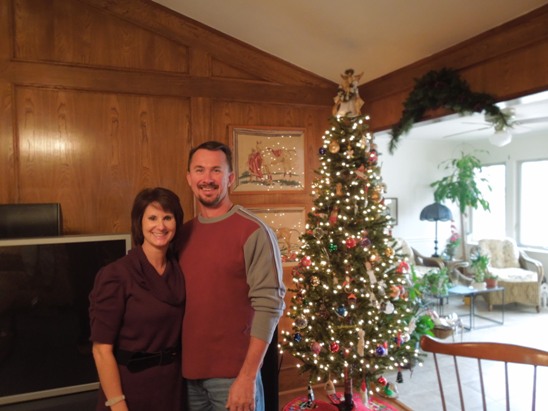 Another great family Christmas is in the books!