FAMILY EVENTS - 2021
Here is a snapshot of the things going on around Bruce and Betsy's place in 2021. These included holidays, birthday parties and other fun events.
Bruce's heritage is French-Canadian, so it is traditional to have Tourtieres (French-Canadian meat pie) during the holiday season. After Christmas, he gathered up the pie shells, meat and potatoes to make a couple. On New Year's eve, he prepared the filling and made the pies on New Year's day.
One of the finished pies on New Year's day.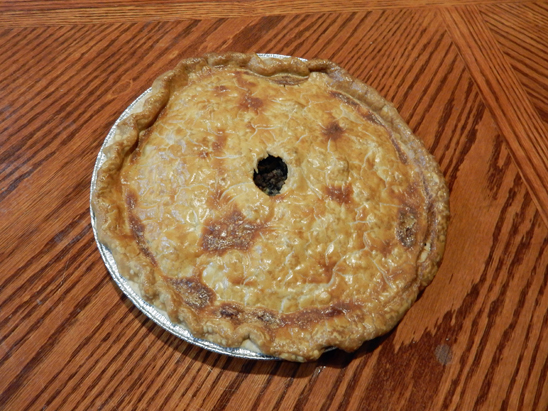 There was enough filling for 3 pies. Two were made for New Year's day and a third a few days later.
Below is a photo of Betsy, Claire, Tim and Michael at New Year's Day dinner.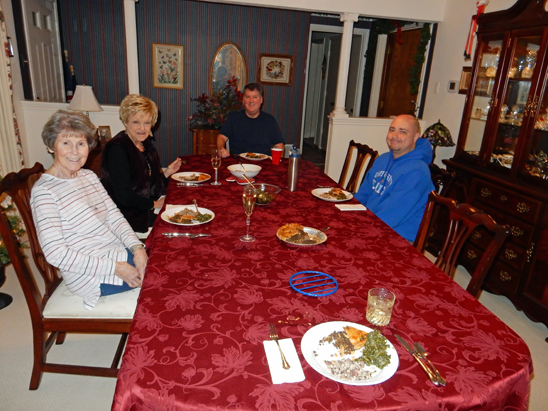 Bruce's father's older brother, Dr. Michael Blais, died on January 24, 2021, shortly after his 100th birthday. Bruce and Mike were close and Mike requested Bruce be one of his pallbearers. So it was off to Florida for Bruce and Betsy.
Bruce and Betsy tend to travel to Florida every year or so, and arrange their schedule to be traveling through Lafayette, Louisiana about noon and have authentic Cajun food for lunch. Since their favorite restaurant, Prejean's, was closed for remodeling, they decided to try Bon Temps down in town. That was a good choice. Betsy had fried catfish étouffée and Bruce had a crawfish étouffée pot pie.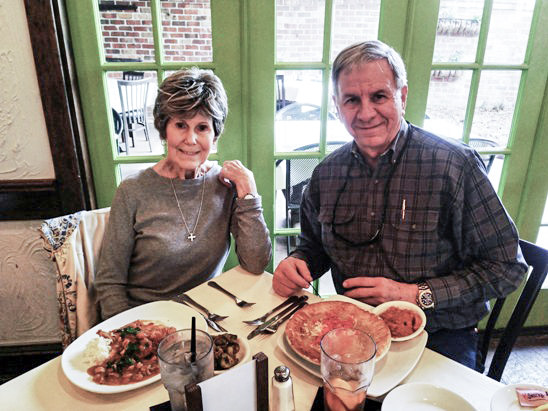 The cemetery and funeral home are near the Daytona International Speedway, so while he was staying nearby, got a photo out front. In his younger days, Bruce would watch the races on the beach and then later at the speedway.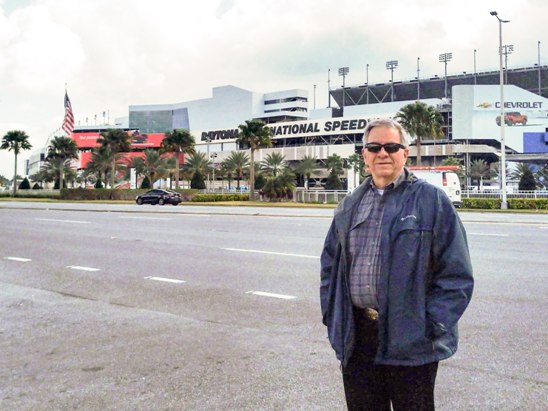 While in Daytona, the Rolex 24 Hours of Daytona was being run. After the race, he spotted an AMG Motorsport van and trailer in the parking lot of the hotel.
While in town, Bruce and Betsy drove down to Ponce Inlet to see the area where he grew up and visit the lighthouse.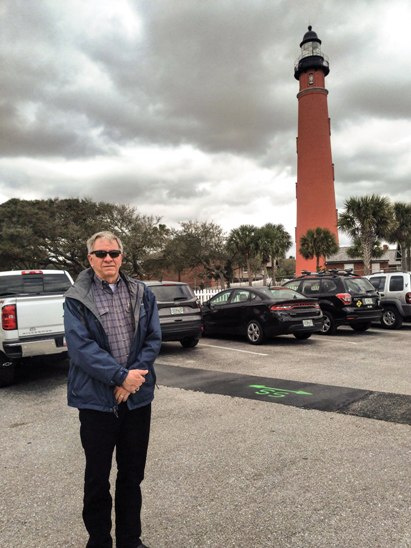 The funeral service was a Requiem Mass at the Basilica of St. Paul in Daytona Beach. Internment was at Belleview Cemetery.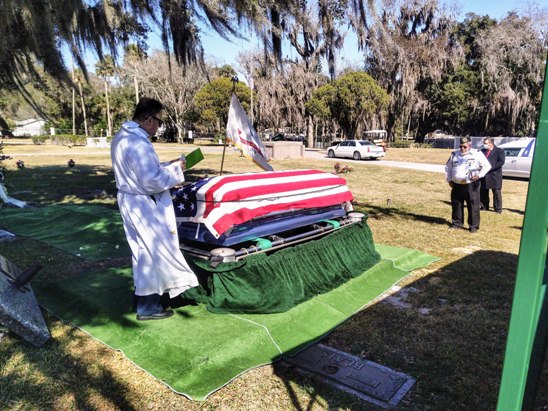 Since Mike was a medical doctor during the Korean war, the internment included military honors.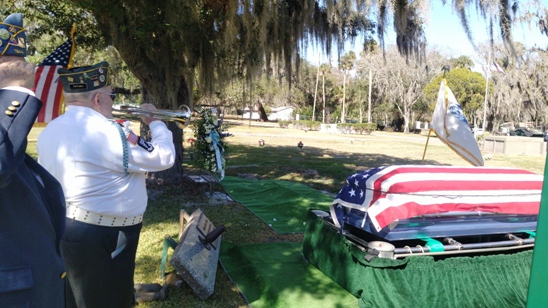 The flag on the coffin was presented to his daughter Loraine.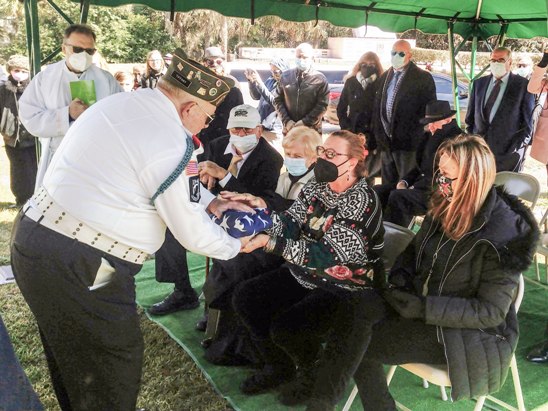 After the funeral, the family gathered at the Racing's North Turn Restaurant. Mike would watch the stock car races from the north turn before the International Speedway was built.
Bruce forgot to bring his Nikon from Dallas and ended up using his mobile phone thinking Photoshop could correct for the backlighting. Not quite.
On the back row of the table below is Angela, Claire's daughter in the hat, Jenny, cousin Lucy's daughter, cousin Loraine and Abby. Seated at the table are Bruce's wife Betsy, Bruce, cousin Lucy and her older brother Gillis.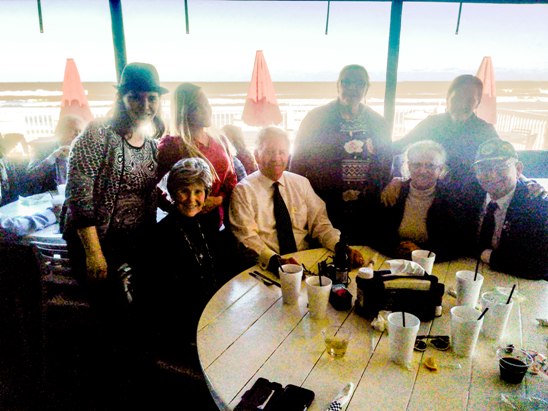 At the next table is Jenny, Betsy, Angela, cousin Claire, fiancé John Ruck and cousin Lucy.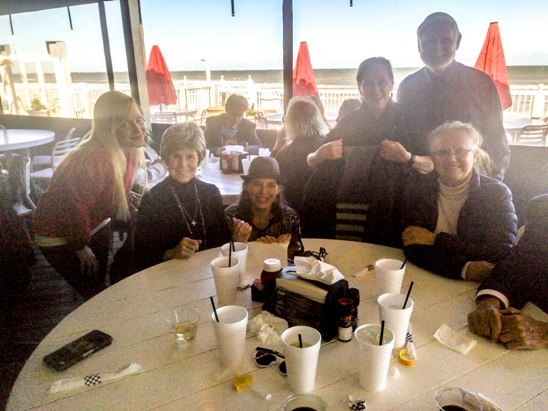 At cousin Bobby's table below was a family friend, cousin Brad, cousin Mark's wife Julie, Bobby's wife Barbara, cousin Bobby, cousin Mark, and Greg, cousin Kathy's husband.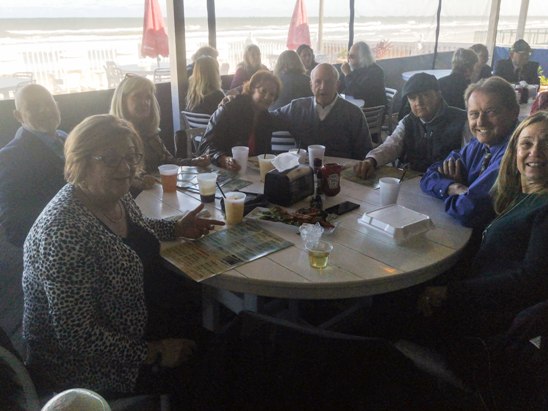 At the Brachhold's table below was cousin Andy, Deb, cousin Bill's partner, cousin Bill, cousin Linda, Abby, cousin Linda's daughter and Linda's husband Larry.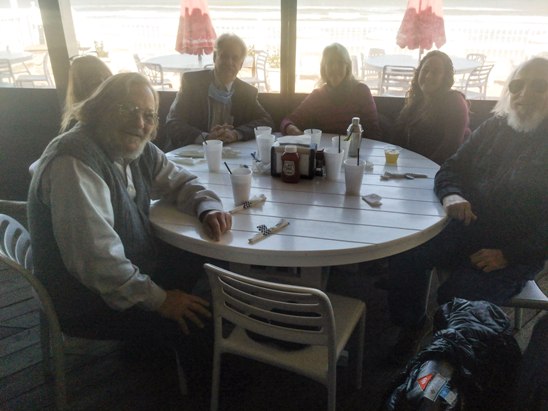 At the last table was cousins Lucy, Gillis, Kathy and Claire.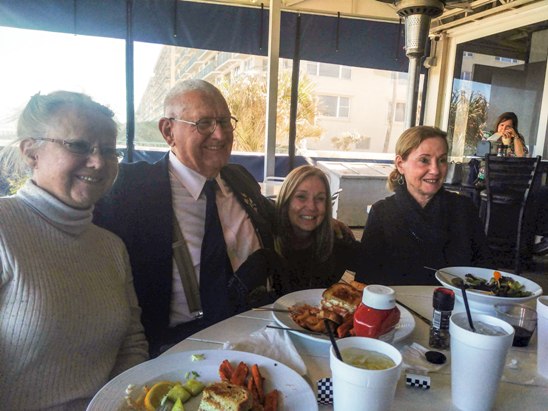 On the way back to Dallas, they stopped for the night near Denham Springs outside of Baton Rouge to visit a long time friend of Betsy. Below is Sadie & Betsy at Duke's Seafood Restaurant.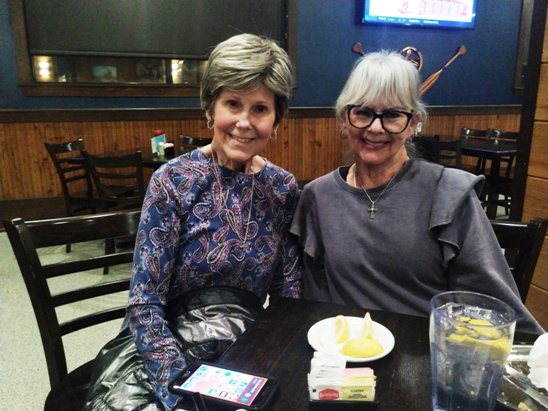 Bret and Lindsay "tied the knot" on February 13, 2021. The reception was held at their home in Princeton, Texas, just northeast of Dallas. Resize to 548 x 411
The next shot is Betsy and Bruce, Bret's grandparents, with Bret and Lindsay.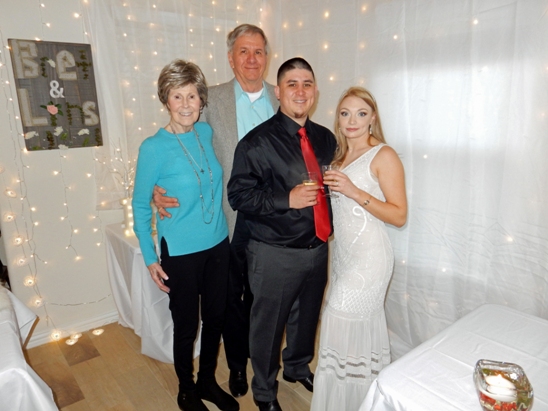 Bret and Lindsay having dinner at the head table.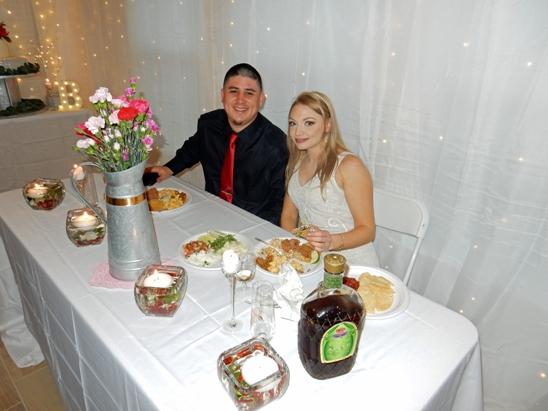 In the photo below is the third table with Betsy, ?, Thang, Mike and Tim. Thang is Bret's father, ? is his wife, Mike is Bruce's son and Tim is Betsy's son.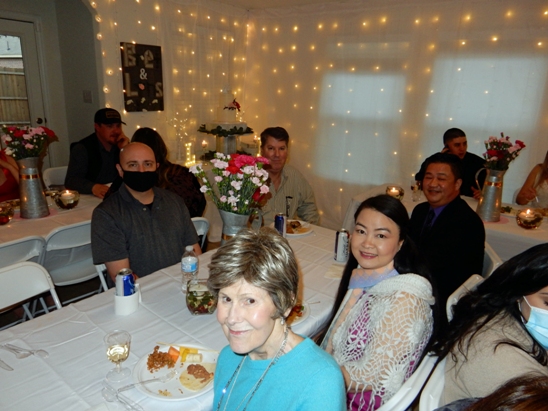 Below is the fourth table with Bret's aunt Chrissy and cousins Ariana and Alissa, Ariana's husband Collin, and Alissa's boyfriend Zach.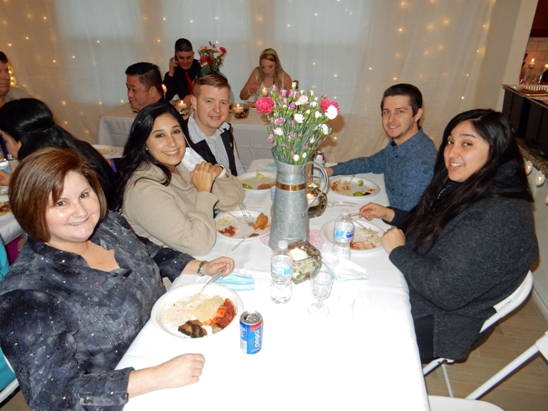 At the second table was Terrence, Chelsea, Philip and Sara.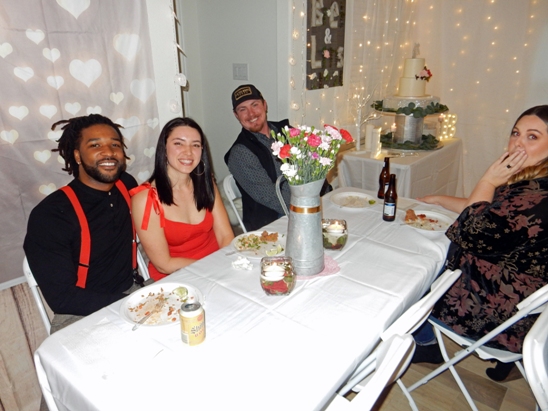 Lindsay and Bret cutting the cake.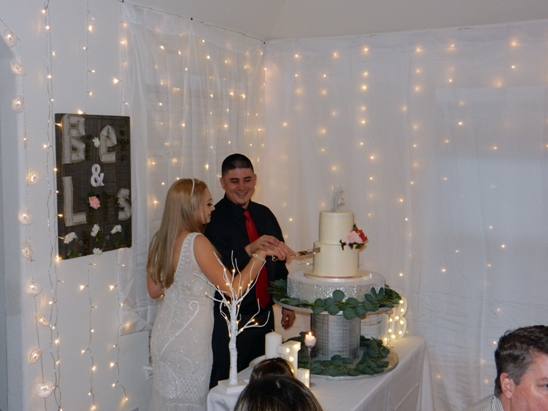 Bret's uncle Tim with Bret's mother Holly.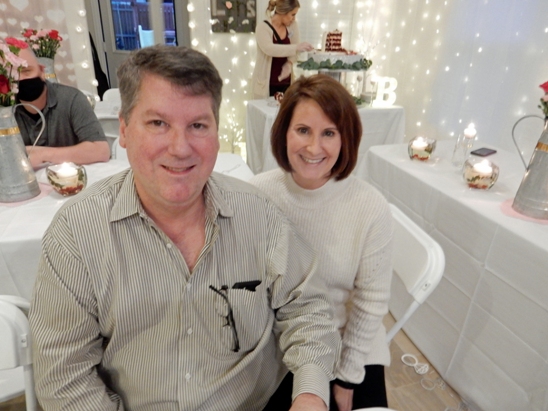 Gathered family in the front room.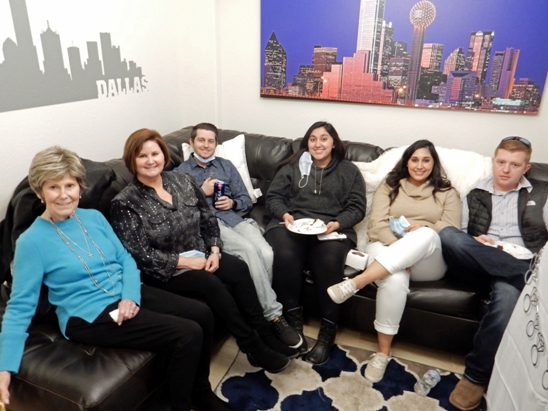 Bret and Lindsay receiving an heirloom vegetable tray from Betsy and Bruce.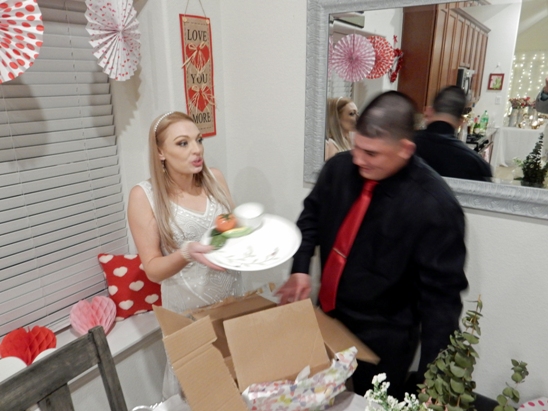 Betsy bundled up in her Blue Fox coat before heading out into the cold.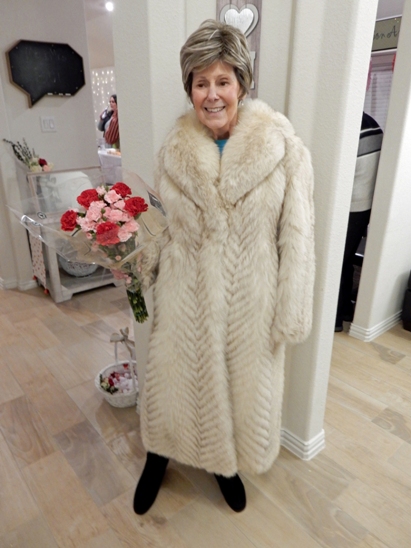 On St. Valentines Day, 2021, a once in a lifetime storm hit Dallas. It was called Snovid-21 because in addition to being locked down for the pandemic, they were also locked down by the weather. The last time a storm like this hit was in 1949, 72 years prior. There was about 3" of snow, which was nice, but the worst would come the next day. This is what it looked like Sunday morning, February 15th.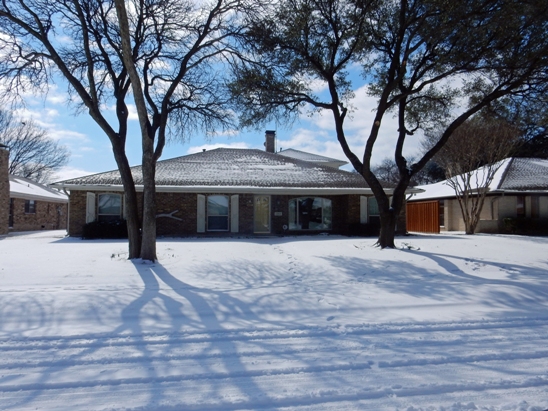 The snow on the table in the back yard measured 3 inches.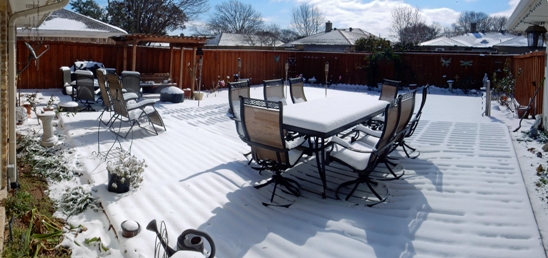 The Suburban had a nice coating of snow, and being a 4x4 with all-terrain tires, was ready to go out and play.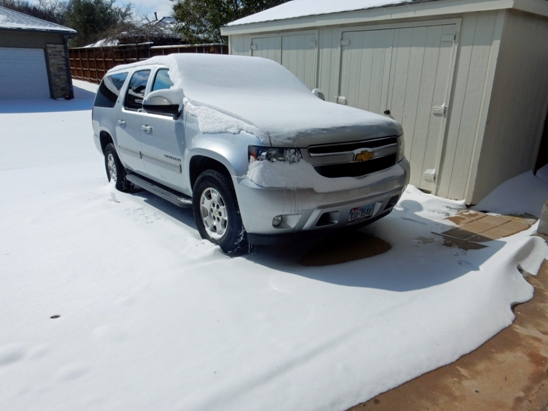 As mentioned above the worst was het to come. Within 2 days the temperature dropped to -2 F (-19 C) and they were into rolling black-outs due to power shortages.
Bruce made a bird hotel for Betsy over 20 years ago. Squirrels ate out the openings. Rebuilt it with galvanized sheet metal to protect the openings. Open for business. Hangs on the fence outside the bay window in our eat-in kitchen and provides a lot of entertainment.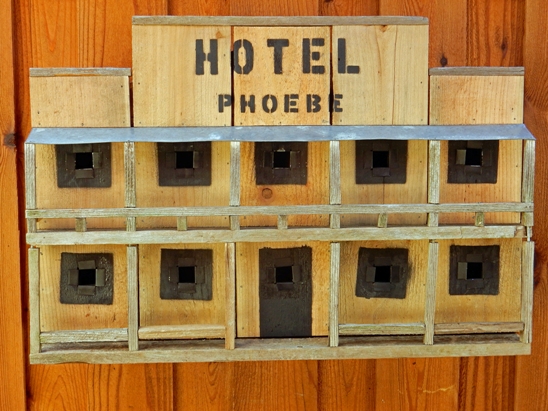 As he learned playing Monopoly, why build a house when you can build a hotel. BTW, Phoebe is Betsy's middle name.
Bruce's son, Michael, hit the big 4-0 in March, so they had a small party for him with Betsy's son, Tim.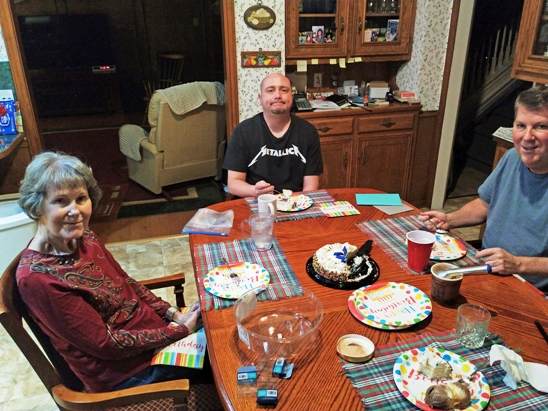 Betsy raised butterflies in small portable enclosures in 2020. For 2021, Bruce built her a walk-in Butterfly House. It all started with a design and load of rough-cut cedar.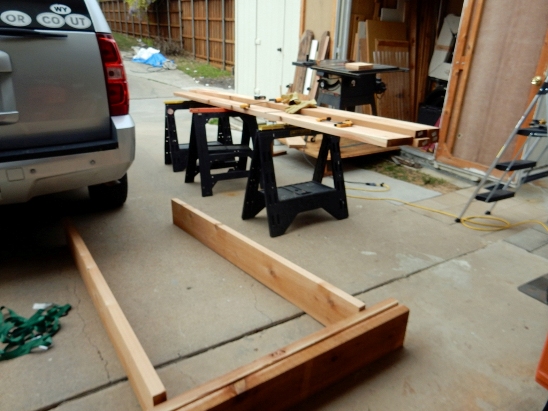 The lumber was then used to make frames: front, back sides and top.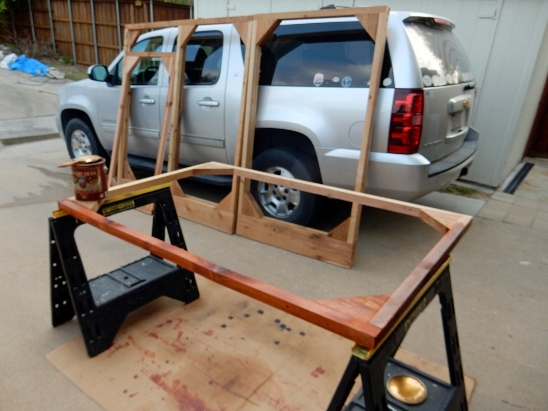 The frames were then covered with fiberglass screen and bolted together. This allows it to be disassembled and stored for the winter.
The finished Butterfly House.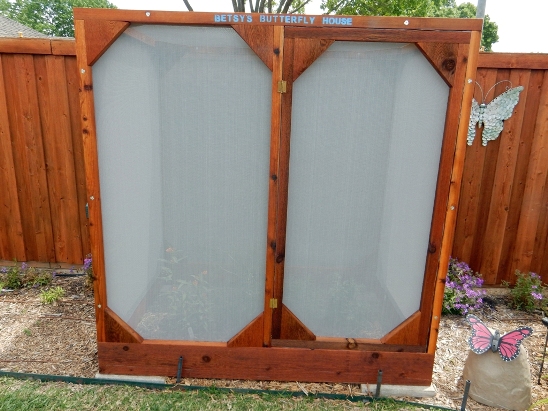 The enclosure was set over the host plants for butterflies. Milkweed and fennel are shown below as well as the larva for a Black Swallowtail butterfly.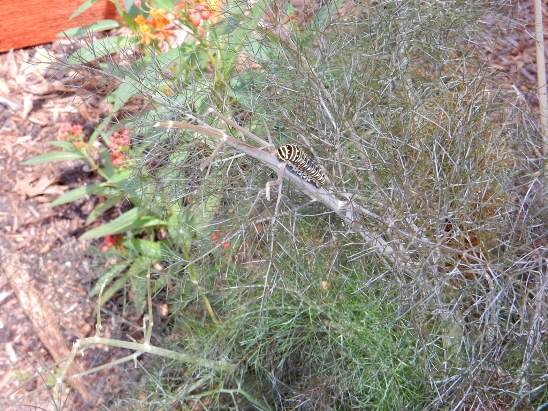 Celery is also a good host plant and you can see a couple of larva on that plant.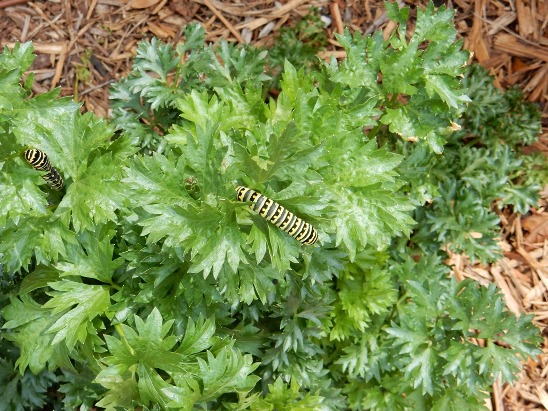 The leave the host plant, climb on something, take a "J" shape and form a chrysalis, before emerging as a butterfly. The larva below is in the "J" position before forming a chrysalis.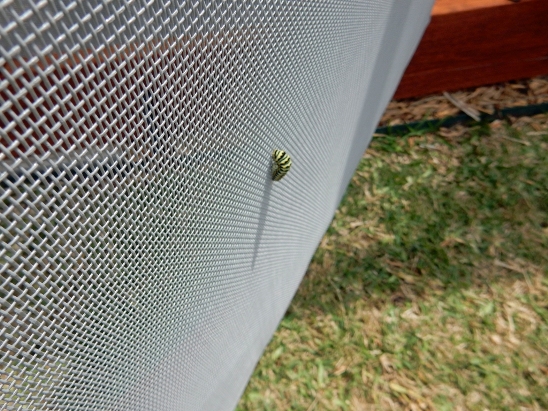 In about 10 days, the larvae emerge as butterflies. Below is the first hatchling of the spring batch.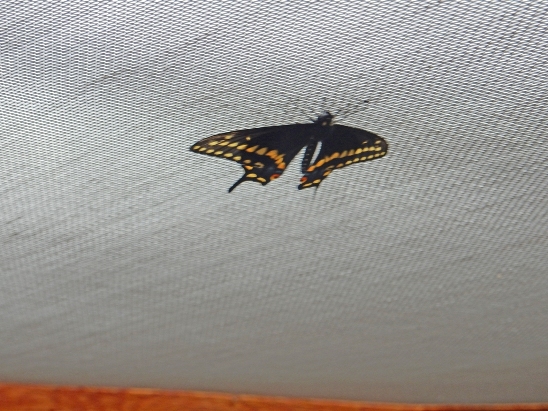 On April 18, 2021, Bruce and Betsy took their annual Bluebonnets drive.
Below is a photo of Betsy in the bluebonnets along along the roadside near 1600 FM-85, Ennis Texas 75119.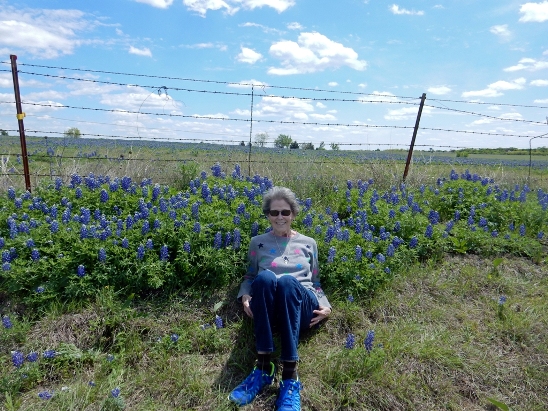 Bruce at the fence in the bluebonnets along along the roadside near 1600 FM-85, Ennis Texas 75119.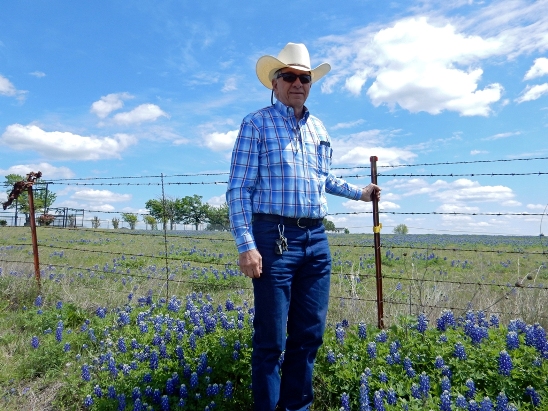 Another photo of Betsy in the bluebonnets along along the roadside near 1600 FM-85, Ennis Texas 75119.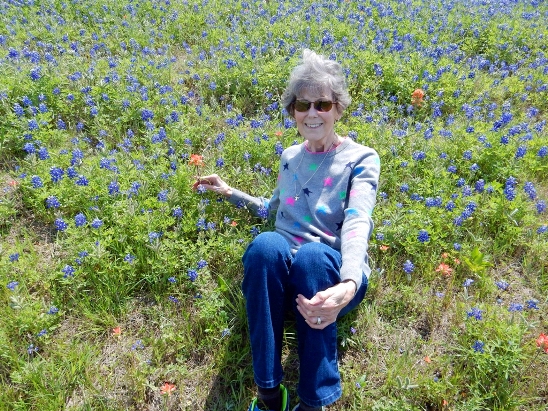 A field of bluebonnets several hundred feet east of 1600 FM-85, Ennis Texas 75119.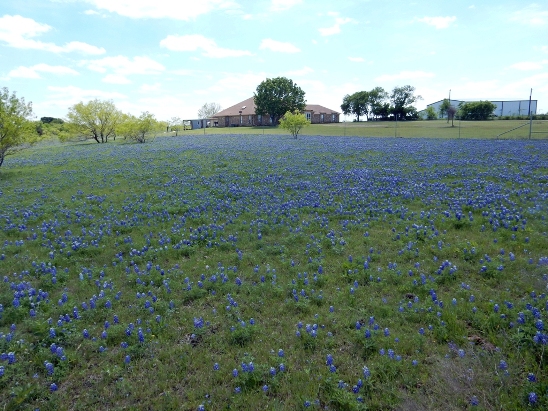 The front of a ranch just west of 3069 FM-1181, Ennis Texas 75119.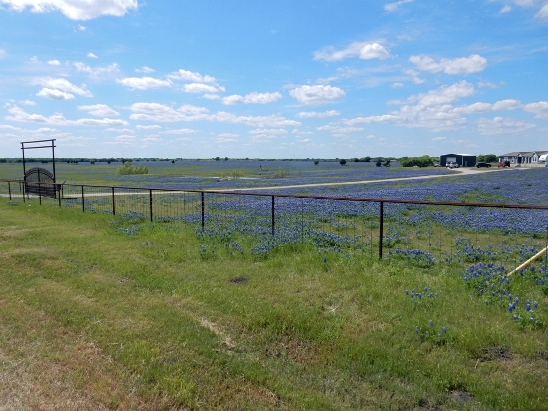 Yellow flowers, an old ranch house, barn and other "out buildings" east of 2430 Crisp Rd., Ennis Texas 75119.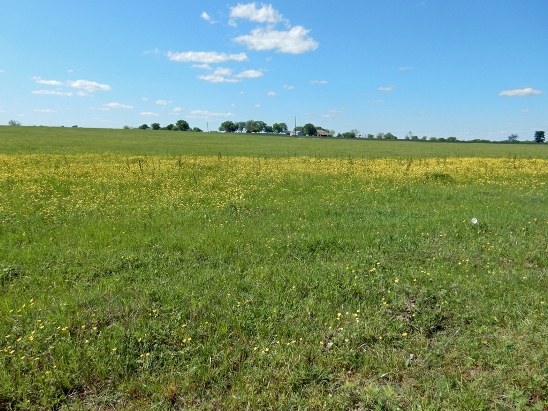 The mother's Day festivities started out with socializing in the family room. Below is Ariana, Betsy's granddaughter, great granddaughter Dylan, Betsy and grandson Bret.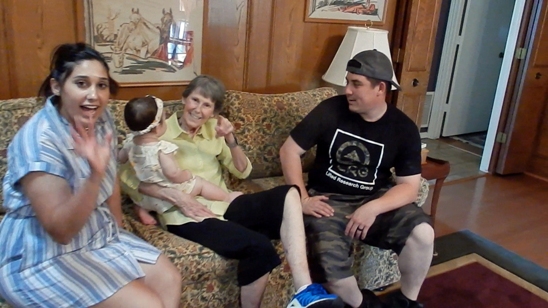 On the other side of the room was Betsy's daughters Holly and Chrissie, Zach, Alyssa's boyfriend, and Alyssa, Chrissie's daughter and Betsy's granddaughter.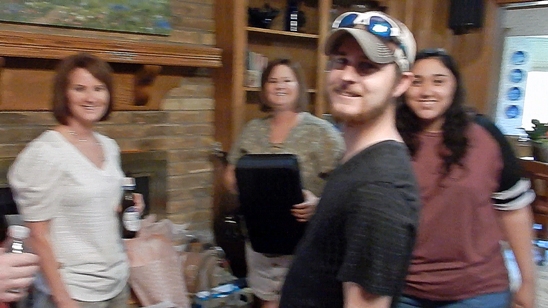 The party moved out to the deck and bean-bag toss was played in the back yard.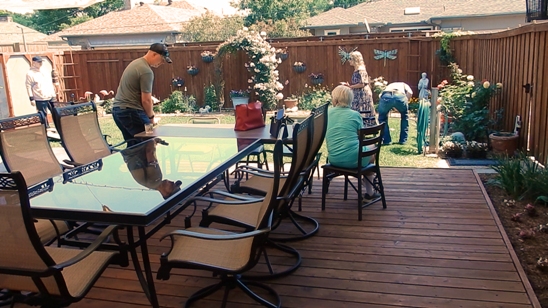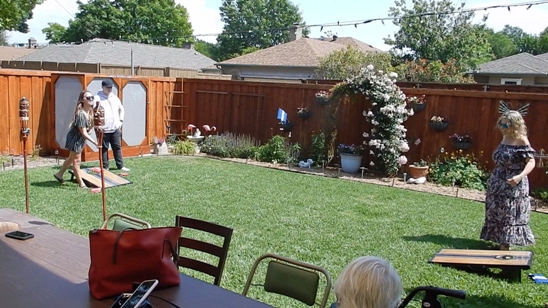 Michelle and ? tossing bean bags.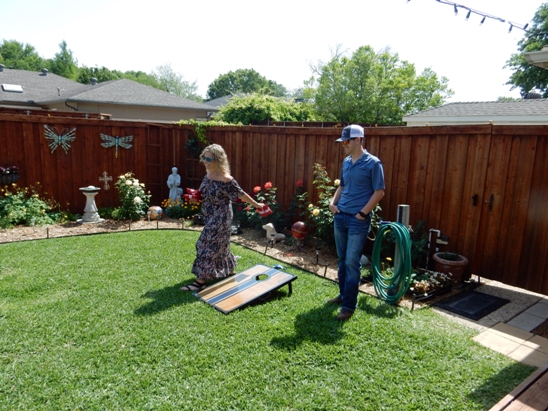 Three moms posing for a photo: Holly, Betsy's daughter, Betsy and Michelle, Arianna's husband's Collin mother.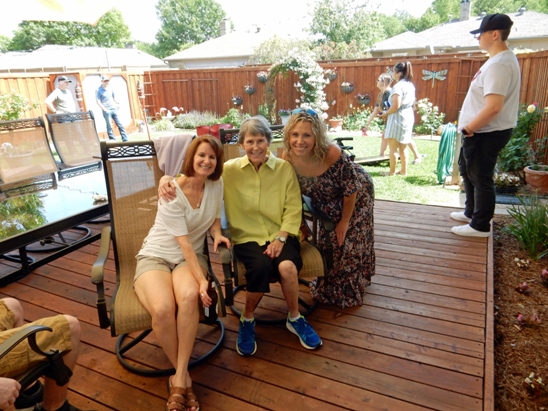 Michael, Bruce's son, with great granddaughter Dylan.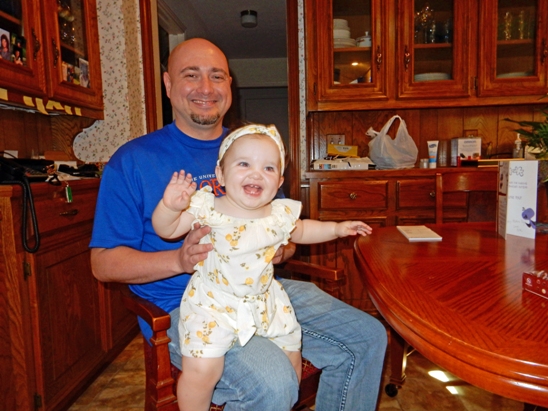 Bruce with great-granddaughter, Dylan.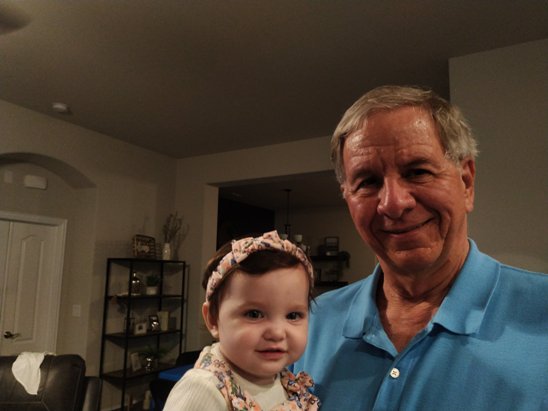 Granddaughter Alyssa and boyfriend Zach with her cake.
The family partying on.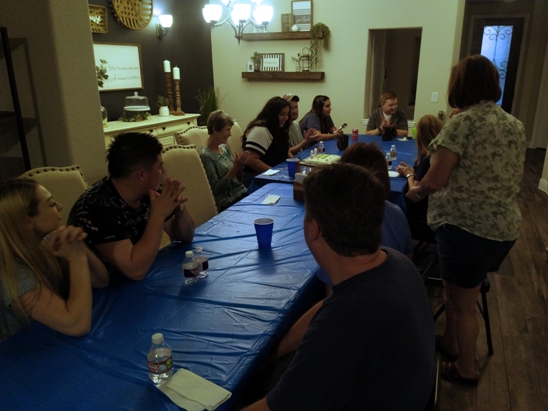 .
Opening gifts.
Alyssa got quite a haul of gift cards th.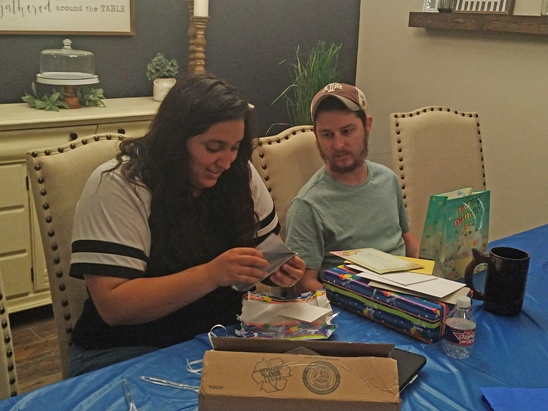 .
The neighborhood association has been awarding "Yard of the Month" for years. A lot of folks have really nice back yards too, so this year, they decided to have backyard tour. Betsy and Bruce entered and were house number four on the Backyard Tour.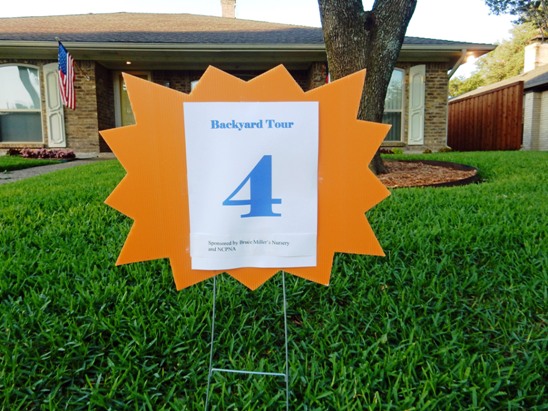 The Cone Flowers (Echinacea) was looking good.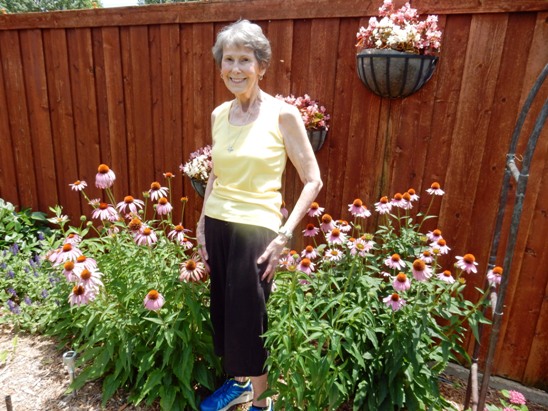 Under the copper arch was a large pot of mixed flowers.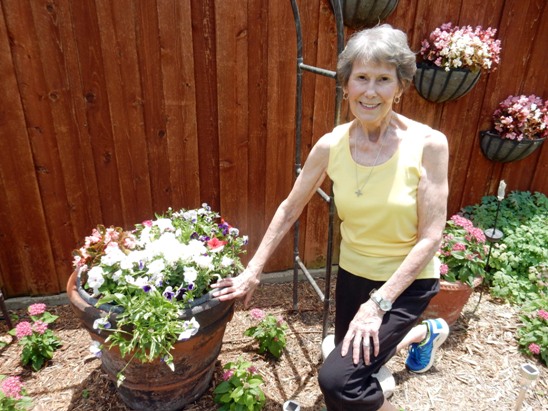 The roses were blooming.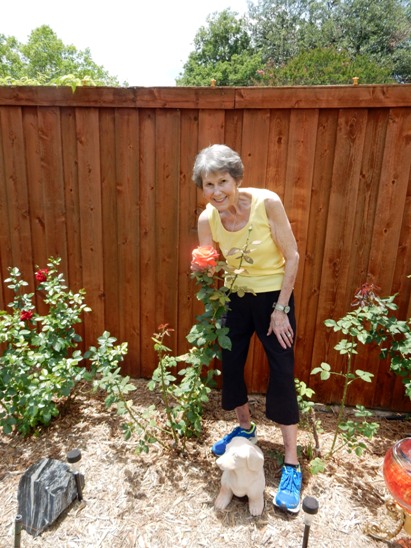 Bruce with the enclosure he built Betsy to protect her butterfly larvae in her butterfly habitat.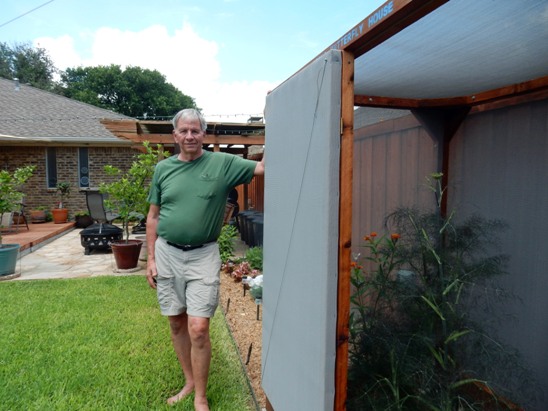 Betsy with some of her larvae in the habitat enclosure.
Four Black Swallowtail butterflies just hatched. She had 16 hatch one weekend in July.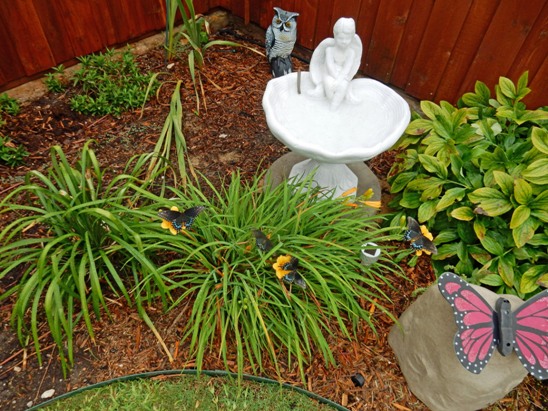 A close-up of one of the newly hatched butteflies.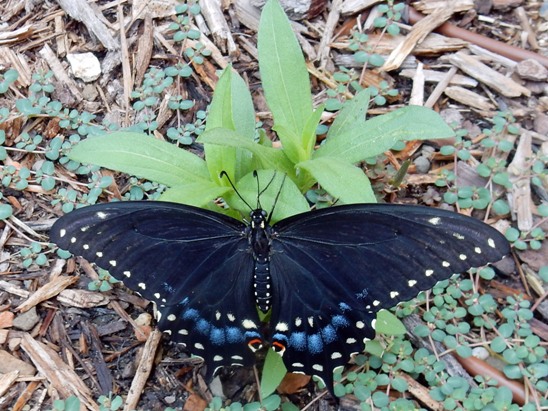 Bruce gave some of the yard are a fresh coat of paint and Betsy restained the glass globes.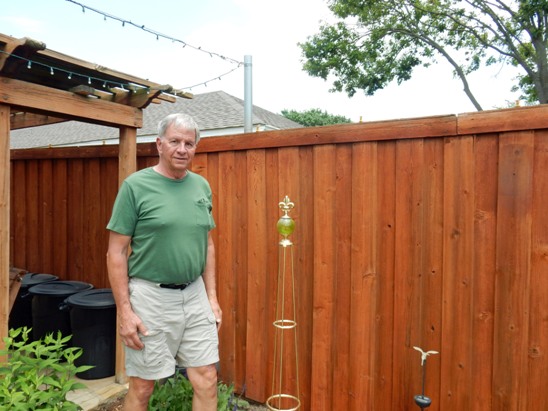 Betsy over by her cherry tomato plant with another piece of refreshed yard art.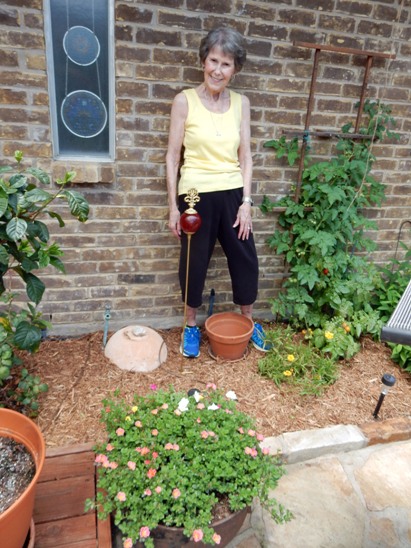 Betsy with another rose and some potted plants on the deck.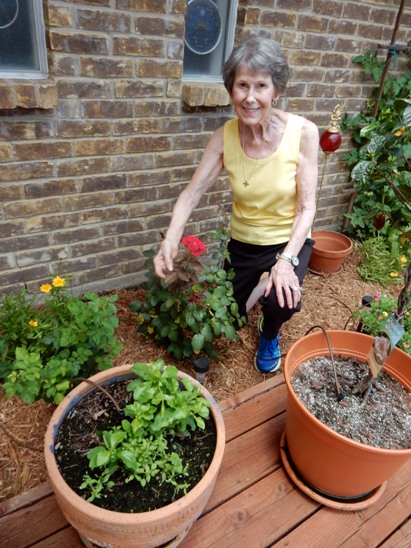 Betsy with a potted hibiscus that a Cardinal decided to build an nest in.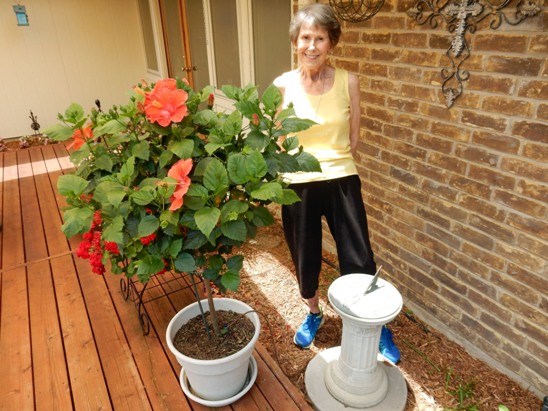 Two young Cardinals shortly before they grew up and left.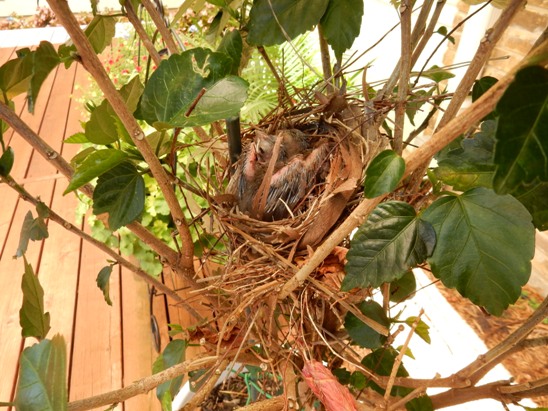 The potted garden on the deck. All these plants are on a drip irrigation system.
One of three bird-baths in the yard, except this one isn't for the birds. It too is on the drip irrigation system.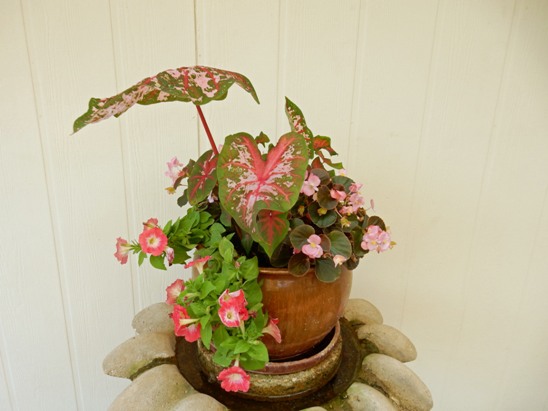 A piece of Mexican ceramic art in one of the flower beds.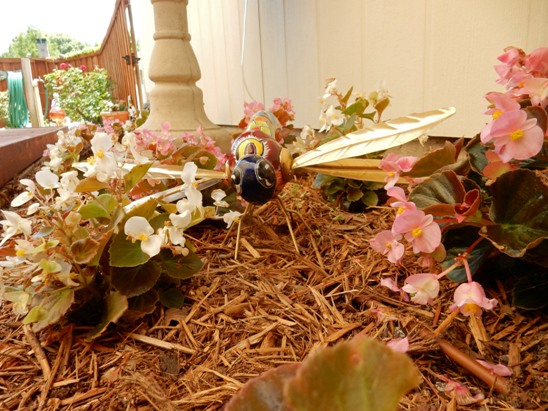 David Prusha and Betsy Blais showing off their 1st and 2nd place prizes for the Backyard Tour.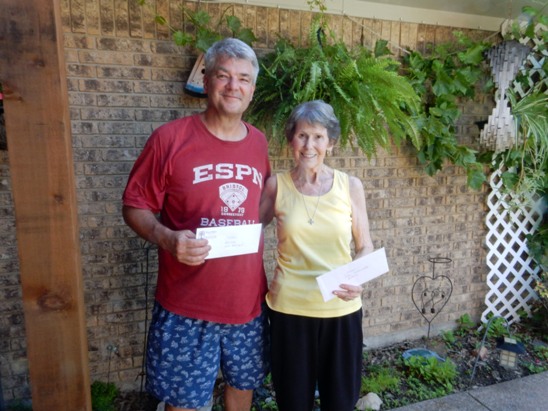 For Father's Day, June 20th, 2021, Bruce thought they would be having a cook-out at home. When his son, Michael, and stepson Tim arrived, they announced there had been a change in plans and they would be going to watch the Rangers play the Minnesota Twins at Globe Life Field instead.
Below is Betsy and Bruce in the bronze mitt at the entrance to Globe Life Field.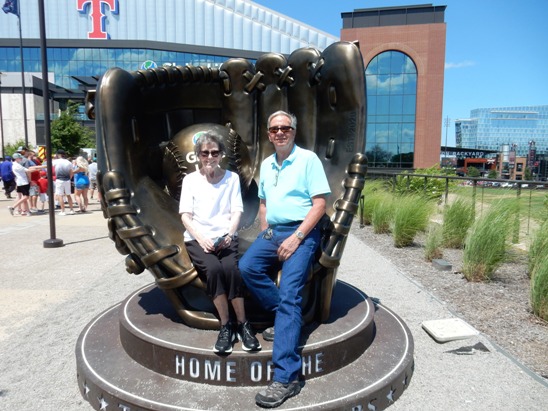 Next, it was Michael's turn for a photo with Betsy.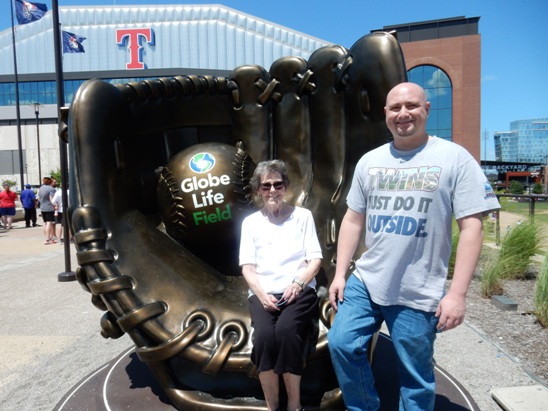 And finally, it was Tim, Betsy and Michael.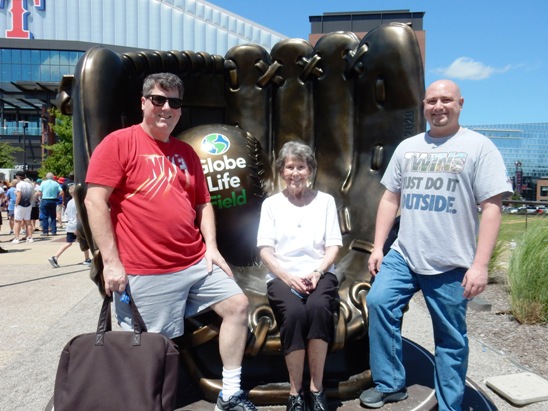 That Sunday was also T-shirt day, and everyone got a free Rangers T-Shirt.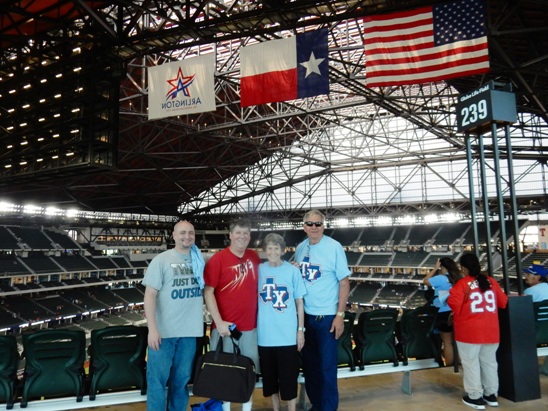 Tim also got us passes to the All You Can Eat buffet section. There you could eat nachos, hot dogs, burgers, popcorn and peanuts to your heart's content.

No big party this year. Just a quiet dinner with Betsy at Saltgrass Steakhouse.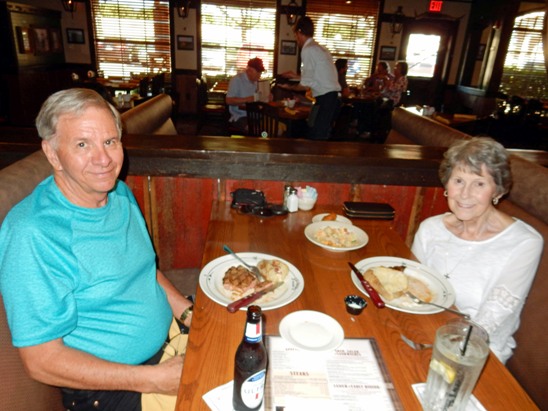 .
Replacing the sidewalk between the deck and driveway was the last concrete project Bruce plans to do. On July 3rd, the original sidewalk and some stepping stones were removed.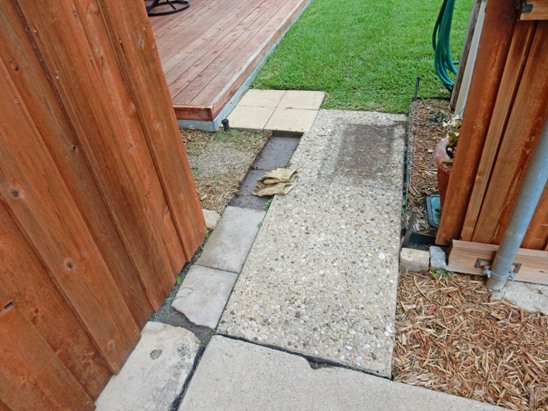 The area was excavated, formed, filled with stabilizing sand and had reinforcing bar installed. Concrete was mixed, poured and leveled.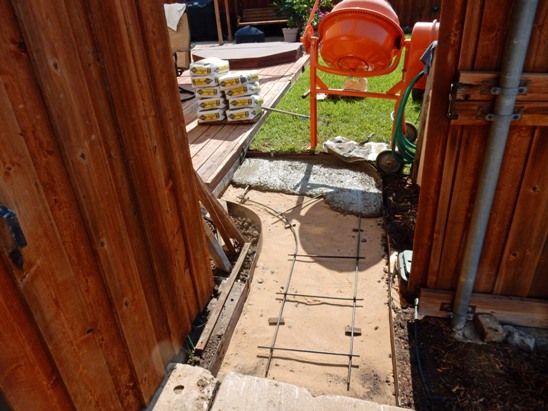 Below is a rare photo of an electrical engineer placing concrete.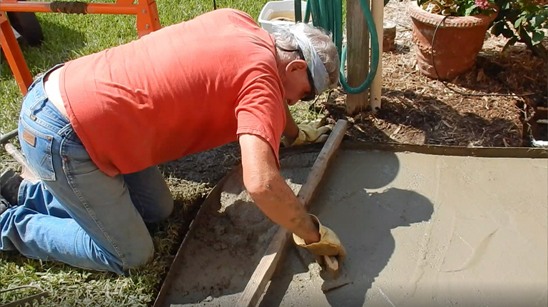 Next, native stone was selected, fitted and set with mortar.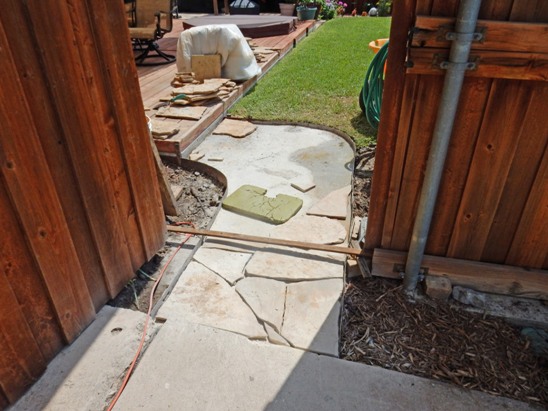 The finished job turned out quite nicely.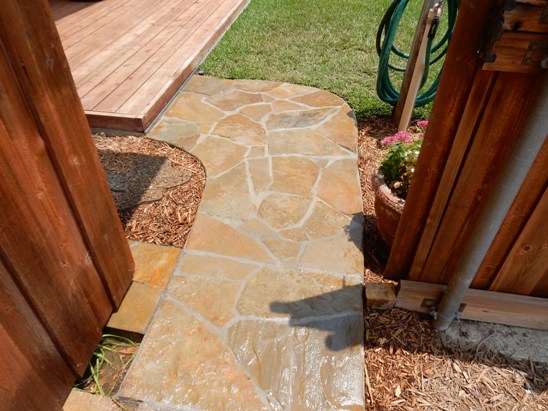 With the pandemic easing up, Bruce & Betsy started back to their Friday Date Night. Here they are at the Southern Junction restaurant and night club on July 16th.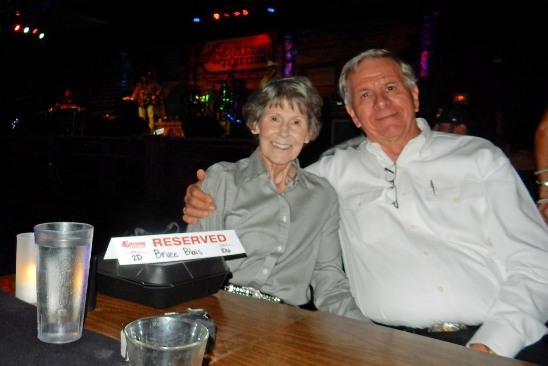 They got a table on the dance floor with a good view of the stage, and had a great evening.
Great Granddaughter's 1st Birthday
Begin text here.
Resize to 548 x 411 and insert photo here
Text
Photo
Text
Photo
Text
Photo
Text
Photo
Text
Photo
UP 4014 Big Boy Locomotive in Texas
The Big Boy steam locomotive was making a tour of the southeastern part of the Union Pacific system. It started from its base in Cheyenne, WY, headed to New Orleans and back. Bruce went up the road to the US-75 crossing of the Red River on August 13th where the UP tracks cross, and made a video of the train crossing the river.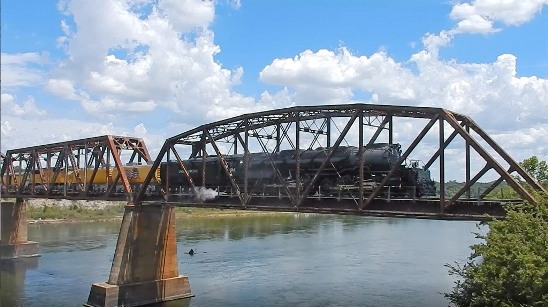 After crossing the river, the train then made a 30 minute stop in Pottsboro. The town has a population of about 2,500 persons, but it likely tripled on the day Big Boy stopped.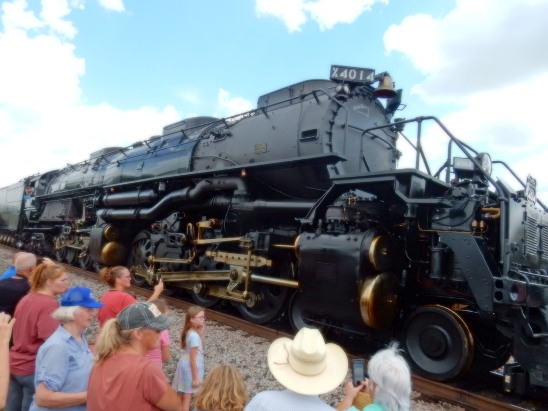 Below is a shot of Big Boy leaving Pottsboro and heading on down the line to Pilot Point and Denton before arriving in Ft. Worth.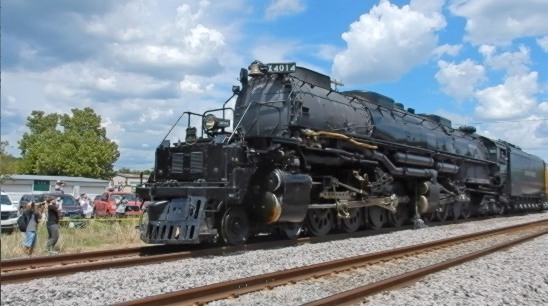 Bruce and Betsy drove on over to Ft. Worth the following day to see the train and the "Experience the Union Pacific" display in one of the cars.
The crowds were huge and even the mounted police were there.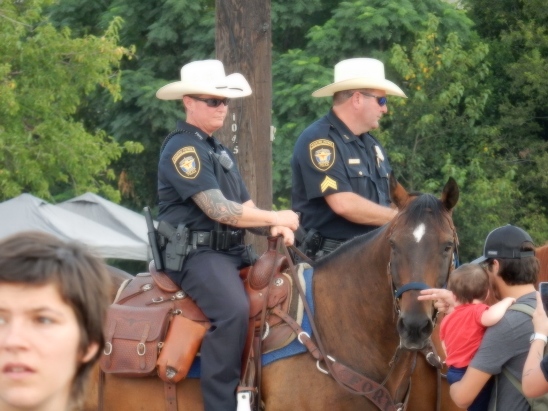 Below is Betsy and Bruce before boarding to see the displays.
One of the most interesting was a high speed scanner used to check rolling stock on the move to detect maintenance problems. Sort of like a CT scan for train cars. Below is a scan of Bruce.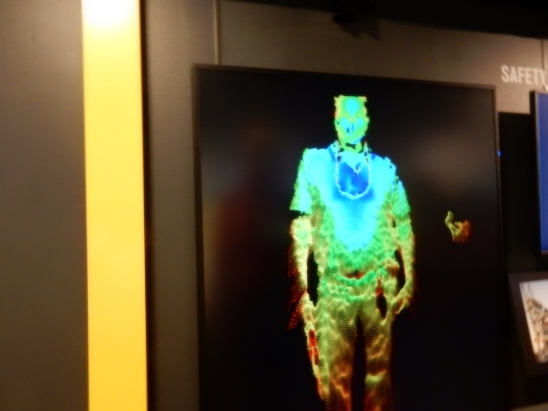 Started with a load of railroad ties. The project seemed simple enough until Bruce found out rail road ties weigh 200 pounds.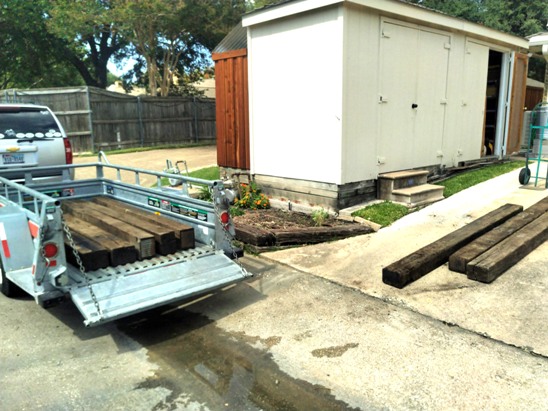 The ties were set.
The remaining plants were removed and the organic matter was ready for tilling.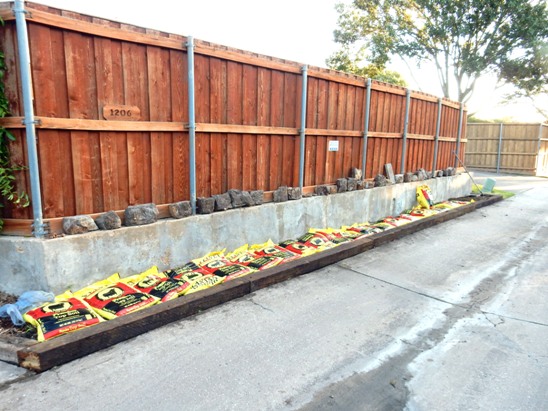 The organic matter tilled in.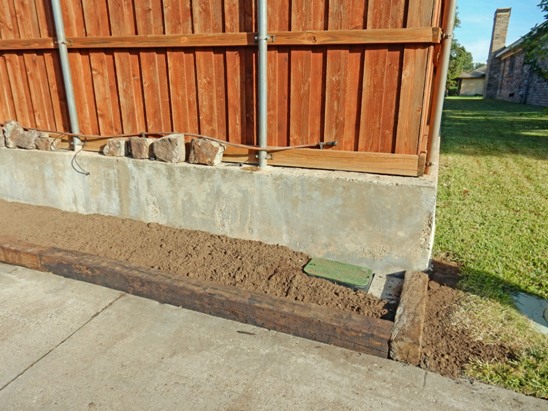 Expanded Shale was added, tilled in, and the bed raked out.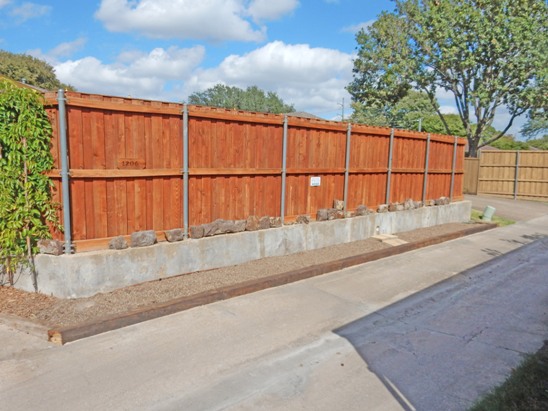 Begin text here.
Resize to 548 x 411 and insert photo here.
Begin text here.
Next photo.
Begin text here.
Begin text here.
Resize to 548 x 411 and insert photo here.
Begin text here.
Next photo.
Begin text here.
Begin text here.
Resize to 548 x 411 and insert photo here.
Begin text here.
Next photo.
Begin text here.