THE YEAR IN REVIEW - 2017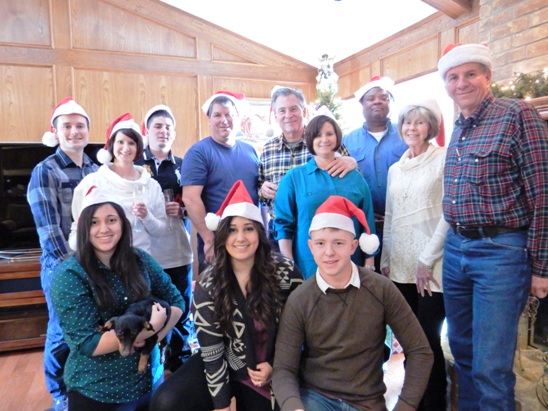 The cover photo for this year is from the Christmas family gathering of 2014.
Beginning the Fall of 2013, Bruce started publishing a summary of the events for the year. This is the fourth year and it covers the events beginning late in 2016 and going through mid-December of 2017.
The "Year in Review" pages are their electronic newsletter describing the events of each year and replaces the traditional Christmas card insert. The events of each year can also be viewed under the Happenings tab in Family Events.
Some Things Were Pretty Much The Same, But Not Everything
To a certain extent, 2017 was a typical year with the usual birthdays and holidays, along with a few notable events. Most notable was Bruce accepting a contract to provide engineering services to NASA's Johnson Space Center in Houston. We also lost our son in law, Ariel to cancer this year and Betsy started her own organic garden to be absolutely sure her vegetables were chemical-free. Having beat cancer, she is very careful about what she eats now.
Then There Were Some New Things This Year
With the job at NASA, Bruce took the travel trailer to the Clearlake area south of Houston and set up a "home away from home" in Bacliff on the west side of Galveston Bay. From here, family members were able to visit the Johnson Space Center, the Kemah Boardwalk entertainment area, Galveston Island, the San Jacinto battlefield and the battleship Texas. These events are described with photos and descriptions in the 2017 section of the Happenings – Family Events page.
Betsy's Vegas Birthday Trip
The big vacation event for the year was a trip to Las Vegas to see George Strait in concert. Betsy had always want to go to one of George's concerts, so Bruce gave her tickets for her birthday. By then, George was done touring and was doing occasional concerts in Vegas, so it was off to the Bellagio in Vegas for 4 days of fun early in December. The Vegas Vacation is described the Happenings – Vacations page under Las Vegas.