FAMILY EVENTS - 2013
Here is a snapshot of the things going on around Bruce and Betsy's place in 2013. These included holidays, birthday parties and other fun events.
Bruce's niece, Jackie, her husband Jason and son Noah, visited the Dallas area early in February that year. On Sunday, February 10th, they all went out on an afternoon site-seeing trip in downtown Dallas.
They drove south from Richardson through the historic Swiss Ave. district to see the old homes of early Dallas. On the way, they passed a park and playground, and stopped so Noah could get out and play. Betsy decided to make good use of one of the swings there.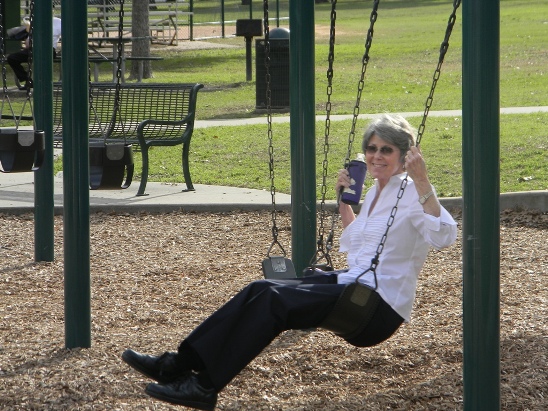 Below is Noah and Jackie at monkey bars.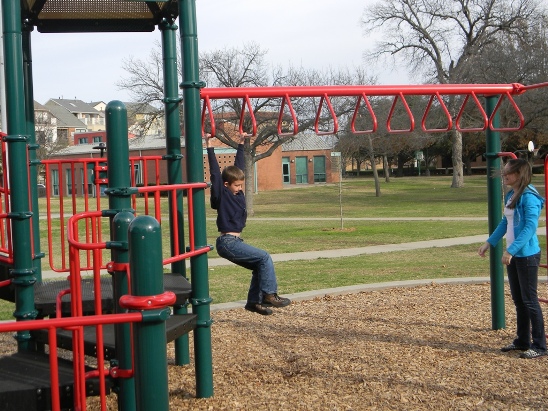 Noah getting a shove from Jackie on the glider.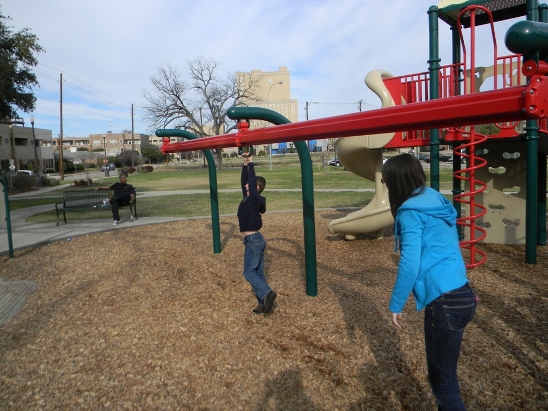 Betsy Jackie, Noah and Jason at the cattle drive sculpture downtown.
Noah and Betsy at one of trail hand sculptures.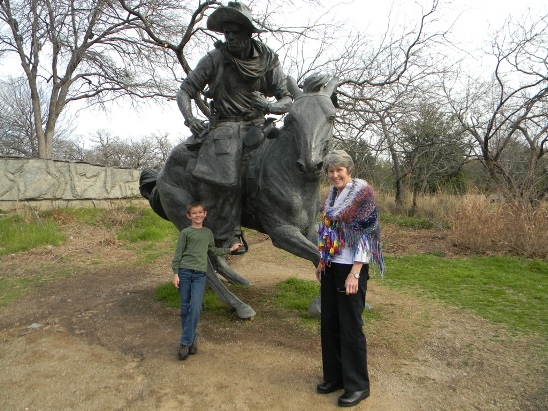 Noah up close with a longhorn on the drive.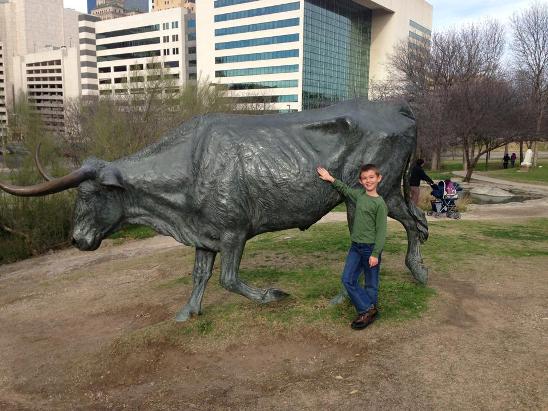 Jackie, Noah, Jason and Betsy at the entrance to Klyde Warren Park. This is one of the newest parks in Dallas and was created by "decking over" the Woodall-Rogers Freeway across the north part of the downtown area. The freeway built below ground level so the side streets could cross over level.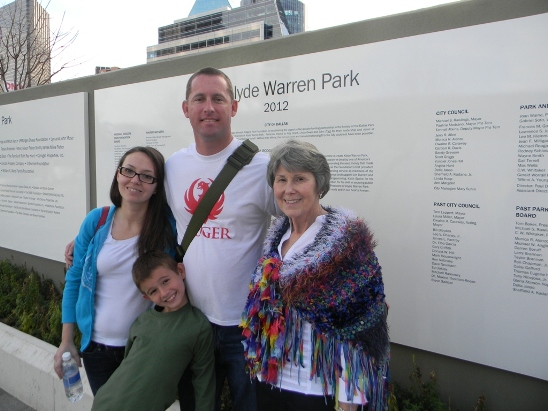 Betsy at the park with one of the newer buildings in the background.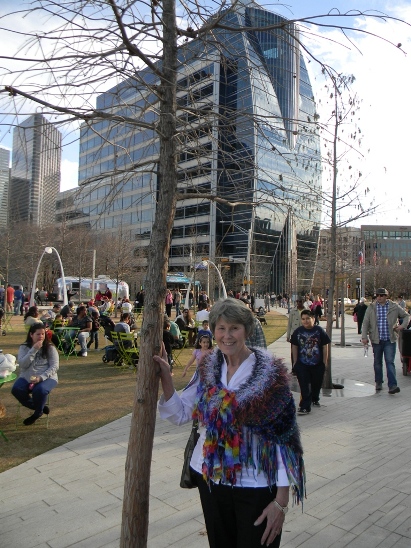 Betsy Bruce, Noah and Jackie in the park with the Arts District and Museum Tower in the background.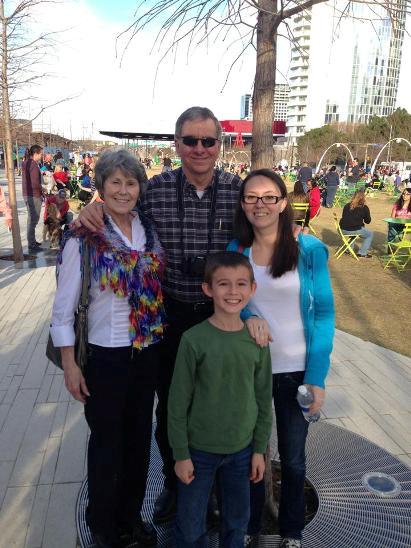 After sightseeing, it was time for dinner. Here is Jason, Noah, Jackie and Bruce at Toby Keith's "I Love This Bar and Grill" north of downtown.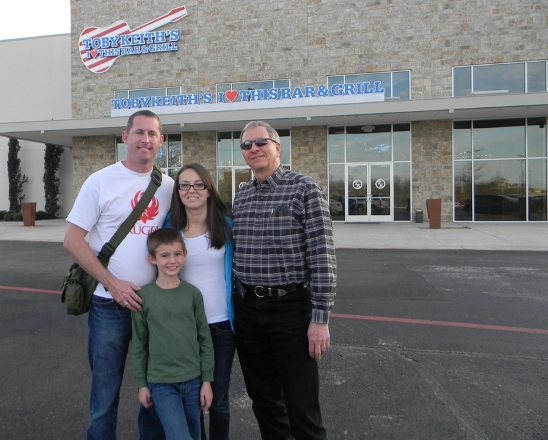 A photo of the bar at Toby's place. The club is 32,000 square feet and the decorative guitar over the bar is 85' long. The bar is shaped like a guitar and can probably seat 200 persons.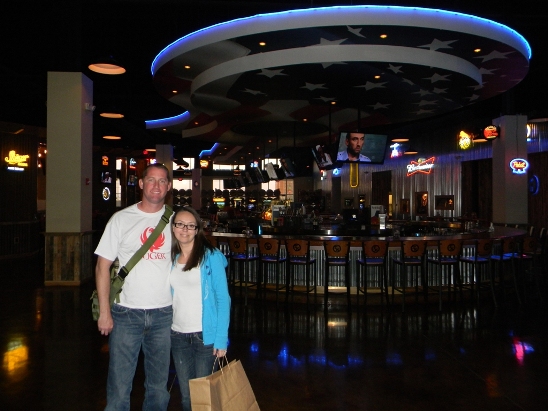 Bruce and Betsy often come to Toby's for dinner and dancing.
On February 17th, we stopped by the O'Reilly Auto Parts AutoRama to look at the hot rods and custom cars. This is not something Bruce and Betsy do on a regular basis, but with three generations of Batmobiles at the show, they made sure to go by that year.
Below is Betsy with a restored 1954 Ford Victoria.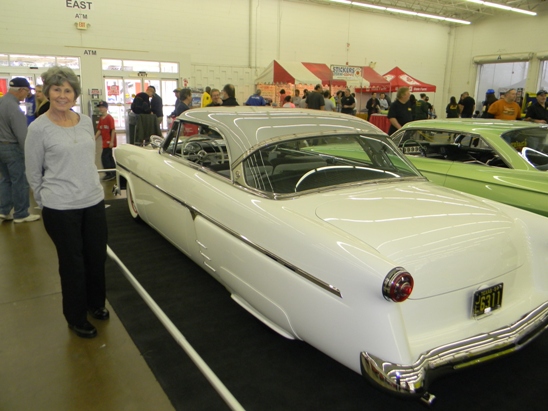 Bruce with a restored 1964 Buick Riviera and a customized 1950 Mercury.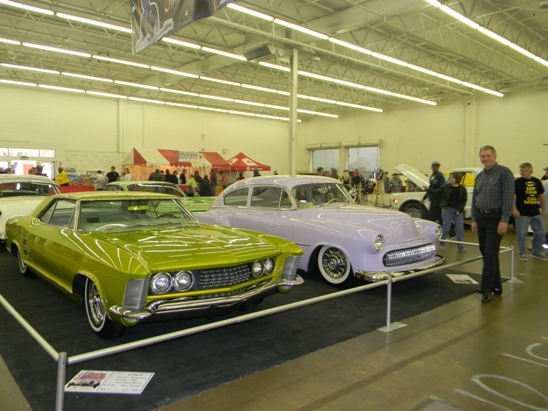 Betsy with a bunch of '50s era Chevrolets below: '57, '56 and '55.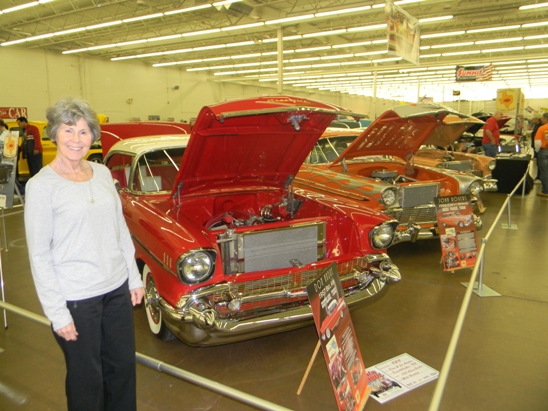 Below is Betsy with the Batmobile from the 2005 movie "Batman Begins."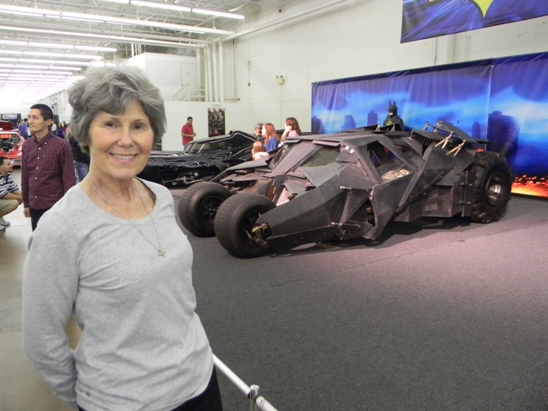 Below is Bruce with the Batmobile from the first Batman movie in 1989.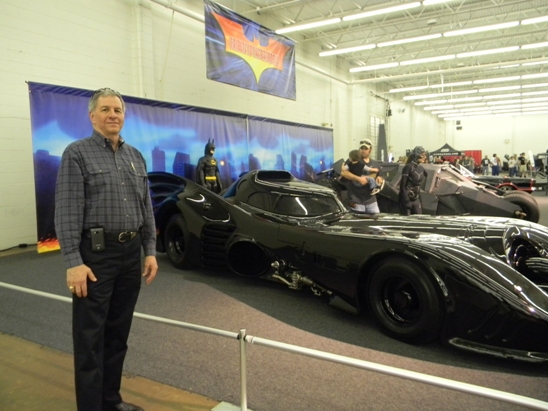 Below is Betsy with 1940 Ford.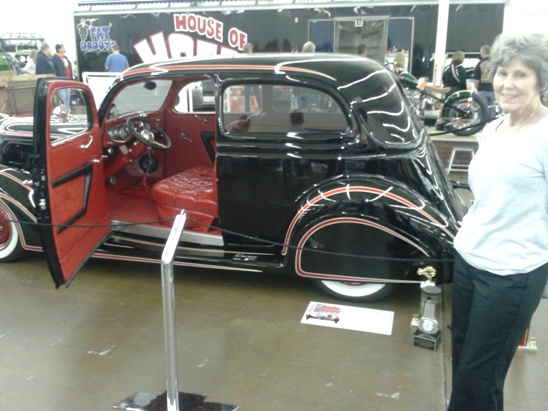 Below is Betsy with one of the nicest cars in the show: a metallic lime green 1961 Cadillac.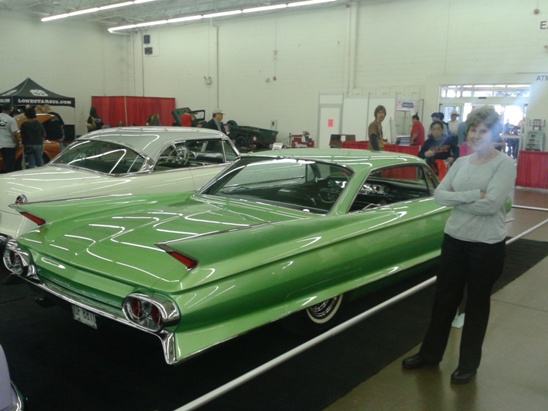 Betsy with an Austin Healy below. We had to make sure and see the Healy's for old times sake since she drove one in her younger days.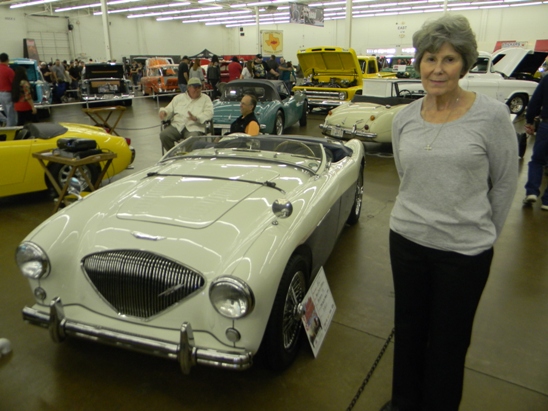 Below is Bruce with a coral of a half-dozen Corvettes. Nearly every generation was represented.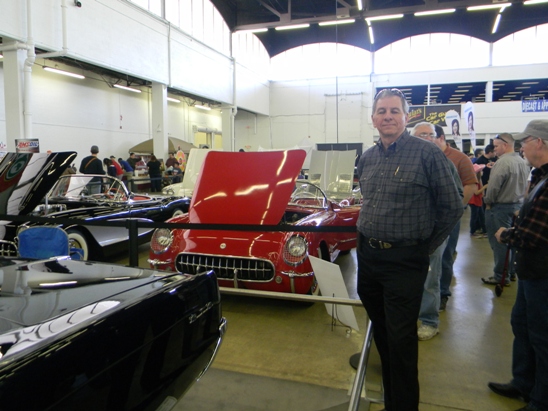 Betsy with a '35 Ford hot rod.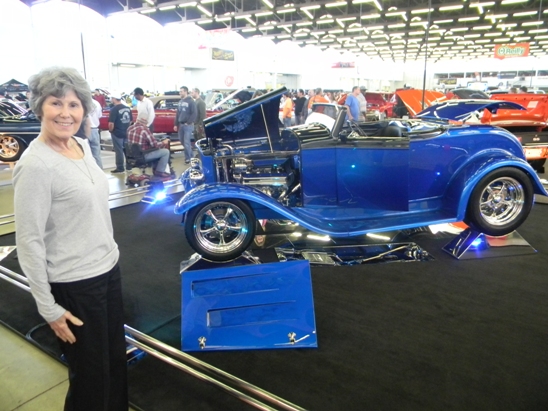 Another February and another birthday for Zach. This year it was at Tim's new place in Allen. Here is Ariana, Alyssa, Zach and Collin having snacks.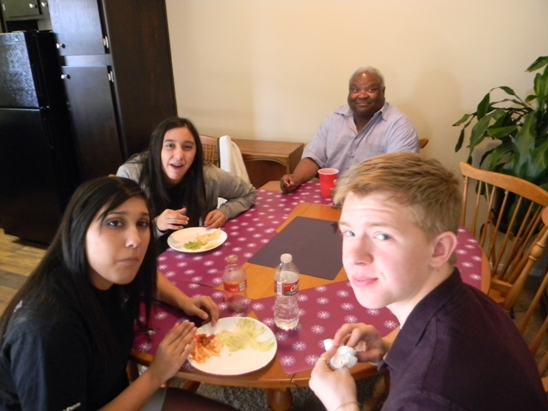 More happy faces getting getting ready to indulge in Taco soup for lunch.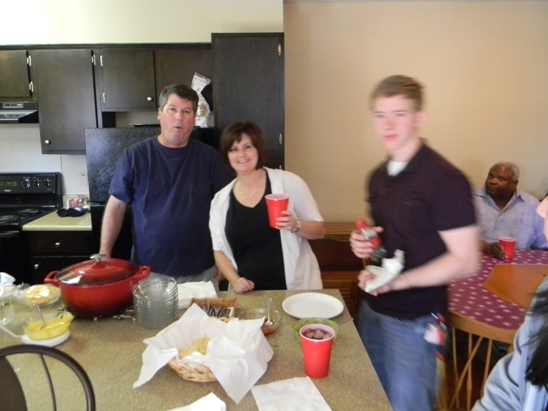 Below is another random shot. This one is of Holly sitting in mommy's lap.
The party games this year were guess who meowed or barked and identify the missing item. For the first game, you stood blindfolded in the middle of a circle, you were spun around. The person you were facing meowed like a cat and you had to guess who it was. If you were right, you got out. If not, you had to go again.
In the second game, items were placed on table. The contestant had to leave the room while one item was removed, and then come back in and identify it. The photographer was too busy playing games to get any photos.
Next, there was the gift opening.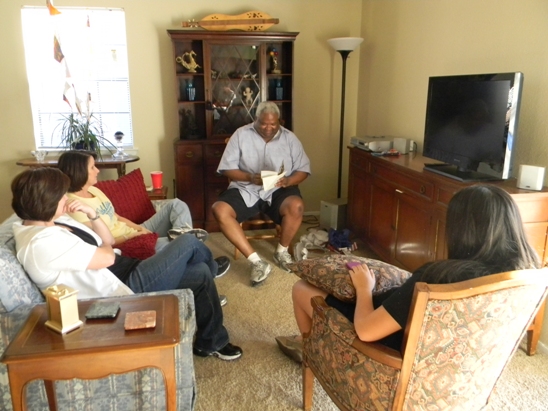 After the gift opening, it was time to sing Happy Birthday and blow out the candles.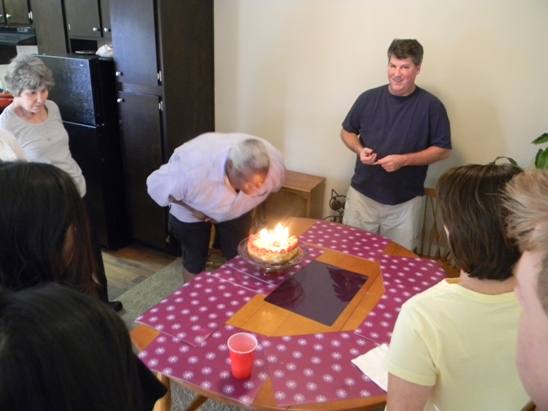 Then came the cake and ice cream.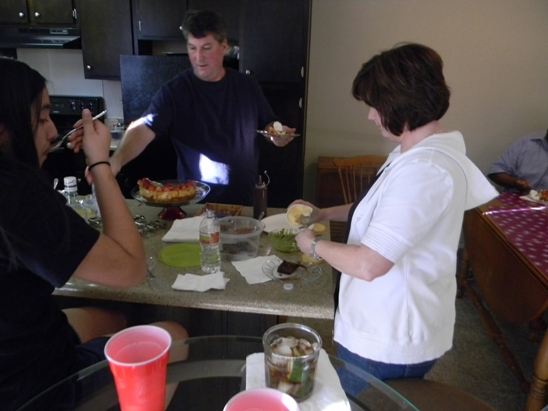 Bruce got Season Tickets for 2013, so they saw a lot of musicals that year. In February, they saw the Broadway Musical "Catch Me If You Can."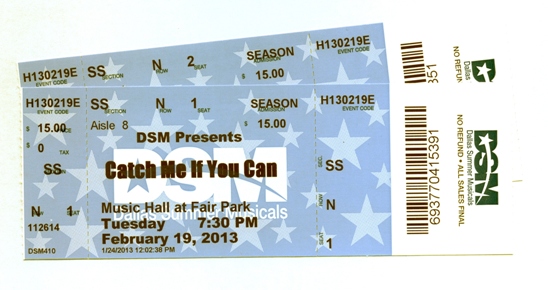 This is the Broadway adaptation of the true story of Frank Abagnale Jr. and his pursuit by Carl Hanratty, an FBI agent. Frank became a forger and imposter, travelling the world and forging nearly $2 million in checks.
It was a good show and they both enjoyed it.
Next, on March 26th they took their granddaughter, Alyssa, to see Mary Poppins.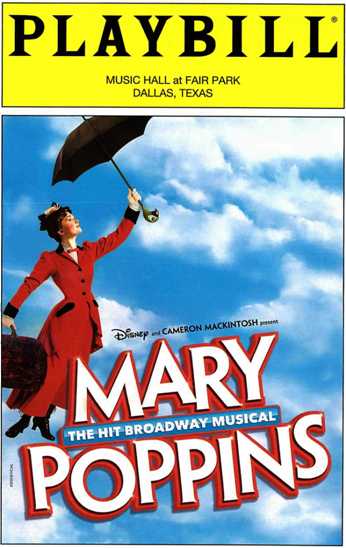 Mary Poppins is a well known classic that was well done.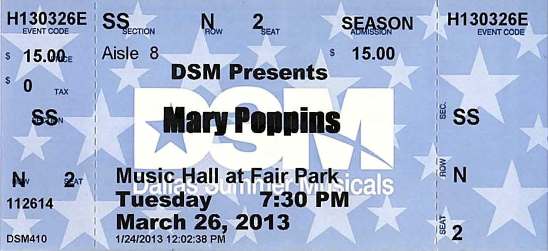 Bruce and Betsy took their granddaughter, Alyssa to expose her to some culture.
Alyssa really loved the play.
Since we already seen Wicked, we gave those tickets to Anna and the granddaughters. They had a great time.
In May, it waas Priscilla, Queen of the Desert on May 21st.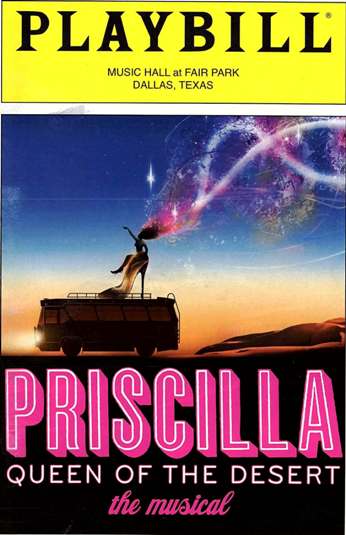 This was not their normal fare, but they thought they go just to see what it was like.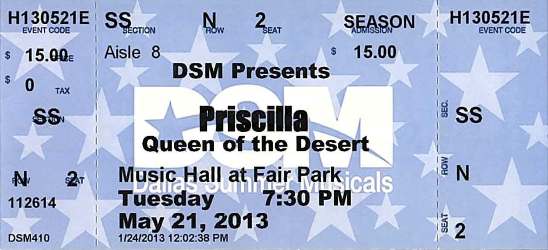 Next up was Sister Act on June 11th.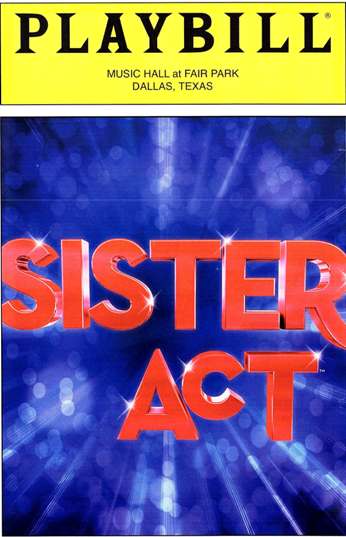 This play was a hoot. It was about a nightclub singer that goes to a convent for witness protection.
Then it was Flash Dance on July 2nd.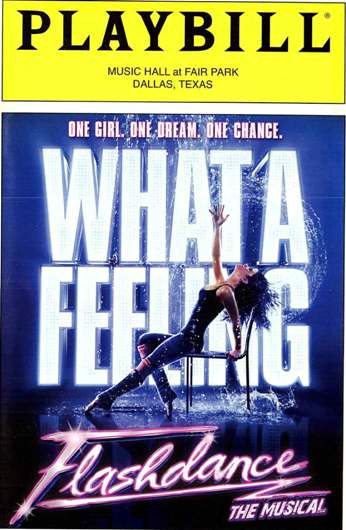 This was an awesome production, and just as entertaining as the movie it was based on.
Betsy wrapped up the season with the grandkids and The Lion King.
Spring was strange in 2013. It started out mild, but never really seemed to warm up. Temperatures took a roller-coaster ride for March and April, with alternating warm and cold weather. It seemed winter would just not let go.
One of the benefits was that the flowers bloomed early and seemed to stay longer. Below is a shot of Bruce and Betsy in the yard after church on Easter.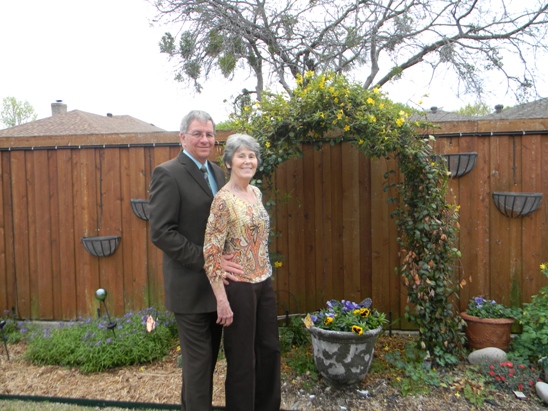 The Jasmine on the arch behind them was in full bloom.
Below, is Alyssa, Anna, Arianna and her boyfriend, Collin.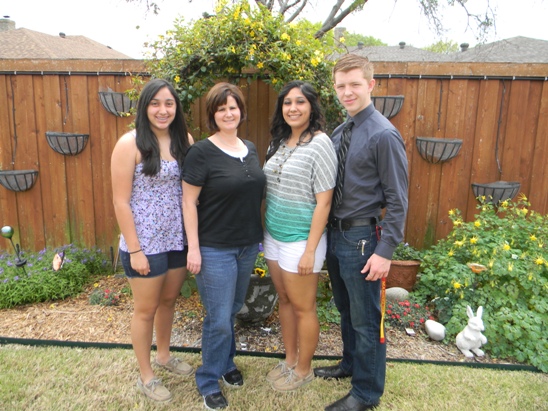 Holly and grandson Bret are shown below.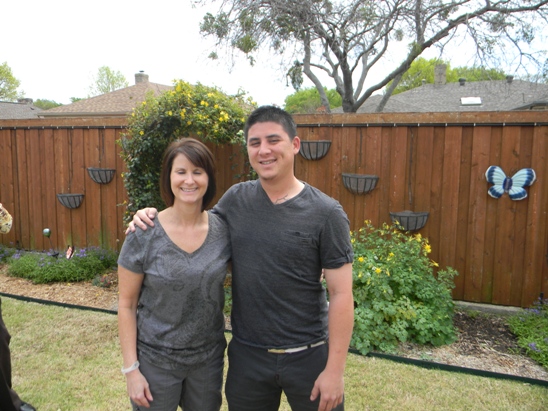 Below is Betsy and all her kids.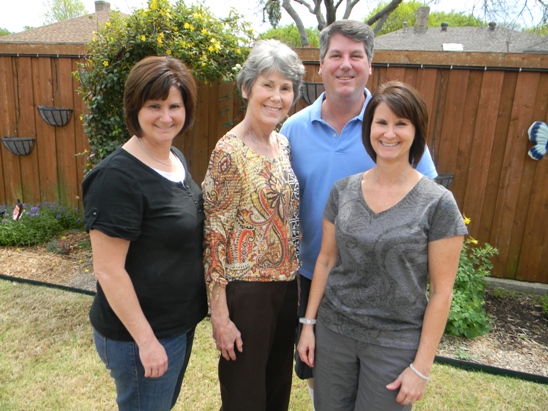 Easter dinner is a tradition. Since Betsy was recovering from neck surgery, we let the Colonel do the cooking for Easter.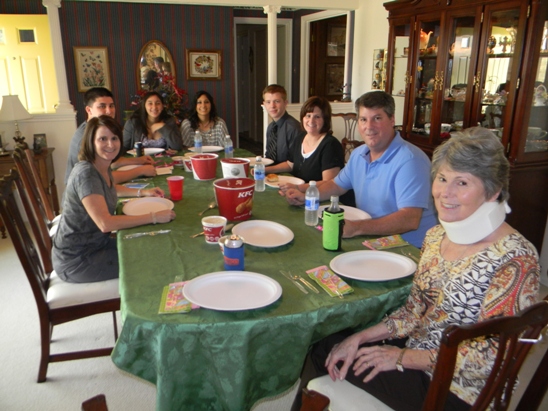 This year was rather typical with respect to the house, yard and gardens. To keep this section from becoming too long, photos of the yard and flowers are in Betsy's Gardening section. There are a lot of photos there.
Tim hit the big 5-0 in 2013, so this was a "milestone" birthday. The party started with games. Here Holly is trying to blow the cards off a bottle, leaving as few as possible. You had to leave at least one card on the bottle. Tim one the event leaving only 10 cards. Everyone else blew them all off.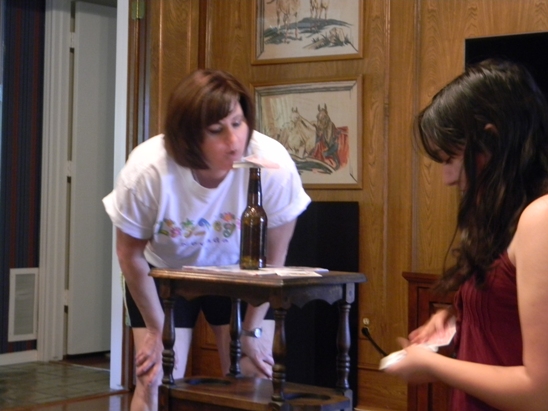 Next, it was time for lunch. Brisket and smoked turkey were on the menu, along baked beans and Betsy's famous homemade potato salad.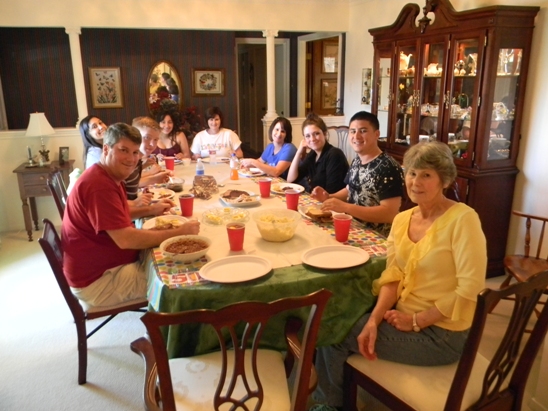 After lunch, it was on to the gift exchange.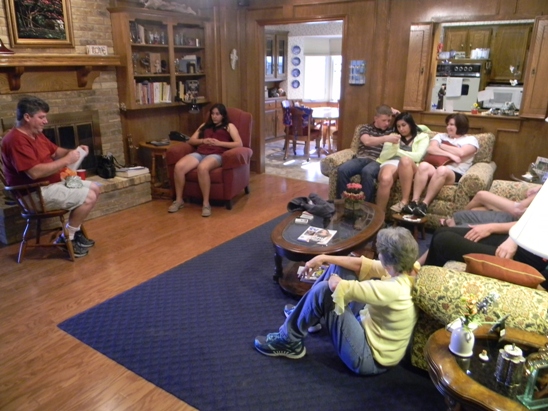 Next, it was time for the cake, candles and the birthday serenade.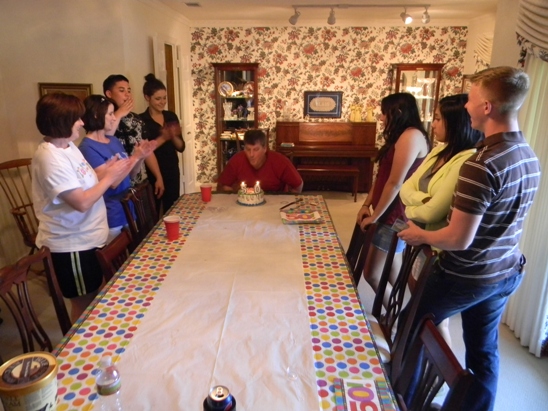 After the formalities, everyone enjoyed cake and ice cream.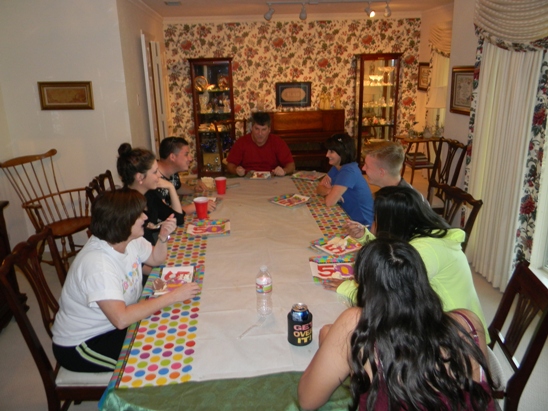 The end of April, Betsy, Bruce and granddaughters Ariana and Alissa visited the Mesquite Rodeo.
Below is Bruce with Arianna & Alissa outside the arena.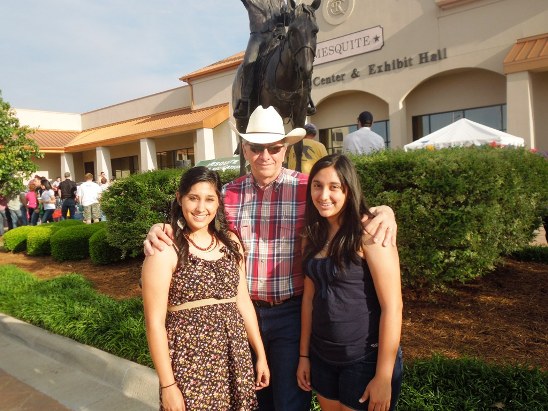 Alissa & Arianna outside the arena.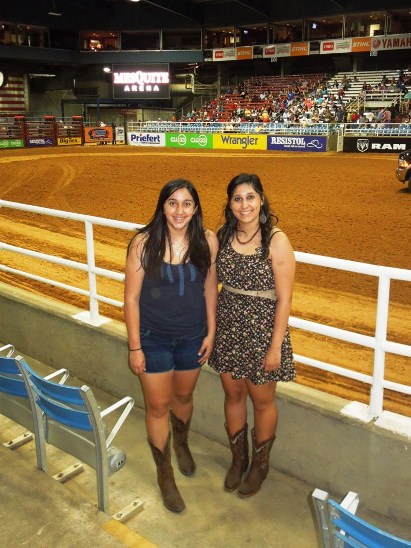 The National Anthem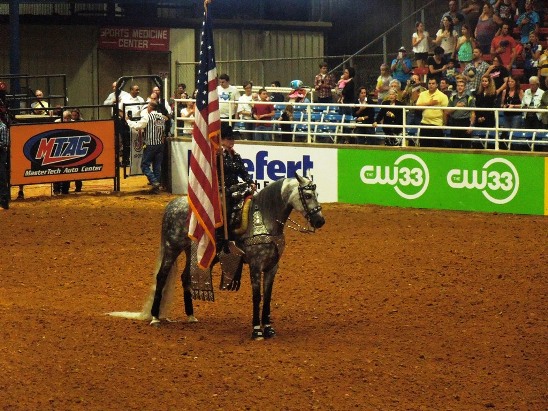 Bronc bustin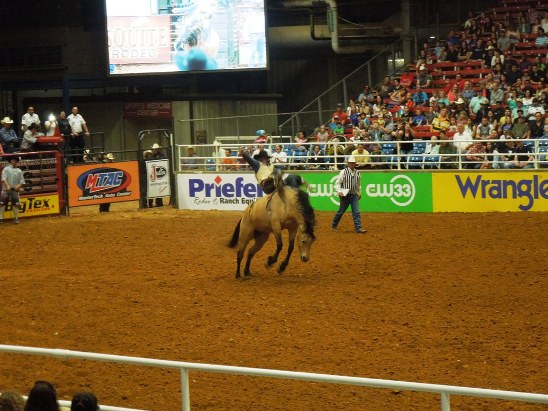 Bulldogging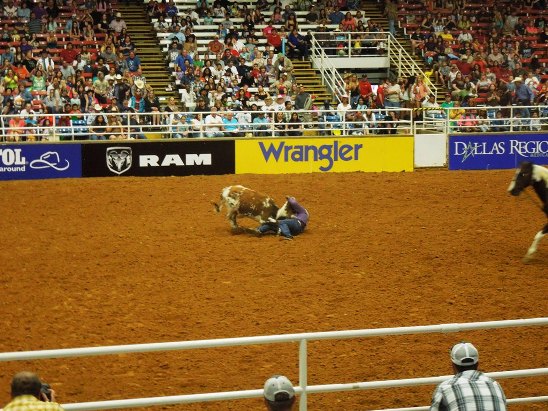 Calf roping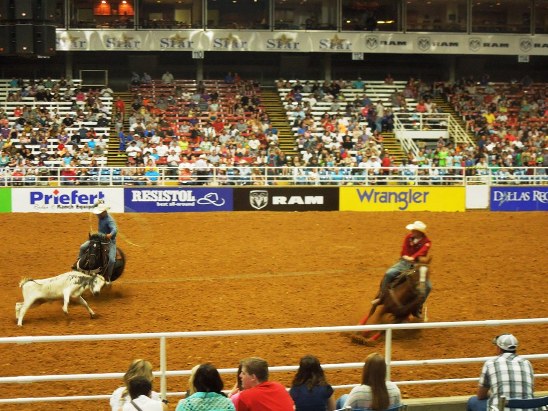 Kids calf scramble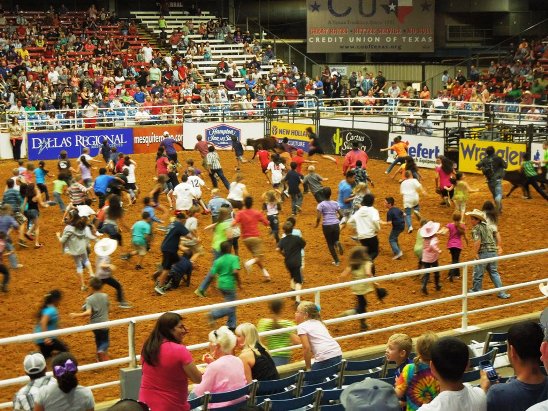 More bronc bustin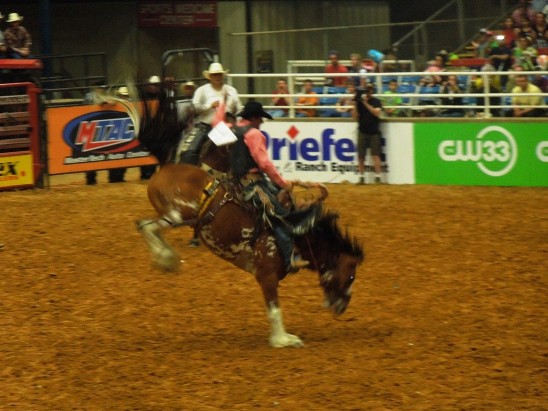 More calf roping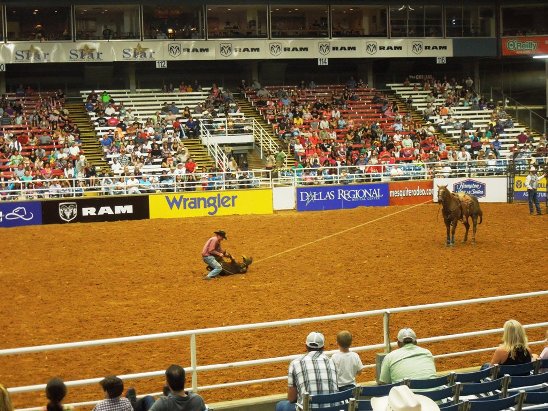 Women's barrel racing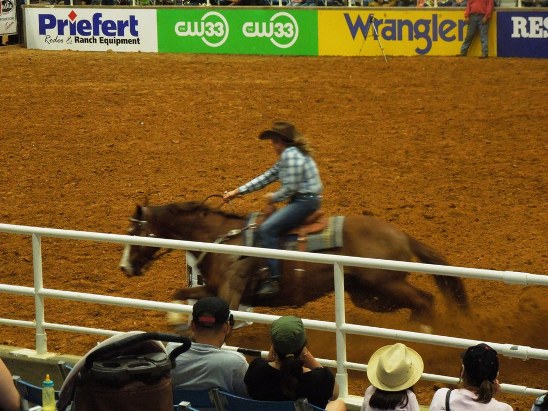 Giddy up!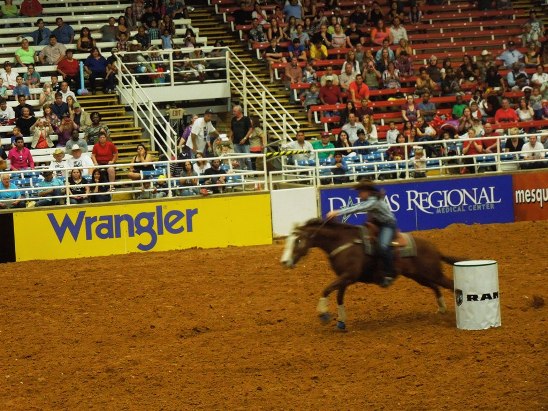 Bare back barrel racer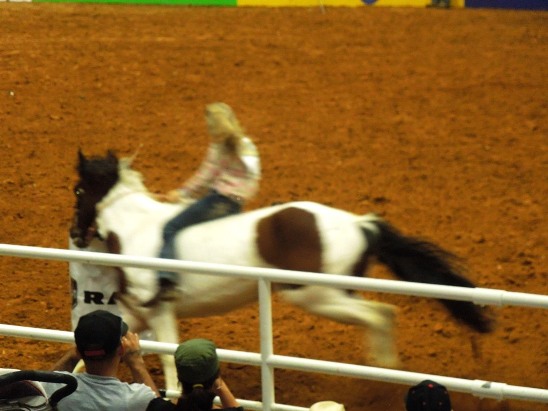 Bull riding. This bull broke his leg shortly after leaving the chute.
Rodeo clown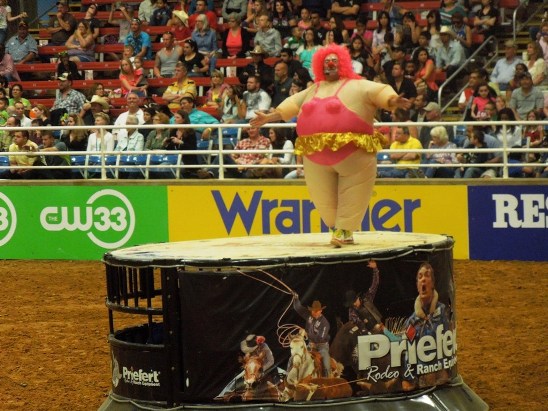 Bull rider getting a dirt dinner.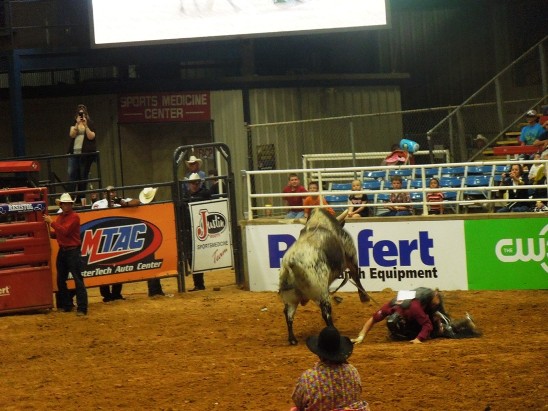 Hang on!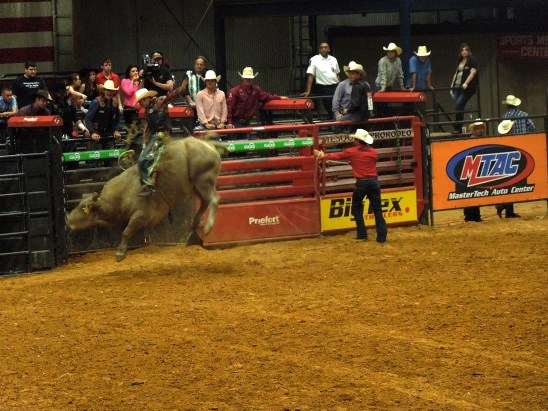 The redwood deck had reached its end of life, so in the spring of 2013, it underwent a major restoration. The ends of the planks were beginning to rot off, making it unsafe. Below is a photo of the way it looked at the start of the project on May 4th.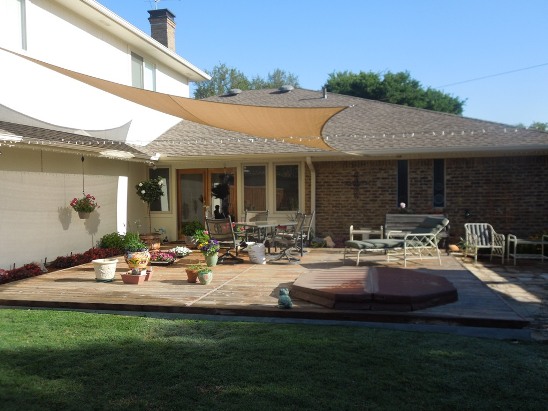 For the complete story on the deck restoration, see the item Deck Rebuild 2 in the Projects area in Bruce's Interests section.
One of the social activities Betsy and Bruce participate in at church is the Dinner Groups. These are groups of couples that rotate hosting at each other's homes once a month for dinner and fellowship.
Setup is done, now for a short break. This was the first "event" hosted on the newly refurbished deck.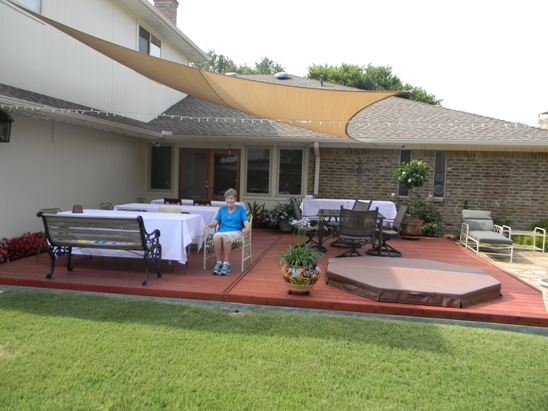 Below is a shot of the whole group after everyone was seated.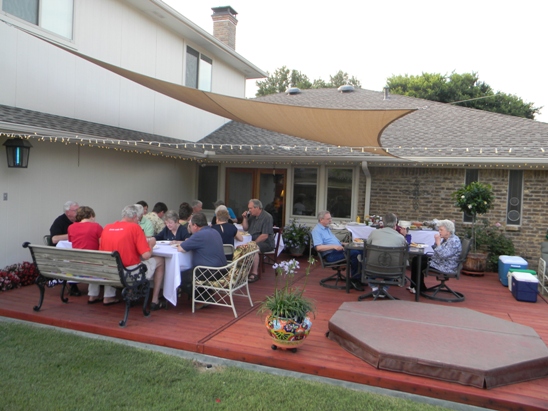 At the small table were Ken, Katie, Joy and Bob.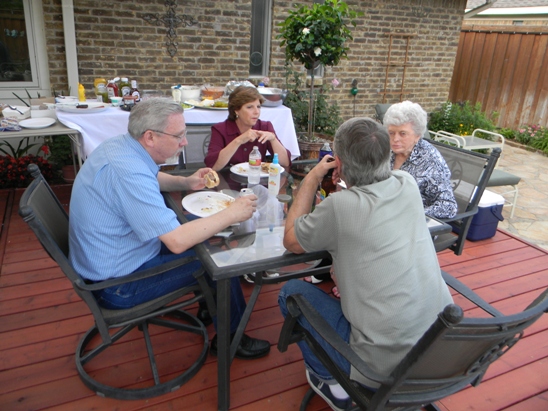 At table number three was Michael with his back to the camera, Joe and Mary, Fr. Herb, and Bill and Rosemary.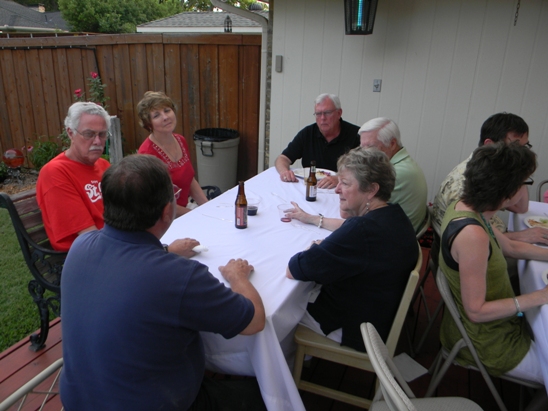 The party started off as usual with some snacks or a light dinner. Below is Alissa, Holly and Chrissie at the table.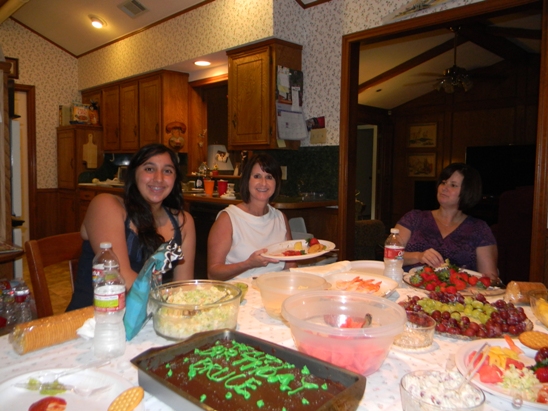 One of the party games they played was to see who could get all but one card off the bottle by blowing on them. The game has time limit of 10 seconds. Below is Betsy taking her turn. If you blow them all off, you are disqualified.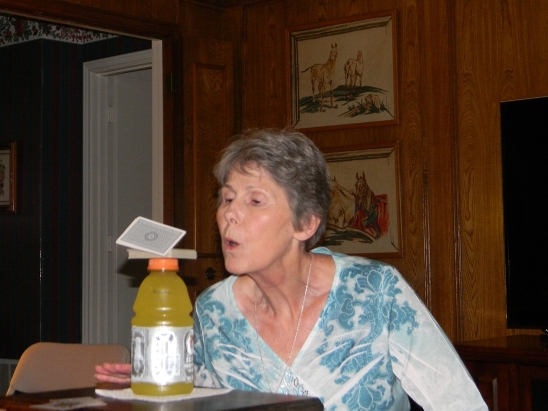 Betsy was good, getting all but a couple of cards off.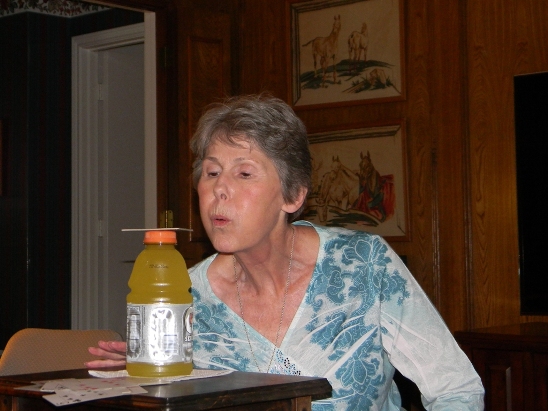 Next, it was Bruce's turn. He managed to get all but one off. This is the first time he was able to do that. You have to look closely to see the one remaining card.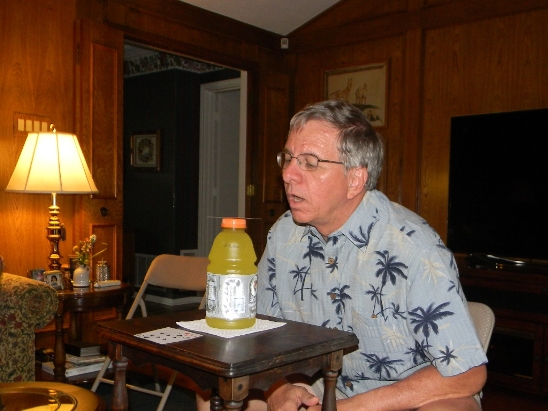 The next game was to get the Oreo in your mouth with out touching it and only moving your head. Here is Arianna taking her turn. The only one able to do it was Betsy, and they didn't get a photo of that.
Finally, it was time to open gifts. Below is Bruce with a pair of cycling gloves from Betsy.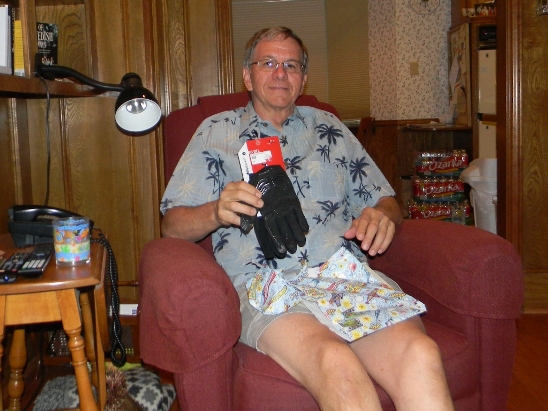 He also got a bottle of Glenmorangie Nectar D'Or single malt from Tim and Holly. The expression on his face shows how happy he was to get that gift.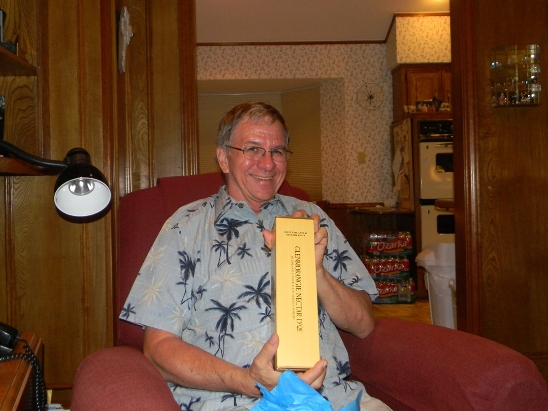 Finally, it was time for cake and ice cream. Chrissie made a marble cake and Bruce got his favorite, German Chocolate. They do this because most folks in this family don't really care for German Chocolate.
The end of July, and time for another birthday for Betsy. Below is a shot of her in a new top before heading out to Arthur's in Addison for dinner of Friday night.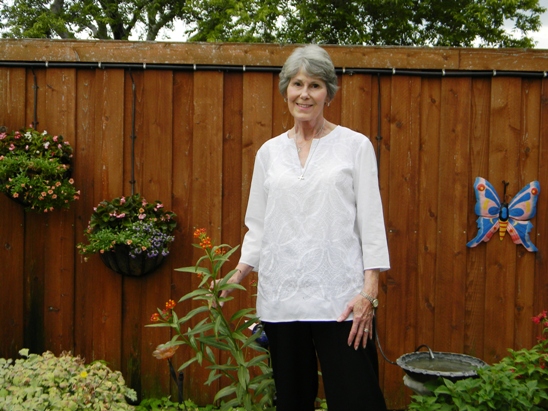 Another shot, but with Bruce in it this time.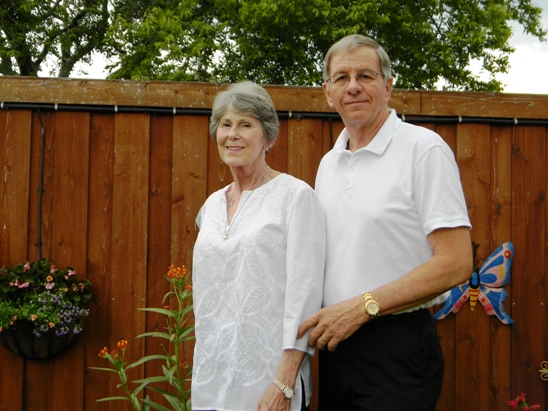 Since it was her birthday, the Colonel got to do the cooking. Here is the family gathered for dinner.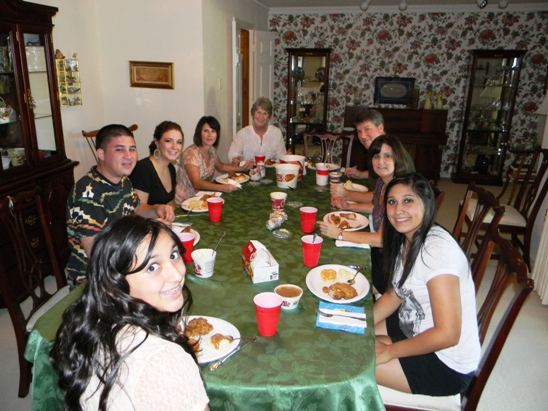 After dinner, it was time for a couple rounds of BINGO.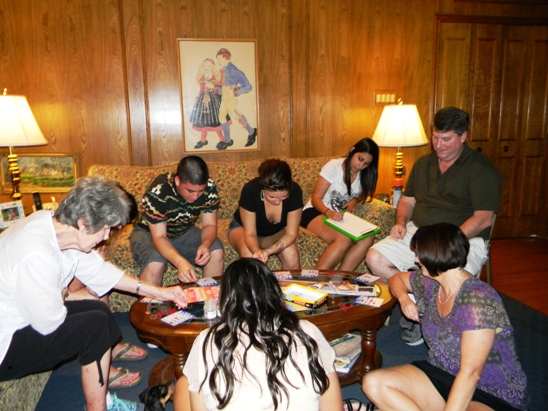 Next came the gift opening. Here is Betsy with the "Universal Gift Card", cash.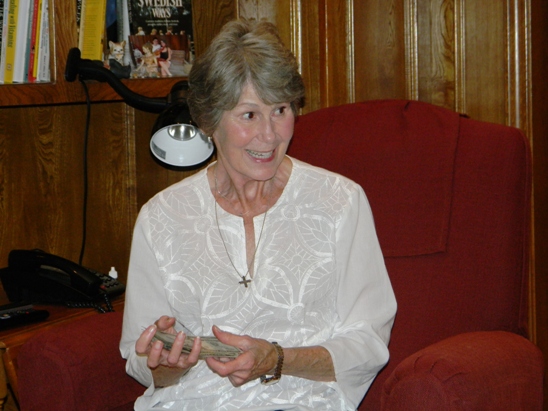 She also got some nice cards. with her gifts.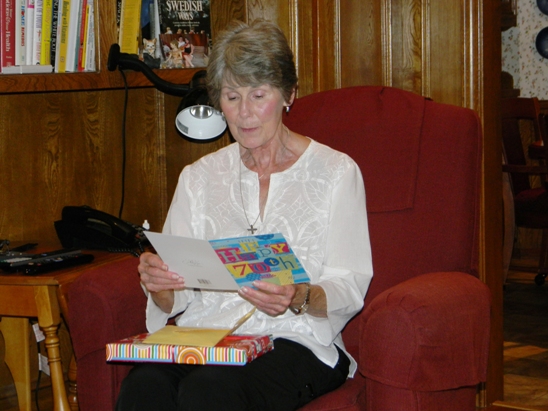 Here she is with some new summer tops.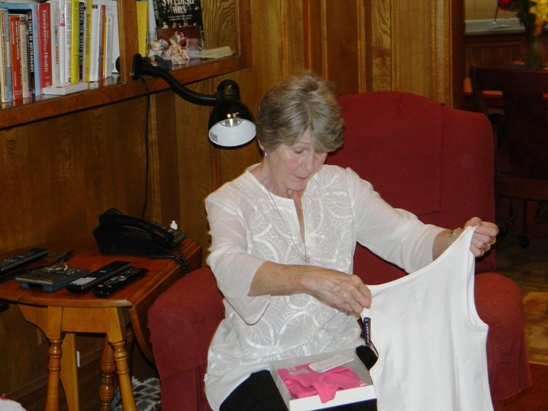 Finally, it was time for the cake and ice cream.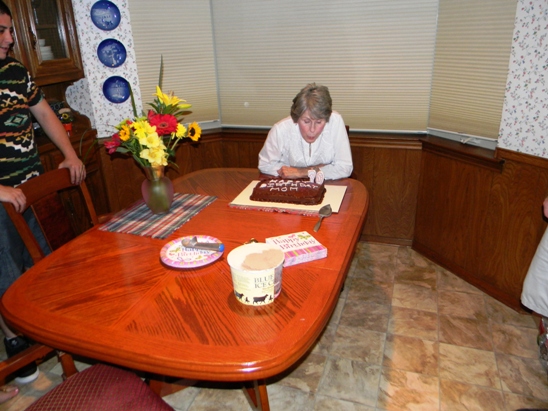 After cake and ice cream, it was out to the deck to relax and watch Bentley, Bret and Taylor's new puppy play in the grass.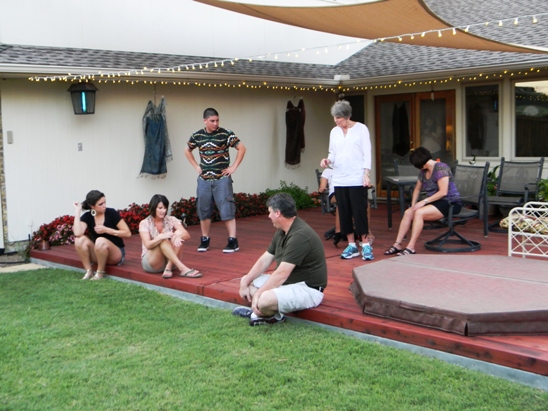 They also played around making grass whistles. Follow this link for a video.
On July 29th, Bruce and Betsy, along with the granddaughters, took a tour of the Bush Presidential Library. They had never been to a presidential library, even though there are four within a day's drive, and this trip was great. Like so many historical sites, this one provided a much deeper appreciation of what it was like to be the leader of the free world at that time in history.
Below are Ariana, Betsy and Alissa at the fountain in the entry courtyard.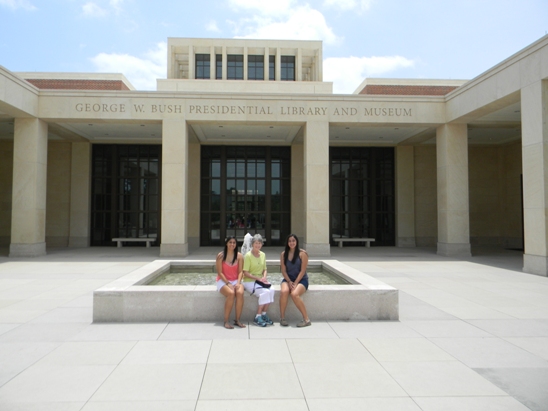 Below is the display on the events of 9/11/2001. This one had copies of the Washington Times and Washington Post, several letters and the bull-horn Pres. Bush used when he visited the site on September 14th.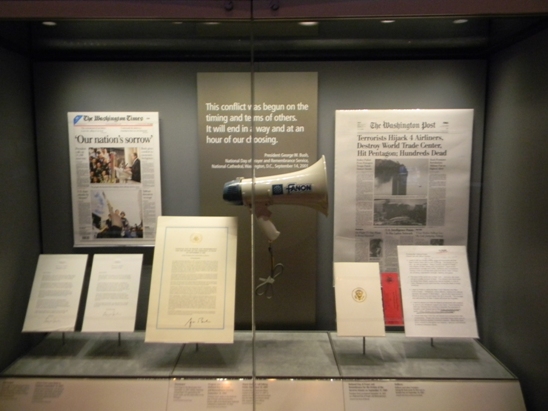 Below is Bruce and Betsy with a steel column from the World Trade Center.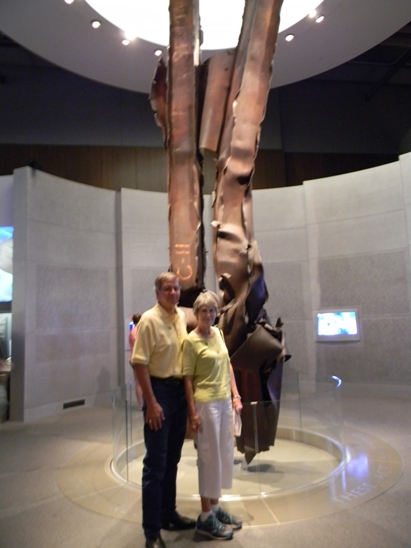 One interesting display was the President's interactive diary from the White House. This touch screen display allowed you to select a date and scroll through the day from morning to evening.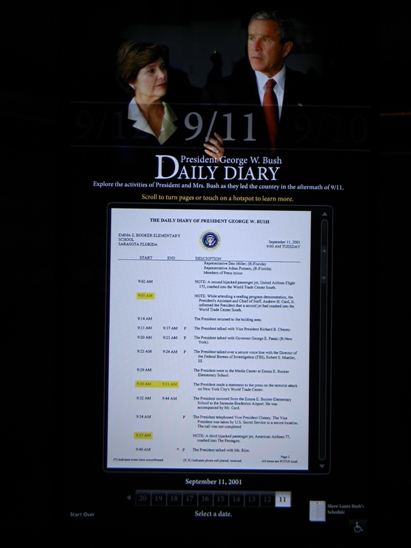 Of course, no trip is complete with a stop in the Oval Office. Below is Alissa, Betsy and Ariana at the President's desk in an exact replica of the Oval Office.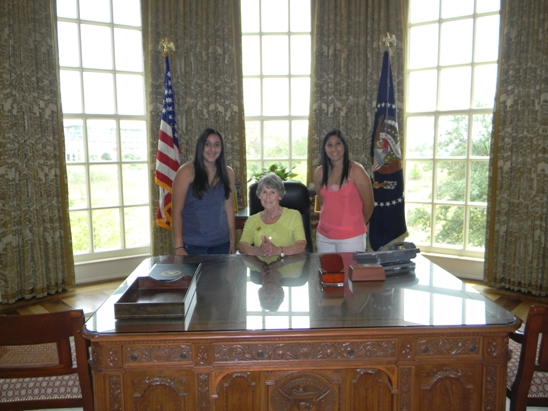 There was even a display on sports events at the White House. Below is the President's mountain bike in red, white and blue, complete with a United States of America printed along the top tube.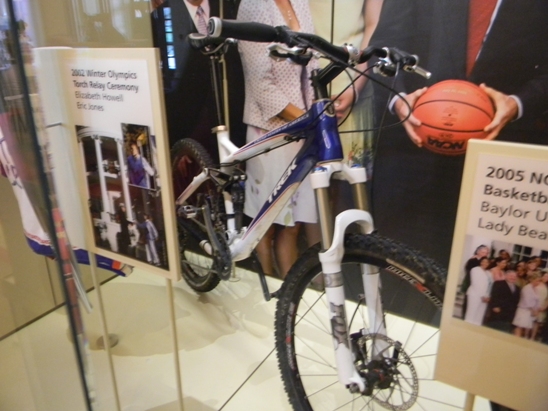 Probably the most interesting interactive exhibit was Decision Points Theater. Here the participants could select a crisis, obtain a series of briefings from advisors and make a decision on how to best handle a crisis. There group selected Hurricane Katrina and used a strategy a bit more heavy handed than the President actually used during the crisis.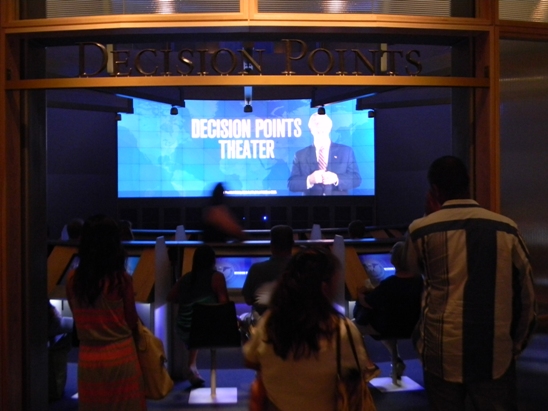 Out in the courtyard is a father and son bronze sculpture of of "41" and "43." They are the second father and son team to hold the office. The first was John Adams and his son John Quincy Adams.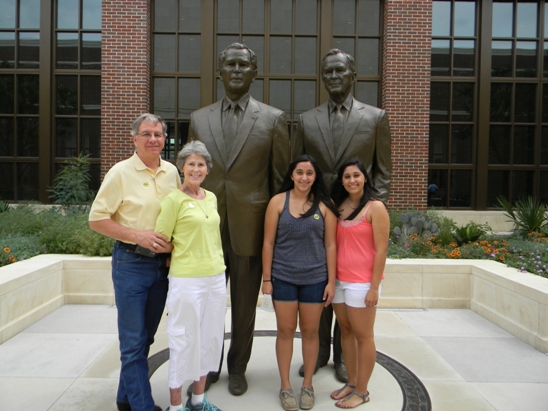 For more about the library, visit www.georgebushlibrary.smu.edu.
The end of August, Betsy and Bruce hosted the 45th birthday party for the twins. The theme of this party was the "Princesses".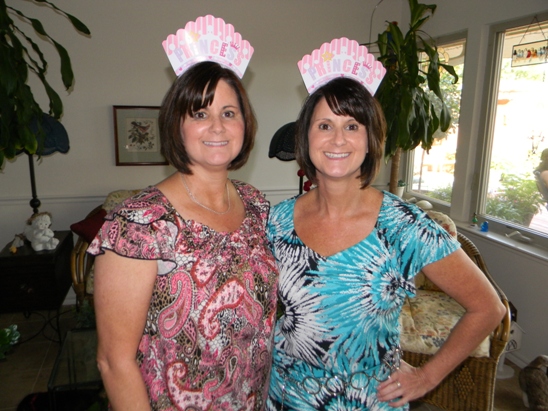 Dinner was Betsy's famous spaghetti casserole.
After dinner, it was time for the gift exchange. Below is Holly and Chrissie opening gifts.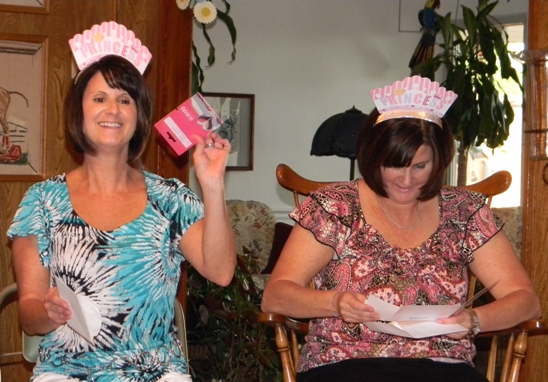 As they were opening gifts, the rest of the clan was looking on. Bret was there with Taylor.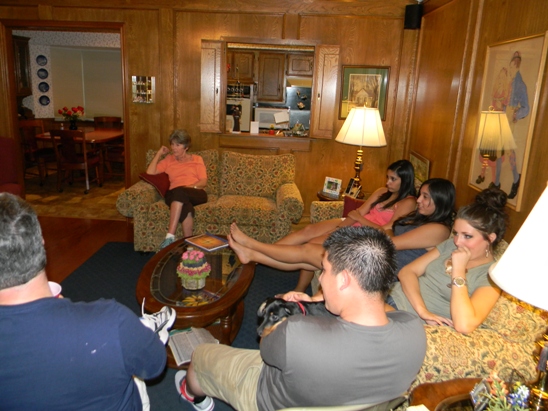 One of the party games this time was stacking as many solo cups as possible in 20 seconds. Below is Alissa with 7 cups.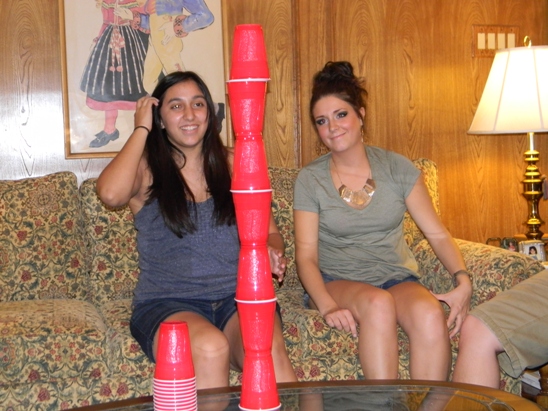 Taylor, below, made it up to 8 cups.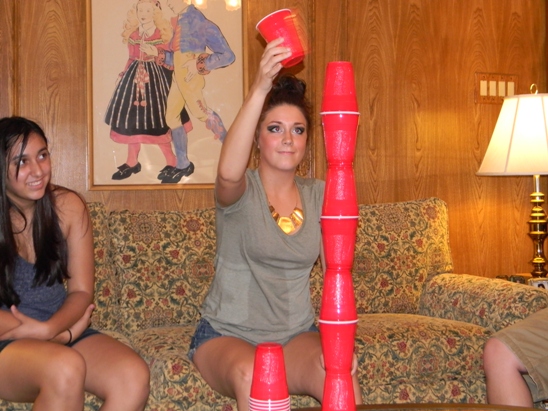 Bret (below) made it up to 9 cups.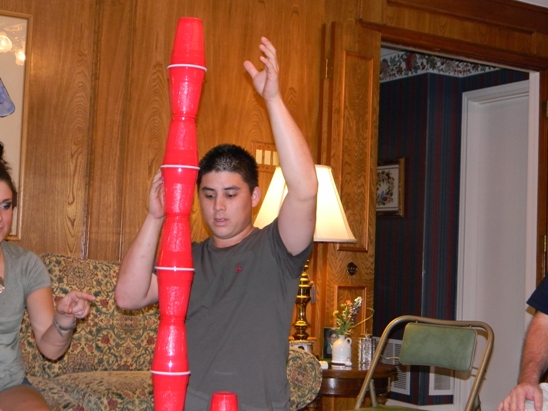 Holly crashed and burned.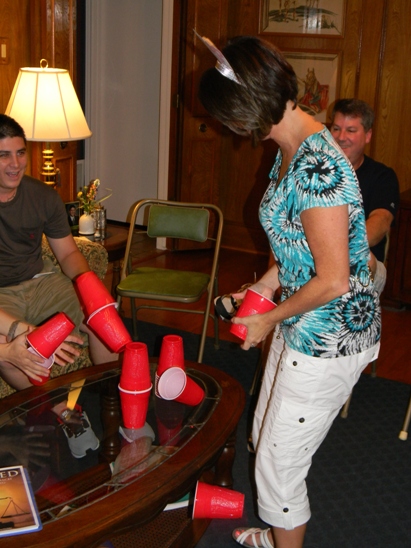 Ariana made it to 8 cups.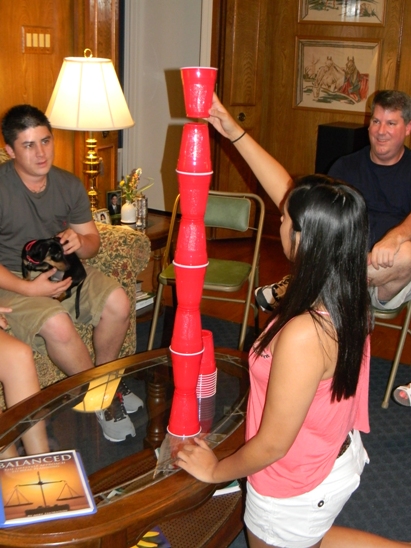 Betsy (below) made it to 7 cups.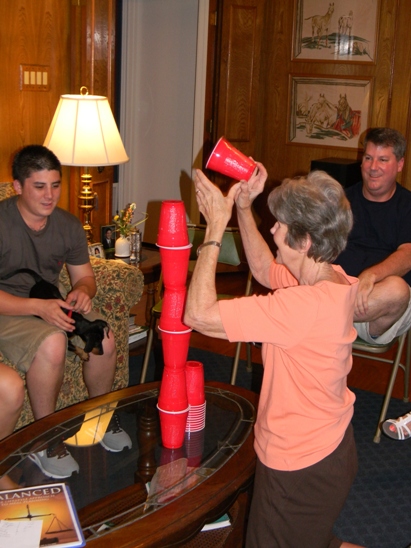 Finally, it was time for cake and ice cream.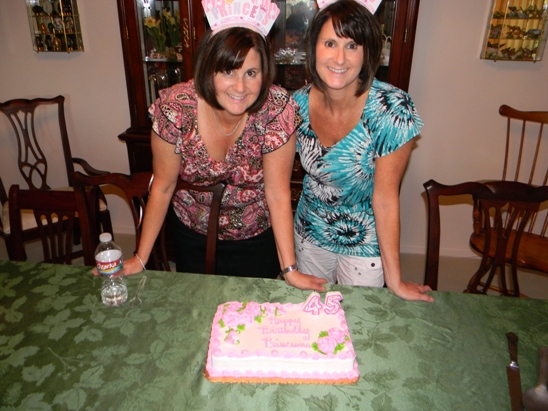 After cake and ice cream, it was time for the rolling dice in bowl for gift cards game.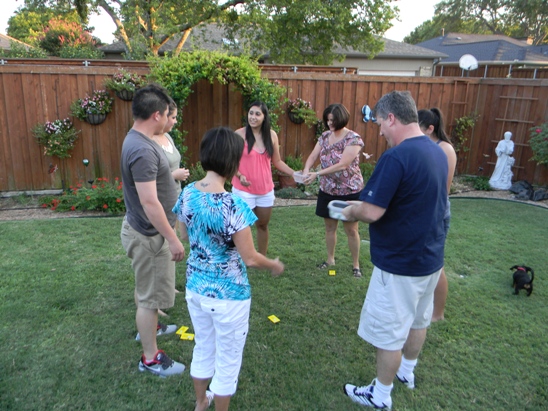 The evening started out with food on the deck. The menu has gotten healthier in recent months. Now there is more fruit, vegetables and other healthy options. Tim is in the foreground grabbing a lite beer, or diet beer as we like to say.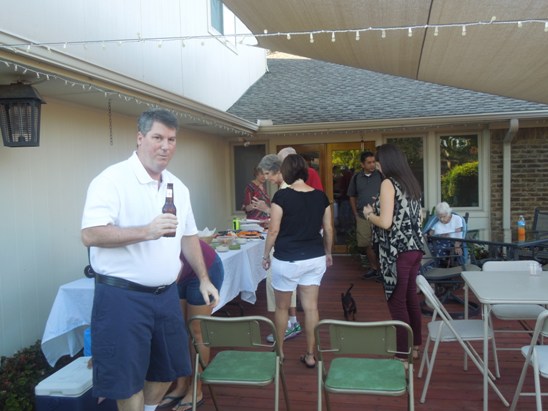 Below is Betsy with Holly & Rob (left), Ariel (center) and Molly and Paul (right).
Another angle of Betsy, Holly, Ariel, and Molly and Paul.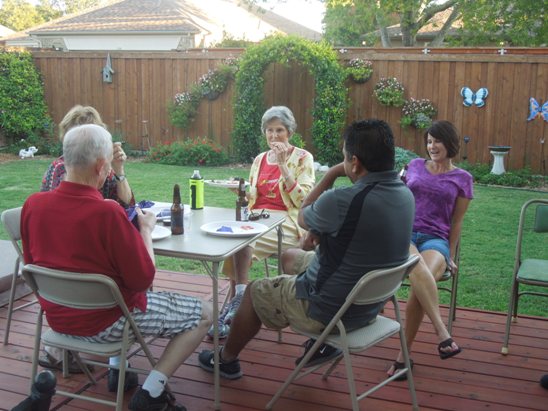 Olive Ariana, Collin and Alissa.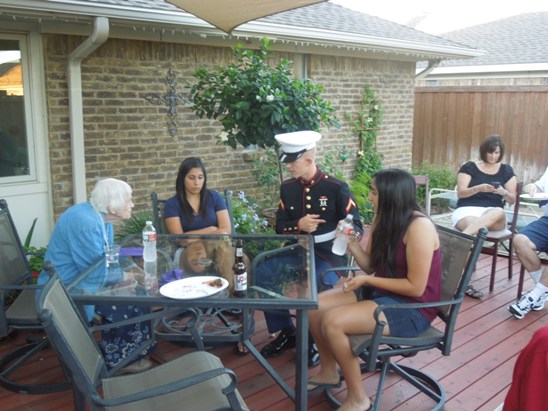 Below is Tim with his sister Chrissie.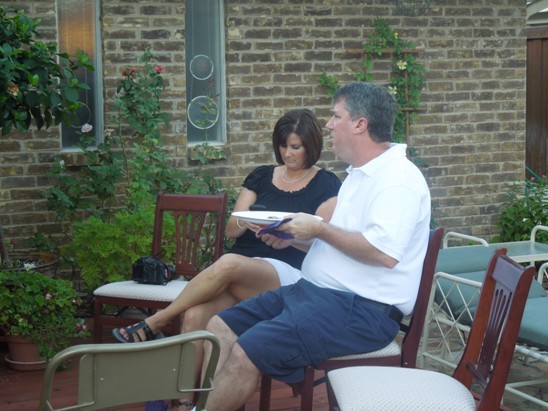 Collin getting ready to pop the question of the night.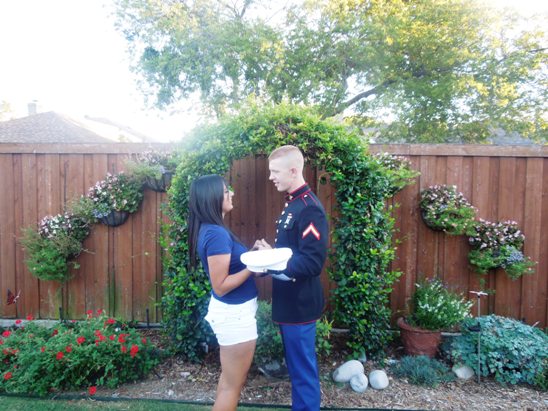 Needless to say, Ariana accepted.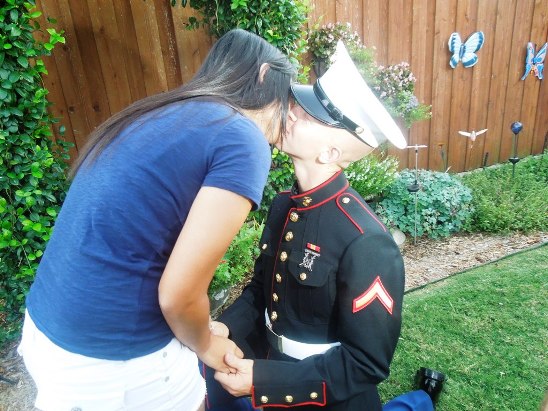 Here is a shot of the "bling".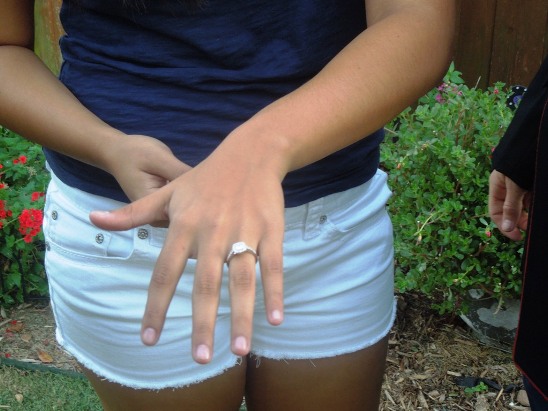 The happy couple later in the evening.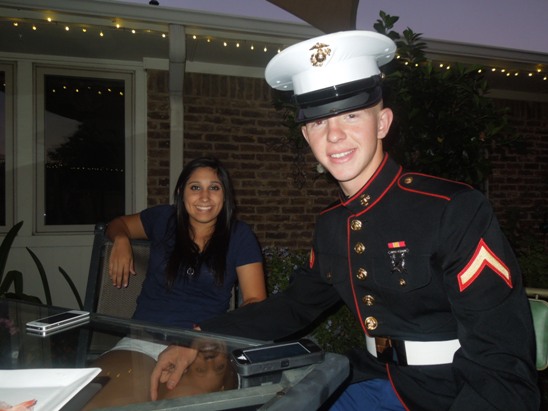 After everyone arrived and had a few snacks, it was time to open gifts.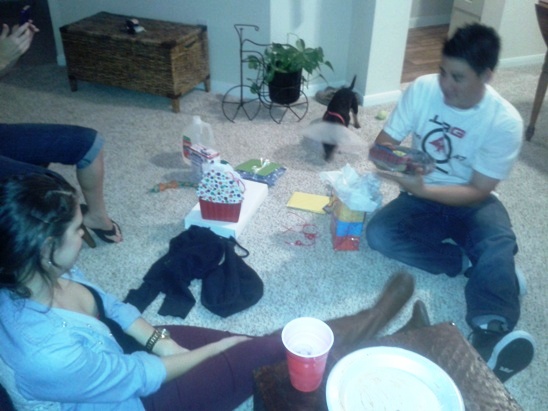 Time for the cake and candles.
Finally, the group sitting around enjoying cake and ice cream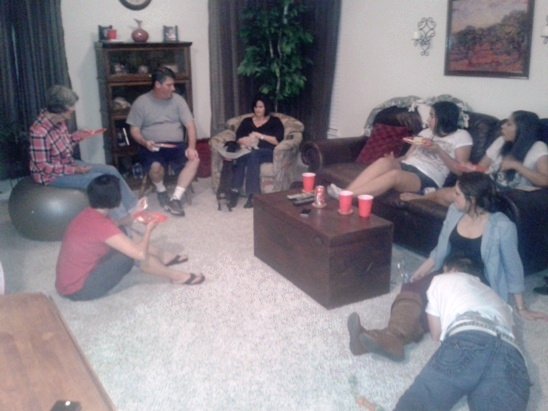 Thanksgiving in 2013 was a bit different. Rather than hosting, Tim had Thanksgiving at his apartment and Bruce and Betsy were guests for a change. Below is a photo of Alyssa, Collin and Ariana before dinner.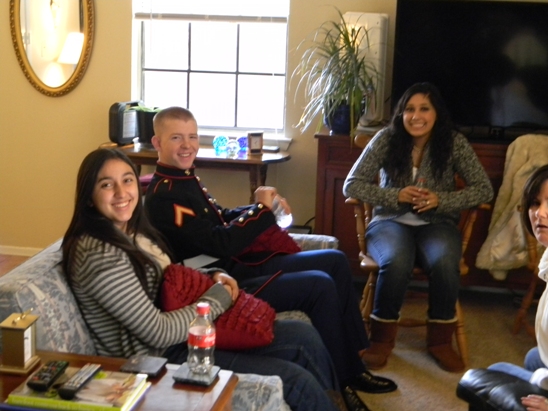 Below is the main or "adults" table.
Over on the other side of the room was the "kids" table.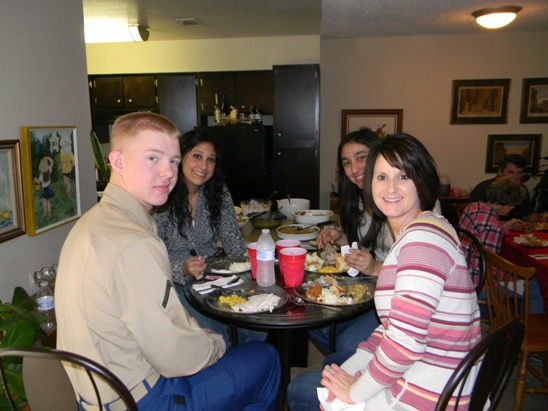 Afterwards, everyone kicked back and relaxed.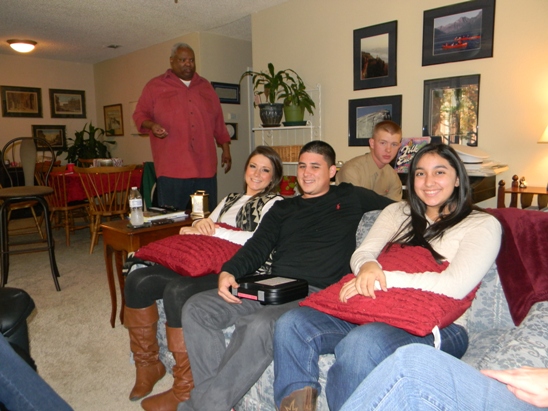 Ariana hit the Big 18 in 2013. The party started out with snacks and move on to the gift exchange.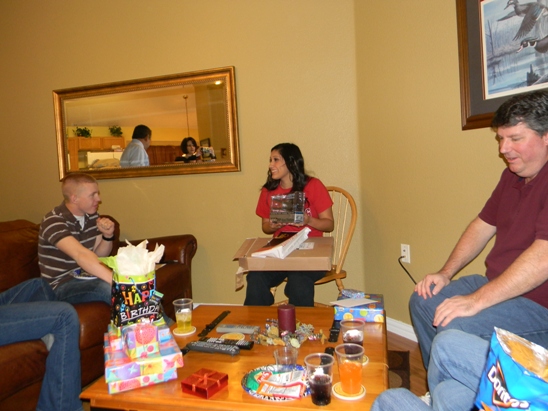 The big hit of the evening was the MS Surface tablet from her dad, Arial.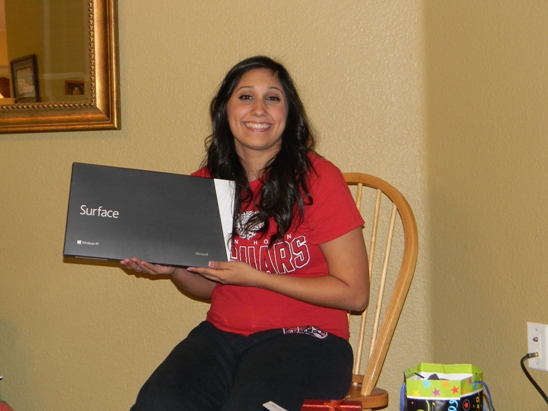 Next, it was time for blowing out the candles, cake and ice cream.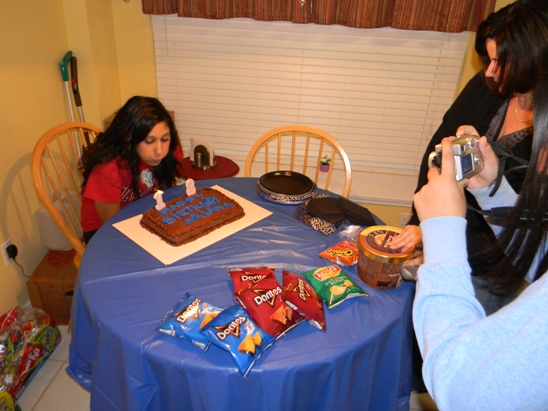 And a good time was had by all.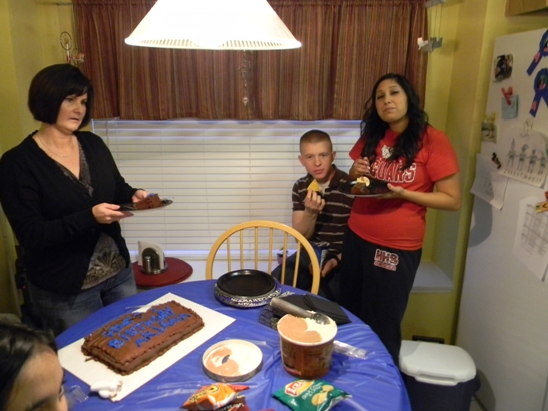 On December 6th, they had one of those ice storms Dallas is known for. Many of the trees looked like crystal sculptures. The roads and sidewalks were like an ice rink.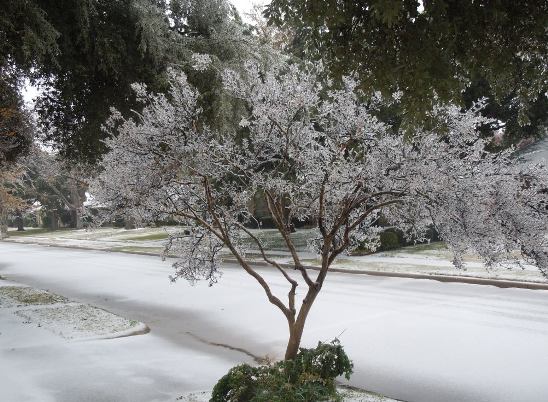 Some parts of town, especially the Ft. Worth side got up to 4" of ice. Richardson got about 1".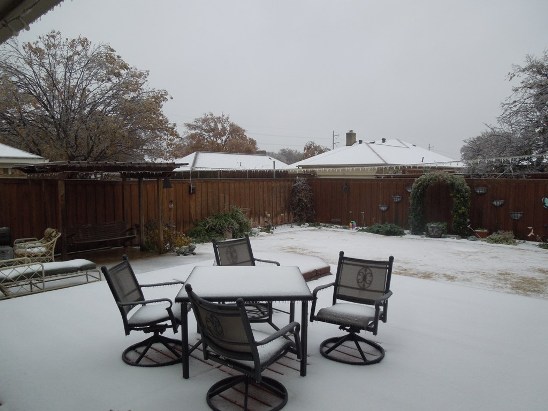 The ice was so heavy that it collapsed a Hackberry tree in the neighbor's yard across the alley. One branch went through the fence and another hit the roof of the garage.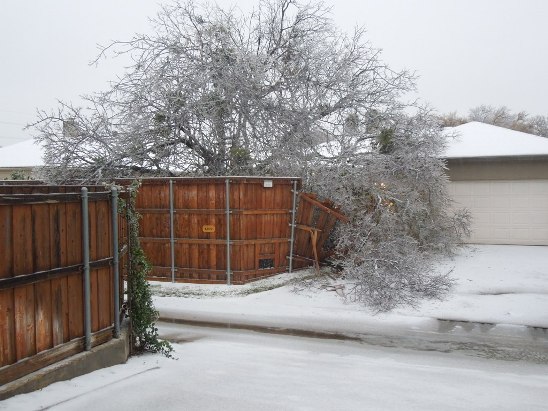 Another Christmas at the Blais' with Betsy busy in the kitchen first thing in the morning.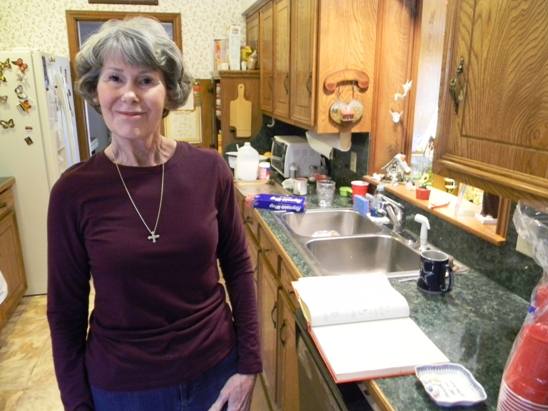 Bruce and Betsy with the tree before the gift exchange.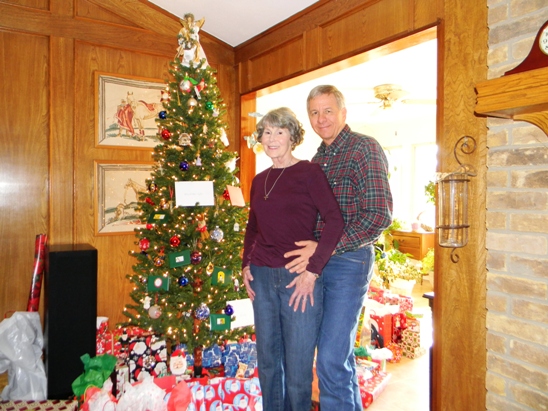 Next came the gift exchange.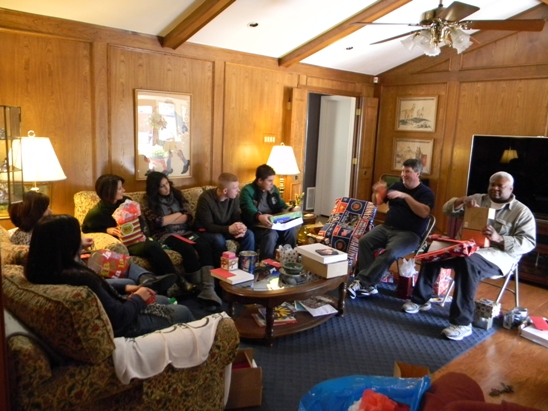 Alissa with Collin and the blanket she made for him for Christmas.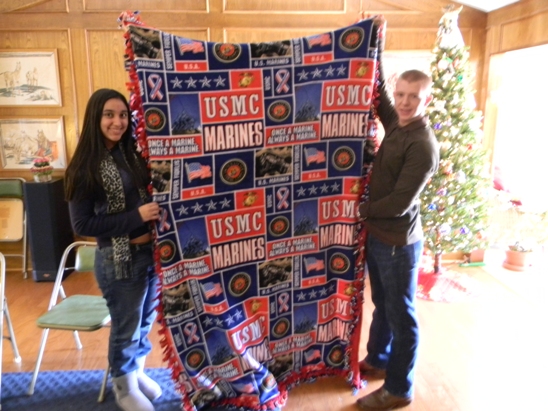 After the gift exchange, it was time dinner. Bobby Duncan joint them this year. He brought some home-made fudge from an old family recipe that was "over the top."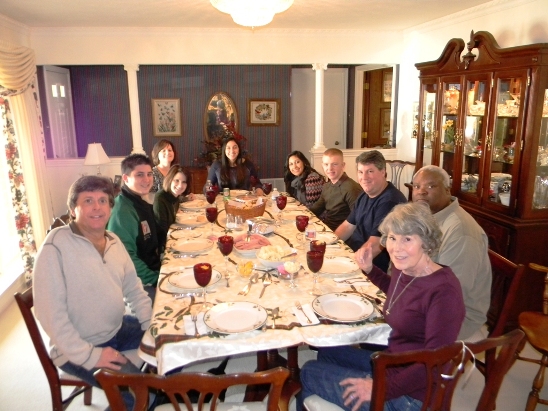 Below is one more photo showing the house decked out for Christmas. Bruce and Betsy got Honorable Mention in the house decorating contest for 2013. This is interesting since they have done the same thing for the last 6 years.